Dodgers' surge has them rocketing up Rankings
Kershaw propelling LA, which joins three other California teams in top six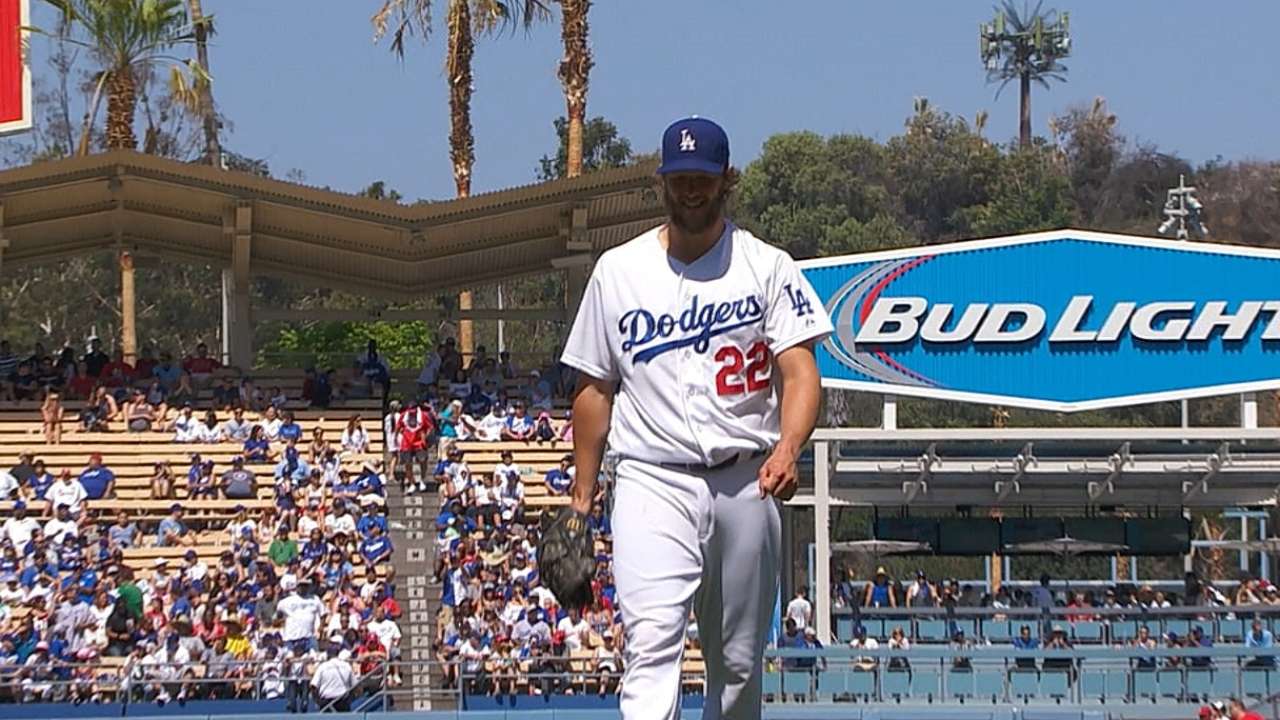 Remember when the Dodgers went 42-8 to rocket from last to first in the National League West standings last season? The fans in Los Angeles sure do, and it's hard to blame them for dreaming about another glorious summer in Southern California.
Los Angeles erased a 9 1/2-game deficit in 21 days, and it is now tied for first place with Giants in the NL West. The once-struggling Dodgers have won 12 of their last 16 and have rocketed to 10 games above .500 for the first time this season, thanks in large part to a pitching staff led by Clayton Kershaw and a solid defense.
Will history repeat itself in Los Angeles, or will the Giants regain their form?
What's more, how do those teams match up against the top teams in the American League?
For the fourth consecutive season, MLB.com has set up a panel of experts to vote on the top 15 teams each week. The group includes MLB.com vice president and executive editor Carlton Thompson, executive editor Matthew Leach, columnists Mike Bauman, Hal Bodley, Anthony Castrovince, Richard Justice, Tracy Ringolsby, Phil Rogers and Lyle Spencer, along with reporters Alyson Footer and Jesse Sanchez.
What do you think? Agree, disagree? Have your opinion counted by submitting your own Power Rankings.
1. Athletics: Add Yoenis Cespedes to the list of things going right in Oakland. The outfielder has hit safely in 22 of his past 24 games, and he is riding a 13-game hitting streak. The A's have won four in a row and 11 of their past 14.
Last week: 1
2. Brewers: Milwaukee is flirting with going 20 games over the .500 mark and just finished with a 13-7 record during its longest uninterrupted stretch of the schedule. Carlos Gomez sat out Sunday's game, but he is expected back in the lineup Tuesday. The outfielder exited Saturday's win over the Rockies after colliding in right-center field with Ryan Braun.
Last week: 2
3. Dodgers: Los Angeles has charged back into contention, and Kershaw is on a roll. The staff ace has extended his personal streak to 28 consecutive scoreless innings and is 9-2 overall with a 2.04 ERA. The Dodgers have won seven of their past 10 games and outscored the Cardinals, 17-4, while winning three of the four games over the weekend.
Last week: 5
4. Angels: The Halos have won eight of their past 11 games, but they still trail the A's by 5 1/2 games in the AL West. The Angels have struggled on the road, losing 11 of their 15 games away from Anaheim, but they make up for it with an impressive 26-14 mark at home.
Last week: 4
5. Tigers: Detroit has won eight of its past 10 games. Ian Kinsler is playing like an All-Star, sporting a .415 batting average with three home runs and 10 RBIs in his last 10 games. He has six multi-hit games during that stretch.
Last week: 8
6. Giants: San Francisco once sat comfortably on top of the standings in the NL West, but a dismal June has changed things. The Giants have lost four in a row and are 4-15 in their last 19 games. They have a 24-21 record at home, but they are just 2-12 in their past 14 games at AT&T Park.
Last week: 3
7. Mariners: Things are looking up in Seattle. The Mariners are in the middle of the pack in the AL West standings after winning seven of their past 10 games. What's more, top prospect Taijuan Walker, 21, is set to make his season debut against the Astros on Monday.
Last week: 10
8. Nationals: Washington has won six of its past 10 games to creep up on the first-place Braves in the NL East. More help is on the way: Bryce Harper, who has been on the disabled list because of left thumb surgery, returns on Monday.
Last week: 9
9. Reds: Cincy has won five in a row and eight of their past 10 as they chase the Brewers in the NL Central. Billy Hamilton continues to develop into a complete player; he is hitting .330 with 18 runs, 18 RBIs and 14 stolen bases this month.
Last week: 13
10. Blue Jays: Toronto is slipping, and it is in an unforgiving division to be doing so. After a three-game skid, its lead in the AL East is just 1 1/2 games. The good news? The O's (1 1/2 games back) and Yankees (two games back) have each lost their past two, and no team in the division was better than 6-4 over its past 10 games.
Last week: 7
11. Braves: A historic four-game sweep -- Atlanta's first in Philadelphia since 1964 -- has catapulted the Braves back into first place ahead of the Nats by the narrowest of margins. Alex Wood, with a 2.60 ERA in eight starts this season, starts off Monday's series against the Mets.
Last week: 15
12. Cardinals: A series loss in L.A. coupled with Cincinnati's late surge has the Cardinals looking at yet another rival in their chase for the NL Central title. St. Louis scored 22 runs in three days against the Rockies, but then went cold against the Dodgers, totaling just four runs in as many games.
Last week: 6
13. Royals: Perhaps Kansas City's first walk-off victory of the season can propel it on the kind of run it needs for this upcoming three-city road trip. It starts in Minnesota this week, with stops in Cleveland and Tampa Bay to follow. The Royals then open the second half against the first-place Tigers.
Last week: 12
14. Orioles: The O's fell victim to the Rays in a four-game series this weekend, and they have to turn it around against some of the toughest teams in baseball before the break. They'll see the Rangers, Red Sox, Nationals and Yankees to close out the first half. The O's are 19-21 at Camden Yards this season and have wins in just two of their past seven home series.
Last week: 11
15. Pirates: Edinson Volquez -- now 6-6 this season, but riding a 13-inning shutout streak -- helped push the Bucs to a series win against the Mets this weekend. That boosted Pittsburgh's record to 42-40 heading into their final off-day before the All-Star break.
Last week: NR