Twins' offensive struggles continue vs. Royals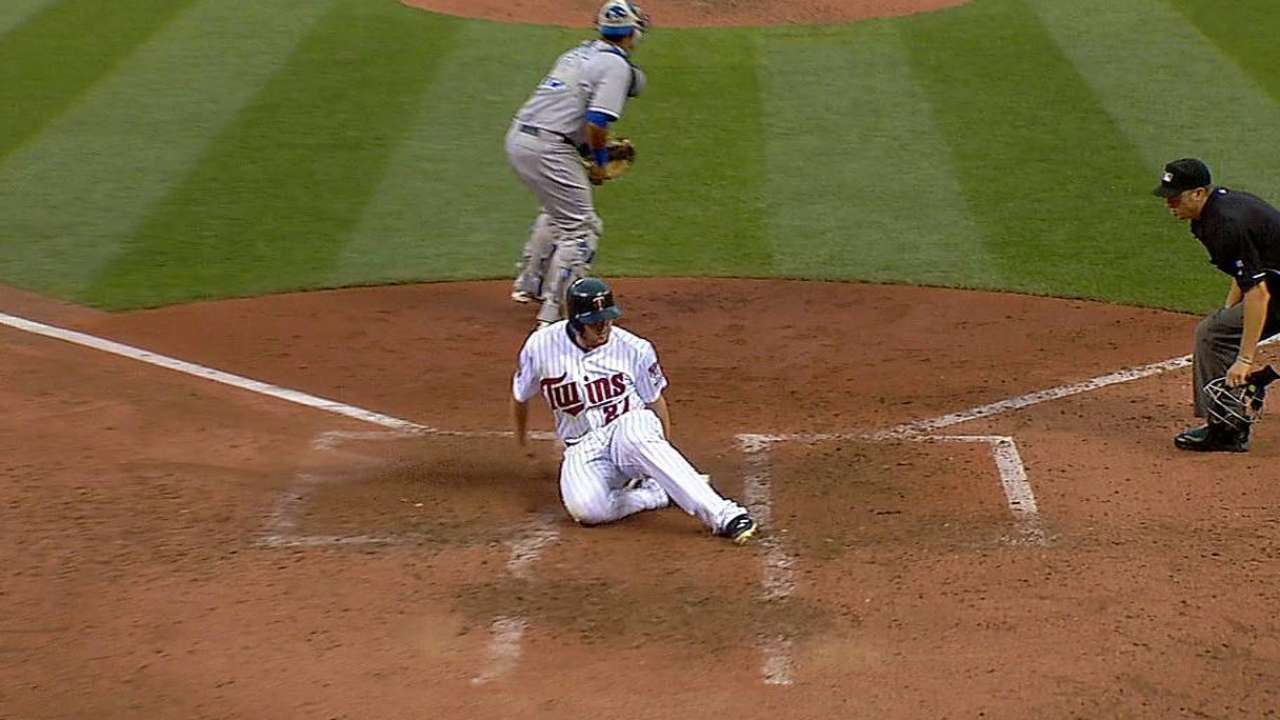 MINNEAPOLIS -- June wasn't exactly kind to the Twins.
The Twins were seemingly on the road all month, playing just 10 games at home, and saw their offense sputter late.
Those offensive struggles continued on the final day of June, as the Twins went just 1-for-12 with runners in scoring position, and rookie Yohan Pino couldn't get through six innings in a 6-1 loss to the Royals on Monday night at Target Field.
It marked the sixth loss over the last seven games for the Twins, who have averaged just 2.9 runs per game over that span. It also snapped their four-game home winning streak and saw them finish June with a 12-16 record to drop to seven games under .500.
"We had chances," manager Ron Gardenhire said. "I don't know if we're pressing. I think these guys want to win. They're taking some big swings. We've been facing some good pitchers. I don't know if it's pressing, but we're just not putting any runs on the board. It's putting a lot of pressure on the pitchers to be really good."
Pino, making his third Major League start, was only so-so, but it was an improvement from his previous start, in which he lasted just three innings against the Angels. This time he went 5 2/3 frames, giving up four runs on seven hits -- including a homer to Salvador Perez in the sixth -- and a walk with three strikeouts to fall to 0-2 with a 6.32 ERA on the season.
"Pino was OK," Gardenhire said. "He labored through the first three or four innings, then he had a couple of decent innings, but the home run to Perez was a big one."
The Royals opened the scoring in the second on a two-run double from Alcides Escobar with two outs. Kansas City added a run in the fourth on a one-out single from Omar Infante after Alex Gordon led off the inning with a double.
Perez gave the Royals another run in the sixth on his solo homer, which landed just out of the reach of a leaping Josh Willingham in left field. Pino got Infante to fly out after the homer for the second out of the inning but was removed for reliever Caleb Thielbar.
"I wanted to finish that inning," Pino said, "but I left the ball over the plate against Perez and I got hit."
The Twins were held in check offensively by left-hander Danny Duffy, who gave up just one run on four hits and a walk over 5 2/3 innings to pick up his fifth win of the season.
"Everything was working early on," Duffy said. "I got into a little trouble. I started throwing the ball uphill in the fifth and sixth innings."
Minnesota scored its only run in the fifth, when Chris Parmelee extended his hit streak to 10 games with a double and scored on a one-out single from Eduardo Nunez, who reached second on the throw home.
But Nunez was stranded, and it was more of the same for the Twins in the sixth and seventh innings. The Twins had two runners on with nobody out in both innings and could not score. They also had two runners on in the eighth and ninth innings and couldn't cash in.
The Royals put away the game with two runs in the eighth, keyed by a pair of throwing errors from second baseman Brian Dozier. Escobar laced a two-out double off reliever Jared Burton to send home both runs.
"A couple of errors made it out of hand there at the end," Gardenhire said. "It gave them a little more cushion."
But it was the lack of offense that was once again the real issue for the Twins, who have scored more than five runs in a game just twice over their last 15 games.
"You don't want to lose ballgames," Parmelee said. "Nobody out here wants to lose. So we have to figure out how to get those runs in. That's the most important thing. But that's the thing. You have to try not to press and try not to get out of your comfort zone and try to get those runs in. But we're not doing it."
Rhett Bollinger is a reporter for MLB.com. Read his blog, Bollinger Beat, and follow him on Twitter @RhettBollinger. This story was not subject to the approval of Major League Baseball or its clubs.