With homer No. 450, Papi makes All-Star statement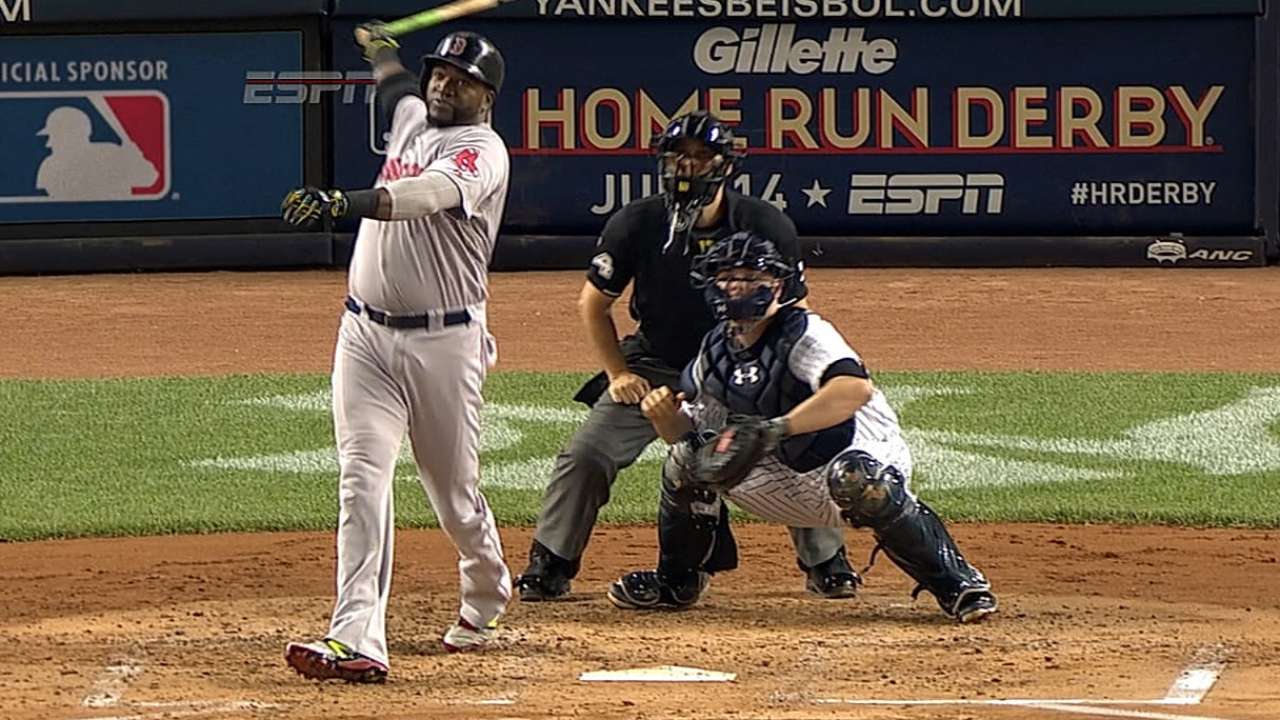 NEW YORK -- David Ortiz might be having an ordinary season by his standards. But it's one a lot of other players could live with.
In Sunday night's game against the Yankees, Big Papi launched a three-run moonshot to help lead the Red Sox to an 8-5 victory.
The homer was the 19th of the season for Ortiz, and No. 450 of his career.
"Just another homer for now," said Ortiz. "I'll be counting later."
Ortiz is 37th on baseball's all-time home run list, and two behind Hall of Famer and Red Sox legend Carl Yastrzemski.
"It's just special, with a legend like that having your name being mentioned with him," said Ortiz. "It's pretty cool."
By the end of the week, Ortiz will find out if he is an All-Star for the 10th time in the last 11 years.
He has been trailing Nelson Cruz in the balloting at designated hitter the last several weeks. But even if Ortiz doesn't make it as a starter, there's a chance he could be voted in as a reserve by his peers, or perhaps manager John Farrell, who will lead the American League squad in Minneapolis.
How does Ortiz evaluate his season so far?
"I think I'm doing good," Ortiz said. "I am where I like to be. I could be hitting better for average, but it's not my choice. All I can do is put a good swing on the ball and make sure to just hit it in nobody's zone."
The lefty slugger is hitting .253, but his OPS is a typically sturdy .837.
Ortiz seemed to take some extra joy as he rounded third in Sunday's game, pointing to some familiar faces in the stands.
"Oh, my family was sitting right there on third base," said Ortiz. "My son, he always enjoys daddy going deep. He was dancing."
Fans can cast their votes for starters at MLB.com -- online or on a mobile device -- using the 2014 All-Star Game MLB.com Ballot Sponsored by Experian until Thursday, July 3, at 11:59 p.m. ET. The 2014 All-Star Game will be played at Target Field on Tuesday, July 15 on FOX.
Ian Browne is a reporter for MLB.com. Read his blog, Brownie Points, and follow him on Twitter @IanMBrowne. Jake Kring-Schreifels is an associate reporter for MLB.com. This story was not subject to the approval of Major League Baseball or its clubs.