All-Star races heat up as big names state cases
Cano's two-run homer, Altuve's record day among impressive performances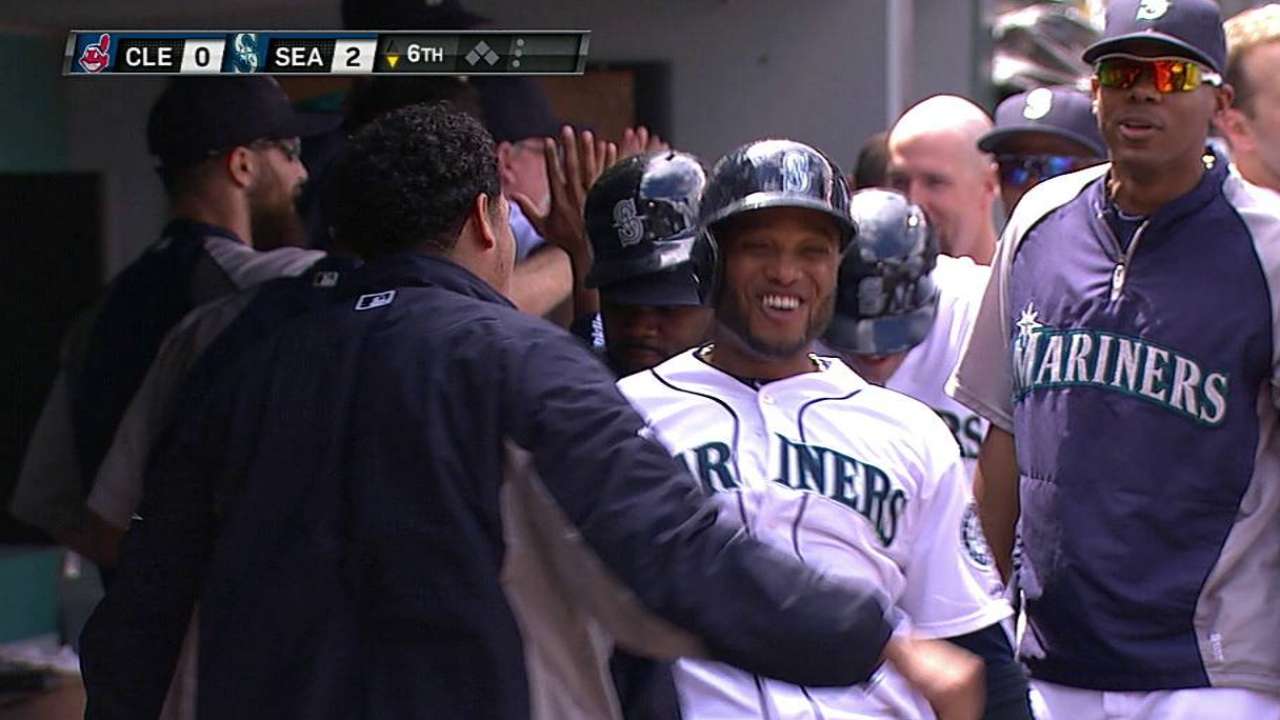 On his own Poster Day at Safeco Field on Sunday, Robinson Cano reminded Mariners fans that he still has power -- and that he wants to earn his fifth straight All-Star Game start.
Cano, who leads American League second basemen in voting as of the latest ballot update released June 22, snapped an 0-for-14 skid with a two-run homer down the right-field line off Cleveland's T.J. House to break a scoreless tie in the sixth.
It was Cano's fifth home run of the year, a strikingly low number for a player who hit 25-plus in each of his past five seasons with the Yankees. Still, he raised his average to .319 by going 2-for-4, and he increased his RBI total to 45.
But perhaps the best performance in baseball on Sunday came from Houston's Jose Altuve, who has made his own case for the title of best AL second baseman. Altuve went 3-for-5 with two stolen bases, becoming the first player since 1917 to have four straight multi-steal games. And yet he's just fourth on the ballot. With voting concluding Thursday, he trails Boston's Dustin Pedroia, Detroit's Ian Kinsler, and Cano.
David Ortiz also made history Sunday night, hitting his 450th career home run to surpass Jeff Bagwell and Vladimir Guerrero for 37th all-time. Ortiz has made three straight fan-elected starts at designated hitter, but the Orioles' Nelson Cruz currently stands between him and a fourth.
Pedroia aided Ortiz and the Red Sox in beating the Yankees, going 3-for-3 with three RBIs, and Derek Jeter, the ballot leader among AL shortstops, had two hits and an RBI in defeat.
Jose Abreu continued to do all he can to pressure Miguel Cabrera in the AL race at first base, driving in his 64th run while Cabrera went 0-for-4. For the moment, though, the Tigers' star looks poised to hold off the White Sox slugger in the voting.
Meanwhile in the National League, several leading vote-getters strengthened their cases to start the Midsummer Classic. Cardinals' catcher Yadier Molina hit a double and nailed Dodgers' speedster Dee Gordon on a steal attempt, while Brewers' third baseman Aramis Ramirez surprised everyone with two steals of his own.
Colorado's Troy Tulowitzki, who leads NL shortstops by over two million votes, had his 14th three-hit performance of 2014 to raise his Major League-best average to .353. He also scored twice and leads MLB with 63 runs.
Fifth-place NL outfielder Ryan Braun homered for the Brewers, his 11th of the year, while his third-place outfield teammate, Carlos Gomez, got the day off. Sunday was also a day of rest for second-place Pirates' center fielder Andrew McCutchen. But there was no rest for the Dodgers' Yasiel Puig -- he went 1-for-3 with two runs scored as he vies to win the outfield vote in his first full MLB season.
Fans can cast their votes for starters at MLB.com and all 30 club sites -- online or on a mobile device -- using the 2014 All-Star Game MLB.com Ballot Sponsored by Experian until Thursday, July 3, at 11:59 p.m. ET. The 2014 All-Star Game will be played at Target Field on Tuesday, July 15.
Fans may submit up to 25 online ballots, but they can also earn a one-time bonus of 10 additional online ballots. To access these additional online ballots, you must be logged into your MLB.com account when you submit any online ballot. If you do not have an MLB.com account, register on the site in accordance with the enrollment instructions for a free MLB.com account.
Fans this year once again can participate in the Home Run Derby Fan Poll. Fans will have the opportunity to select three players in each league who they would most like to see participate in the Home Run Derby. The 2014 Home Run Derby will be broadcast live on ESPN, ESPN HD, ESPN Deportes and ESPN Radio in the United States beginning at 8 p.m. ET on Monday, July 14.
The 2014 American League and National League All-Star teams will be unveiled on the 2014 MLB All-Star Game Selection Show during the weekend of July 5-6, with further details to follow on MLB.com. Immediately following the announcement of the AL and NL All-Star rosters, fans can begin voting to select the final player for each league's 34-man roster via the 2014 All-Star Game MLB.com Final Vote Sponsored by Experian. Fans will cast their votes from a list of five players from each league over the balloting period.
And the voting doesn't end there. The final phase of All-Star Game voting will again have fans participating in the voting for the Ted Williams All-Star Game Most Valuable Player Award presented by Chevrolet. During the Midsummer Classic, fans will vote exclusively online at MLB.com via the 2014 All-Star Game MLB.com MVP Vote Sponsored by Pepsi, and their voice will represent 20 percent of the overall vote that determines the recipient of the Arch Ward Trophy.
MLB.com will provide extensive online coverage of the All-Star Week festivities.
The 85th All-Star Game will be televised nationally by FOX, in Canada by Rogers Sportsnet and RDS, and worldwide by partners in more than 200 countries via MLB International's independent feed. ESPN Radio and ESPN Radio Deportes will provide national radio coverage of the All-Star Game. MLB Network and SiriusXM will also provide comprehensive All-Star Week coverage. For more information, please visit allstargame.com.
Aaron Leibowitz is an associate reporter for MLB.com. Follow him on Twitter @aaron_leib. This story was not subject to the approval of Major League Baseball or its clubs.