The Week Ahead: Drama builds as summer rolls on
Competitive AL West figures to get tougher, as does tight NL West race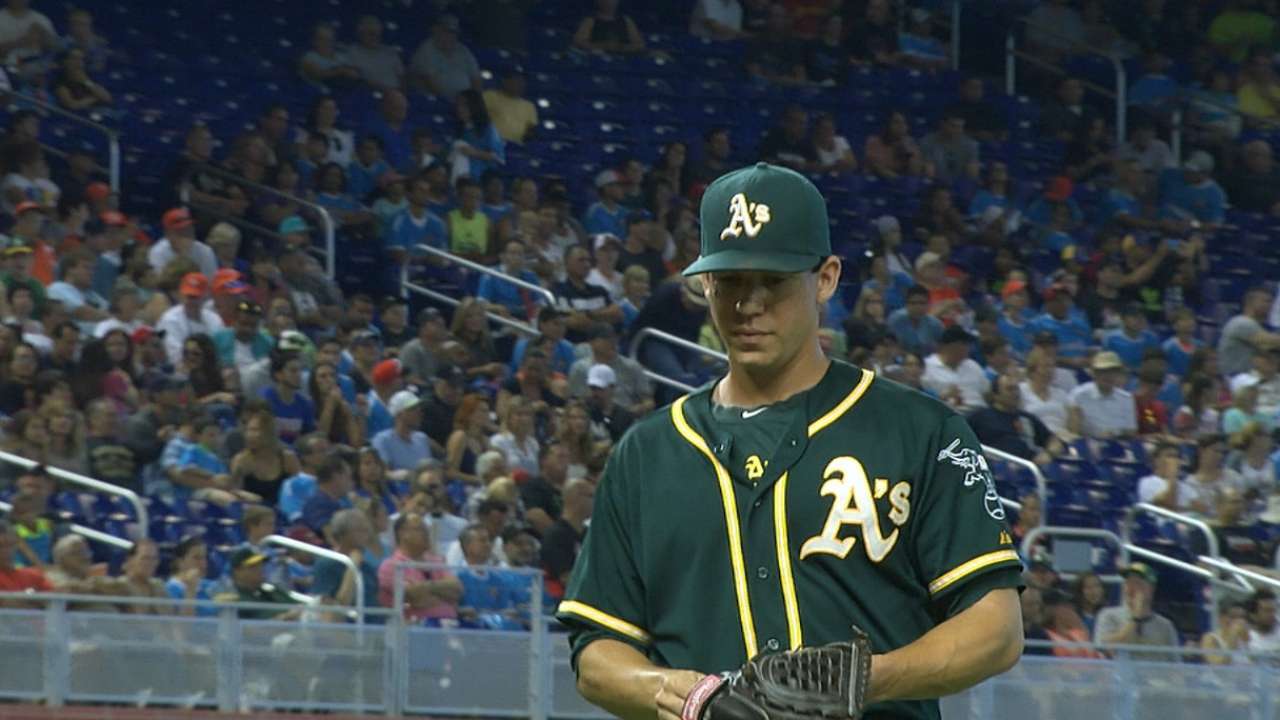 The calendar flips to July as we hit The Week Ahead. Baseball is getting more dramatic by the day as the pennant races begin to roil. The summer is steaming along.
It would be unwise to make any assumptions about what we're going to see in October because this is baseball, a sport in which anything can and does happen, and for most of the 30 teams, the season is only halfway over.
But there are intriguing storylines developing, and quite a few of them will hit home this week.
Take the American League West. If the season ended today, the three top teams -- the A's, Angels and Mariners -- would be in the playoff mix, which makes it the most top-heavy division in all of ball and what most observers of the game would consider the best … so far.
And it might be getting better this week.
The already pitching-rich Mariners are welcoming back young right-hander Taijuan Walker to their rotation for the first time since his impressive callup late last year, while the Angels should once again have lefty Tyler Skaggs in their starting five.
Meanwhile, the A's have the best record in the Majors (51-30) and are on pace for 102 wins this year after sweeping the Marlins over the weekend to roll along to a four-game winning streak.
"We've been playing tremendous baseball, and that's obviously what we expect from ourselves, but the goal now is just to keep it up," Oakland starter Tommy Milone said. "We can't get soft. We have to continue to play good baseball."
In the tight National League West, those words have to ring true for the Dodgers and Giants, who finished Sunday in a tie for the division lead.
Los Angeles has clawed all the way back to the top after San Francisco had spent the early part of June in control of the division. The Dodgers have made up 9 1/2 games in 21 days, and now they're ready to keep applying the pressure, especially as their ace, Clayton Kershaw, is riding a 28-inning scoreless streak that continued with seven shutout, 13-strikeout frames in Sunday's win over St. Louis.
"Everybody in the clubhouse never felt we were out of it, even though 9 1/2 games is a long way to go," Dodgers catcher A.J. Ellis said. "[The Giants] are very professional, they play the game the right way and they raise their game when they play us. It will be interesting when we go head to head."
The same should go for the Braves and Nationals, who are a mere half-game apart at the top of the NL East. Atlanta has won four in a row to maintain the slim advantage over Washington, which has won two in a row, but things could be changing in a big way this week when the Nationals get back their young All-Star outfielder, Bryce Harper.
Harper, who has been out since April 25 with a torn ligament in his left thumb, homered three times for Double-A Harrisburg on Saturday night and is a good bet to be back with the big club on Monday at home against the Rockies.
"It depends on how he feels," Nationals manager Matt Williams said Sunday. "We'll get the report, we'll talk to him and see how he's feeling and whether there's any soreness or anything like that. We'll see how it goes tomorrow."
Meanwhile, in the AL East, the Blue Jays are still in first place but have only a 1 1/2-game lead on Baltimore and two games on the Yankees. The Red Sox, for all their early season inconsistency, are only six games back in fourth place and just called up infielder-outfielder Mookie Betts to give their lineup a spark.
Betts, who began the season in Double-A and cruised through Triple-A, notched his first Major League hit in his team's 8-5 victory over the Yankees on Sunday night.
"I think I'm as ready as I'm going to get," Betts said. "Only time will tell, getting out there and playing and learning more will tell if I was ready or not. But the front office felt I was ready; I have to feel like I'm ready as well."
The Blue Jays, who will play an Interleague set against the Brewers this week, will hope their slugger, Jose Bautista, is ready to rake after returning from a left hamstring strain to get one at-bat on Sunday.
The rest of the league will wait to see if their injured players can come back sooner than later, including the Cardinals, who are still waiting on pitcher Joe Kelly (left hamstring strain) and infielder Kolten Wong (left shoulder strain), the Giants, who could use first baseman Brandon Belt (broken left thumb) and outfielder Angel Pagan (lower back strain) back in their batting order, the Mariners, who are close with first baseman Justin Smoak (strained left quad) and outfielder Corey Hart (strained left hamstring), the Rockies, whose third baseman, Nolan Arenado, has been out with a left middle finger fracture, and the Mets, who are waiting for starter Dillon Gee to return from a strained right lat.
And then there's always the trade option.
Yes, it's still early, but the beginning of July starts the countdown toward the July 31 non-waiver Trade Deadline, and the names of starters David Price and Jeff Samardzija are already being bandied about.
In other words, keep paying attention, because a lot is happening.
Doug Miller is a reporter for MLB.com. Follow him on Twitter @DougMillerMLB. This story was not subject to the approval of Major League Baseball or its clubs.