Baseball world has eyes on dramatic World Cup match
International players react to knockout stage contest between Netherlands, Mexico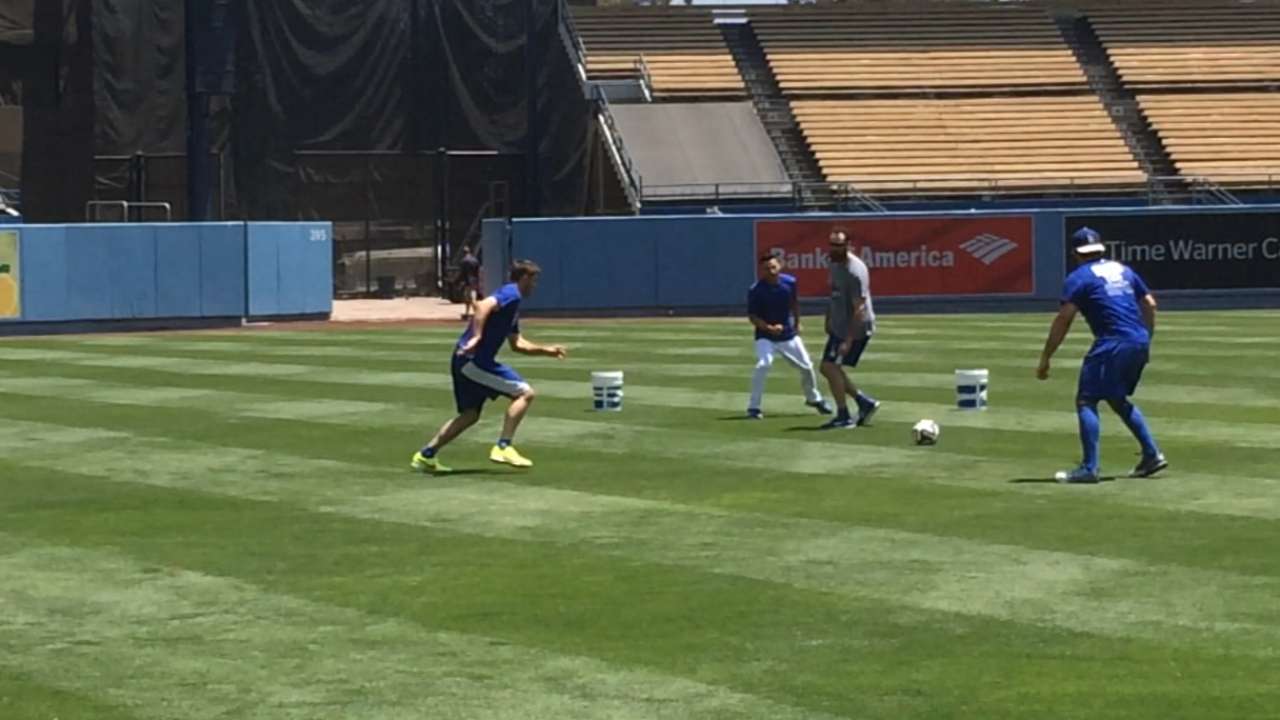 Baseball people, like the rest of the conscious sports-viewing public among us, have been going crazy for the World Cup. And it's not just the heady, tough play of the United States team that has sparked interest in the clubhouses and dugouts of the American and National Leagues.
It's important to note that Major League Baseball has a huge international presence on the rosters of its 30 clubs and in its fan base. So it proved itself again on Sunday when a Round of 16 futbol match between the Netherlands and Mexico became must-see television in quite a few clubhouses.
Dodgers closer Kenley Jansen, for example, is from Curacao, an island off the coast of Venezuela that is part of the Dutch Caribbean. Jansen played for the Dutch national team in the World Baseball Classic and was overjoyed that the Netherlands beat Mexico, 2-1, on a controversial penalty kick in the 94th minute of a dramatic game in Brazil that he watched in the Dodgers' clubhouse in Los Angeles on Sunday morning.
Jansen was so happy, in fact, that he hung a small Mexican flag in the Dodgers dugout prior to the day's game against the St. Louis Cardinals and said, "Rest in peace."
"It's good for the country," Jansen said of the Netherlands team, which is one of the favorites to win the tournament and has reached the final eight. "They have a good team. They have one of the best teams I've ever seen in the World Cup. I think their confidence is way higher, too."
Jansen said is a lifelong soccer fan who roots for the Netherlands and Brazil, the host country that is also still alive in the running for the Cup.
"I will have either the orange jersey [for the Netherlands] on and the blue shorts [for Brazil] or I'll have the yellow [of Brazil] with orange shorts on," Jansen said. "I love watching both of them play."
Jansen's demonstrative support of Holland at the expense of Mexico had to hurt his teammate, first baseman Adrian Gonzalez, who grew up in Tijuana, Mexico, and in Bonita, Calif., and whose father played baseball on the Mexican national team. Gonzalez played for the Mexican team in the World Baseball Classic and was, along with teammate Yasiel Puig, wearing a Mexico jersey on Sunday as the two Dodgers played a pickup soccer game in left field along with Jansen, Scott Van Slyke and Drew Butera.
Gonzalez was one of the players celebrating on June 23 at Kauffman Stadium before a road game against the Royals, when he watched Mexico win its previous match, 3-1, over Croatia.
"He needs to take the good with the bad," Dodgers manager Don Mattingly said after the Netherlands loss. "In Kansas City, he was dancing in the streets."
One of the other men around baseball who was reveling in Holland's triumph was Hall of Fame pitcher and current Twins broadcaster Bert Blyleven, who was born in the Netherlands.
"It's a great, great outcome," Blyleven said. "Being born in Holland, my dad was a huge soccer fan. When we came to the United States in '57, I probably went to a soccer game before I went to a baseball game.
"It didn't look good for the Dutch for a while, but they came back. They're stubborn."
Prior to the game, Angels reliever Fernando Salas was thrilled to watch, having been born and raised in Mexico.
"Mexico is very excited," Salas said. "You grow up with soccer; it's pretty much the sport of Mexico. They love it a lot. It'd be great to win, because as a Mexican, you take a lot of pride in that. ... It's not easy."
And it wasn't easy after a close, intense game Sunday that will be talked about for years, although Gonzalez managed to put it in perspective.
"They played well," Gonzalez said. "I think they should've had a penalty kick earlier in the game and didn't get it, and the other team was awarded a penalty kick, and made them deserve it. Overall, I thought they did a good job."
Doug Miller is a reporter for MLB.com. Follow him on Twitter @DougMillerMLB. This story was not subject to the approval of Major League Baseball or its clubs.