Yanks have no issue with Napoli's post-HR comment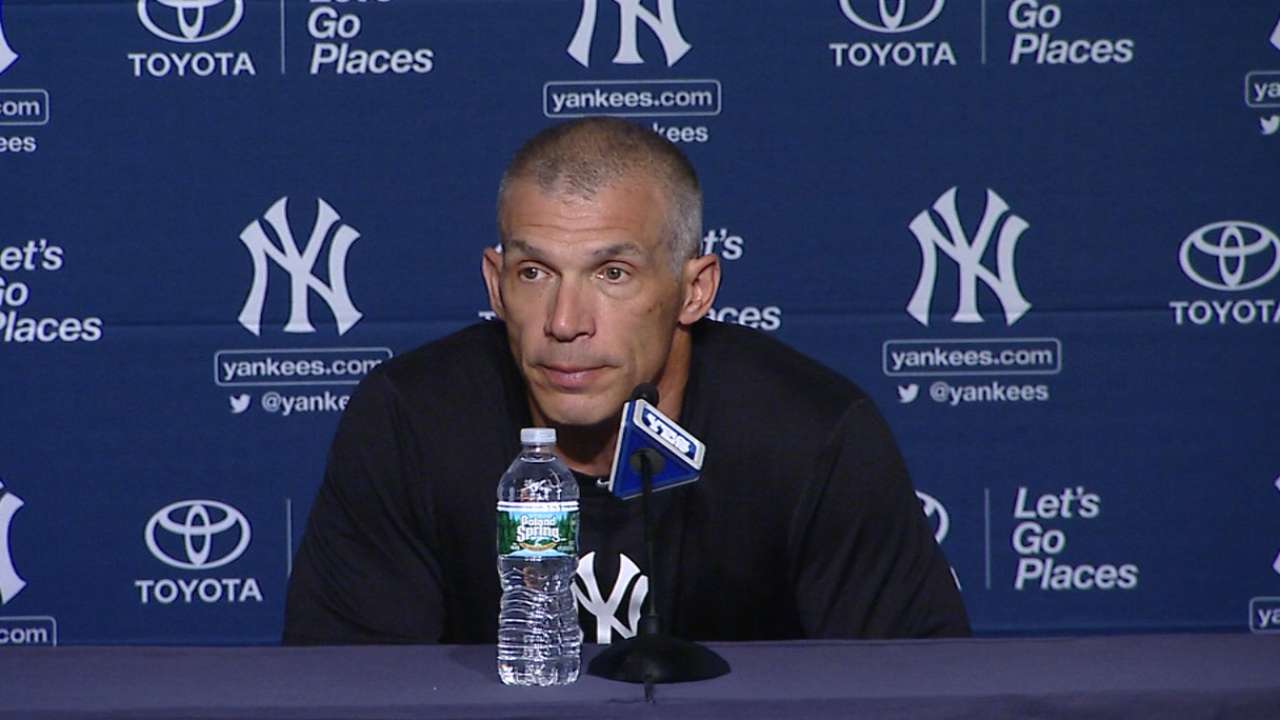 NEW YORK -- When Mike Napoli rushed to the visiting dugout on Saturday, celebrating his ninth-inning homer off Masahiro Tanaka, he was unaware that his voice could be heard by the FOX microphones perched near the playing field.
The telecast picked up Napoli shouting, "What an idiot!", surprised and elated that Tanaka threw him a 96-mph fastball after the Boston slugger had so much trouble connecting with the hurler's breaking pitches earlier in the 2-1 Red Sox victory.
At a more heated time in the Yankees-Red Sox rivalry, Napoli's comment might have sparked a war of words or more, but that does not appear to be the case now. Multiple Yankees said on Sunday that they did not have an issue with Napoli because the comment was intended to be shared privately with teammates.
"That wasn't a big deal," Yankees first baseman Mark Teixeira said. "I have no problem with it at all. If everything that was said inside a dugout or clubhouse was public knowledge, no one would ever talk about the game."
Yoshiki Sato, Tanaka's public relations representative, said that the pitcher was made aware of the comment late on Saturday night but that he was not upset by it. Yankees manager Joe Girardi also said that he did not have an issue with Napoli's words.
"I don't make much of it," Girardi said. "It's yesterday, the heat of the moment, and doesn't really change the complexion of the game. It doesn't really change today's game."
Girardi added that Napoli's reputation does not lead him to believe that there were ill intentions with the comment.
"I haven't seen anything in Mike Napoli where he's a guy that shows people up, or he's a guy that degrades people," Girardi said. "Unfortunately, everything is seen now in the world we live in, but I've never had the sense that he's a bad guy. He's a guy that plays hard and loves to play the game."
Red Sox manager John Farrell said that he and his team both have "the utmost respect for Tanaka," while adding that "the one thing we don't ever want our players to be is non-emotional."
Teixeira said that there should never be a reason for players to censor their in-game commentary in or around the dugout area.
"I don't think it gets over the line, but if it ever does go over the line where too much is shown, then we'll just have [the microphones] taken out. It's as simple as that," Teixeira said.
Bryan Hoch is a reporter for MLB.com. Follow him on Twitter @bryanhoch and read his MLBlog, Bombers Beat. Jamal Collier is an associate reporter for MLB.com. This story was not subject to the approval of Major League Baseball or its clubs.