Yanks unable to recover from Whitley's short start
Righty lasts just four-plus innings as club can't quite catch Red Sox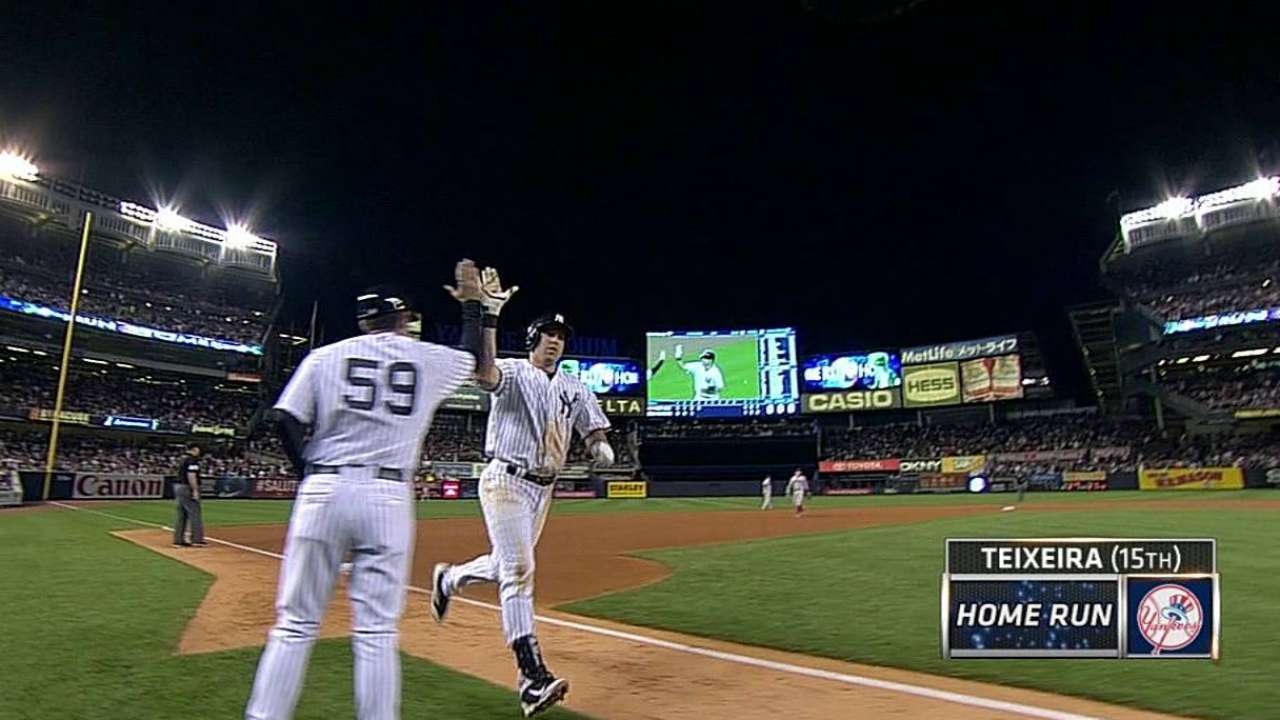 NEW YORK -- Chase Whitley winced just before the moment of contact, fully recognizing what was about to happen. He'd seen it enough on TV -- when David Ortiz's eyes light up at a meaty fastball, it's never a surprise if that pitch gets muscled over the wall.
Ortiz's 450th career home run was the biggest blow of the night for the Red Sox, but it was hardly their only one. Whitley and five relievers were pounded for 12 hits, and Boston posted an 8-5 victory on Sunday night at Yankee Stadium.
"Yeah, you can tell," Whitley said. "It's one of those pitches where you let it go and you watch it just play out. That was one of those times."
Dustin Pedroia also collected three RBIs as the Yankees were dispatched to their sixth defeat in eight games, with Boston snatching two of three games in the weekend rivalry set.
"I always believe that when you play against teams that are in your division, those are series that you've got to win," Carlos Beltran said. "We missed this one."
Whitley, who enjoyed success over his first seven big league starts, is now being challenged to adjust after being rocked for the second straight time. He permitted five runs and eight hits in four-plus innings, including Ortiz's 19th homer of the season.
"He just made some mistakes that looked like they were in the middle of the plate," Yankees manager Joe Girardi said. "He was able to escape the first two innings and minimize the damage with some double-play balls, but then he gave up the big three-run homer."
Ortiz's milestone blast came on a third-inning fastball that was low and inside, a location confirmed to be dangerous territory by scores of pitchers long before Whitley arrived in the Majors this season.
"I wanted to go -- obviously not there," Whitley said. "He made me pay for that. I'll remember that for next time."
Mark Teixeira and Beltran slugged fourth-inning homers to highlight the Yankees' attack against John Lackey, who allowed five runs (four earned) and six hits over five innings.
The Red Sox's bullpen fired scoreless ball the rest of the way, with Koji Uehara working a perfect ninth inning for his 18th save in 19 chances.
"David's three-run homer gives us a little breathing room early on, enough for John to get through five innings," Red Sox manager John Farrell said. "After that, the bullpen was outstanding in their four shutout innings of work."
Lackey has struggled this year in the Bronx, where he has allowed 11 runs in 10 2/3 innings, but Boston's cushion held up for him. Derek Jeter had a third-inning RBI single, while Brett Gardner and Jacoby Ellsbury collected fifth-inning RBIs off the righty.
New York cut the deficit to a run through four innings, but Boston pulled away with three more in the fifth, sending eight men to the plate. Whitley was removed after a leadoff walk and Shawn Kelley was ineffective, leading to David Huff's entry.
Pedroia highlighted the attack with his third hit of the night, a soft flare to right field that fell in for a two-run single. Pedroia was then caught stealing, staying in a rundown long enough for Daniel Nava to scamper home from third base with another run.
"They were putting [together] good at-bats, and we did that, too, but they were better than us," Beltran said.
In all, Yankees pitchers issued eight walks in a sluggish performance. Girardi rejected the suggestion that he may be asking too much out of the more inexperienced members of his pitching staff.
"A lot of times, it's with players going down that you get an opportunity, and you have to take advantage of those opportunities," Girardi said. "So I don't think you're asking too much."
New York's last real threat of the night came in the sixth, when Beltran doubled and Kelly Johnson singled to center field.
Third-base coach Rob Thomson waved Beltran home, but Jackie Bradley Jr. came up firing with a strong throw that arrived in time to nab Beltran.
"It's a bang-bang play," Girardi said. "It's unfortunate, trying to get another run closer. It's going to happen. No one's going to be perfect, and it was a perfect throw and they executed."
Bryan Hoch is a reporter for MLB.com. Follow him on Twitter @bryanhoch and read his MLBlog, Bombers Beat. This story was not subject to the approval of Major League Baseball or its clubs.