Kershaw caps masterful month with 13-K win
Lefty extends scoreless run as Dodgers grab share of first place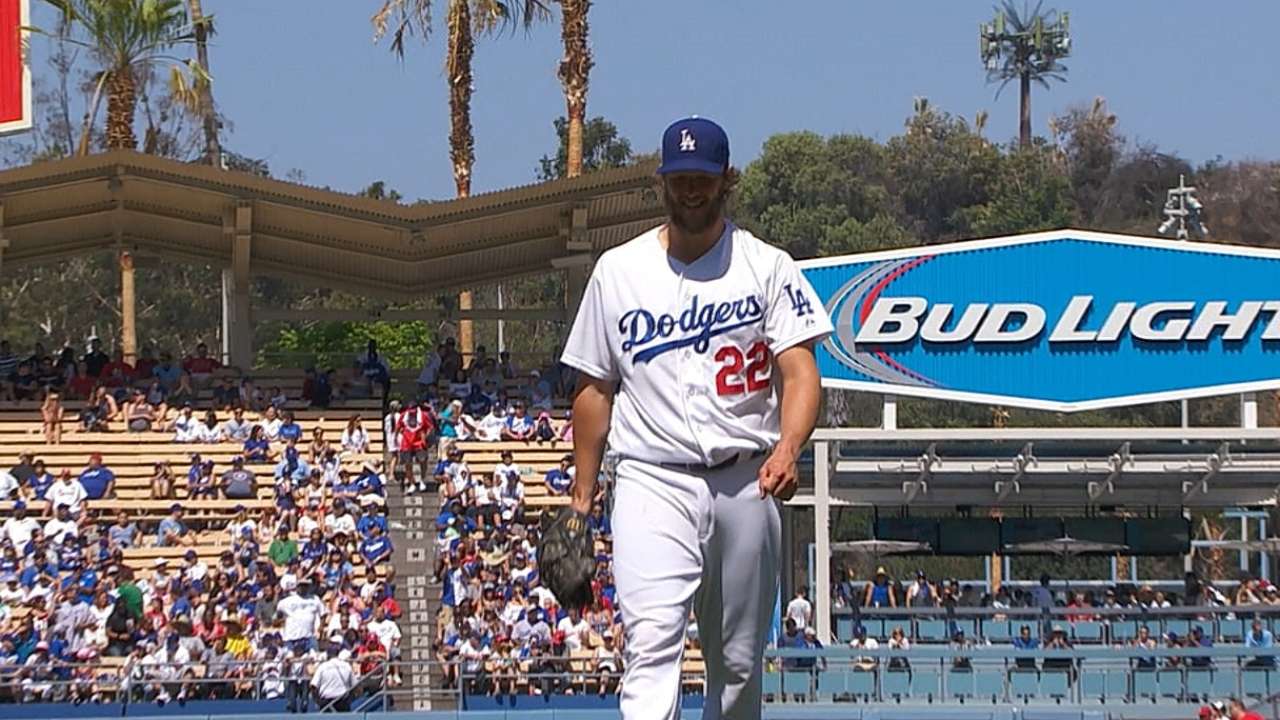 LOS ANGELES -- One weekend before All-Star teams are announced, the Dodgers on Sunday were led into a first-place tie in the National League West by current candidates and past honorees.
Along with another historic performance by three-time All-Star Clayton Kershaw, who struck out 13 in seven scoreless innings, former All-Star Andre Ethier delivered a blast from the past, a three-run homer, in a 6-0 win over the Cardinals.
With the win and a 4-0 loss by the Giants, the Dodgers have erased a 9 1/2-game deficit in 21 days and are tied for first place with San Francisco, having won 12 of their last 16 and going 10 games above .500 for the first time. Shades of last year, when the Dodgers went 42-8 and stormed from last to first in a month. Then and now, the comeback revolved around dominant starting pitching.
"I don't think it's something we want to start as a trend here," Ethier said of the two comebacks. "Our game plan was to make up a game a week and by August be right there to strike. Nobody thought it would be a matter of three weeks."
The speed of the comeback might have been surprising, but not the comeback itself to those in a clubhouse where turmoil was brewing only weeks ago.
"Going through [the rally] last year really helped," said A.J. Ellis. "Everybody in the clubhouse never felt we were out of it, even though 9 1/2 games is a long way to go. [The Giants] are very professional, they play the game the right way and they raise their game when they play us. It will be interesting when we go head to head."
Kershaw extended his personal streak to 28 consecutive scoreless innings, exceeded in Los Angeles history only seven times, led by Orel Hershiser's MLB-record 59. Kershaw is 9-2 overall with a 2.04 ERA, which would rank third in the league if he had 4 2/3 more innings to qualify.
Kershaw went 6-0 in June with an 0.82 ERA and just completed the first six-win month for a Dodger since Hideo Nomo in 1995. Kershaw's 61 strikeouts in the month are the most for any Dodgers pitcher not named Koufax. He walked two Sunday and four in June.
Since Kershaw was roughed up in Arizona for seven runs in 1 2/3 innings on May 17, "He's been the best pitcher in the world," said Matt Kemp. "It seems like a long time ago when he had that game in Arizona and everybody was ready to drop him off the mountain," manager Don Mattingly said.
And Kershaw beat the team that beat him up in last year's NL Championship Series Game 6, although Kershaw said he wasn't thinking about that game, the one in which some Dodgers felt the Cardinals were stealing signs and knew which pitches Kershaw would throw. Since Spring Training, Kershaw seems to bury the ball and pitching hand in his glove, although he has denied making any changes.
"I've had good games against them and bad games," said Kershaw. "For me, it's a matter of trying to think along with those guys."
Equally welcome for the Dodgers was Ethier's first homer in a month and fourth of the year, five seasons after he was powerful enough to crush 31 home runs, finish sixth in MVP voting and appear headed toward a perennial All-Star career.
Fellow former All-Stars Kemp and Adrian Gonzalez joined Ethier in the offensive windfall, both with two hits and an RBI, one of Gonzalez's hits being a surprise bunt single to exploit a defensive shift and key a two-run fourth inning against Shelby Miller.
"A smart play by him," Miller said of Gonzalez's bunt.
Miller lost a perfect game on a walk to Kershaw with two outs in the third inning, but the no-hitter was kept intact when first baseman Allen Craig snagged possible All-Star Dee Gordon's rocket line drive.
After a leadoff walk to likely All-Star Yasiel Puig in the fourth, the Cardinals deployed an exaggerated defensive shift against Gonzalez, who defeated it with a perfect bunt single to the exposed left side of the infield for the first Dodgers hit. Kemp then singled home Puig, with Gonzalez going from first to third as Peter Bourjos' throw home was wide. With one out, Gonzalez scored on Juan Uribe's sacrifice fly.
The Dodgers added to the lead in the fifth. Gordon bunted for a single, but was caught stealing on a pitchout. Puig followed with a hustle double and was singled home by Gonzalez. Kemp doubled Gonzalez to third and Ethier launched his home run.
The Dodgers outscored the Cardinals, 17-4, while winning three of the four games.
Ken Gurnick is a reporter for MLB.com. This story was not subject to the approval of Major League Baseball or its clubs.