Cards eager to flee LA after offense goes cold
Miller falls in tough matchup; Carpenter notches three hits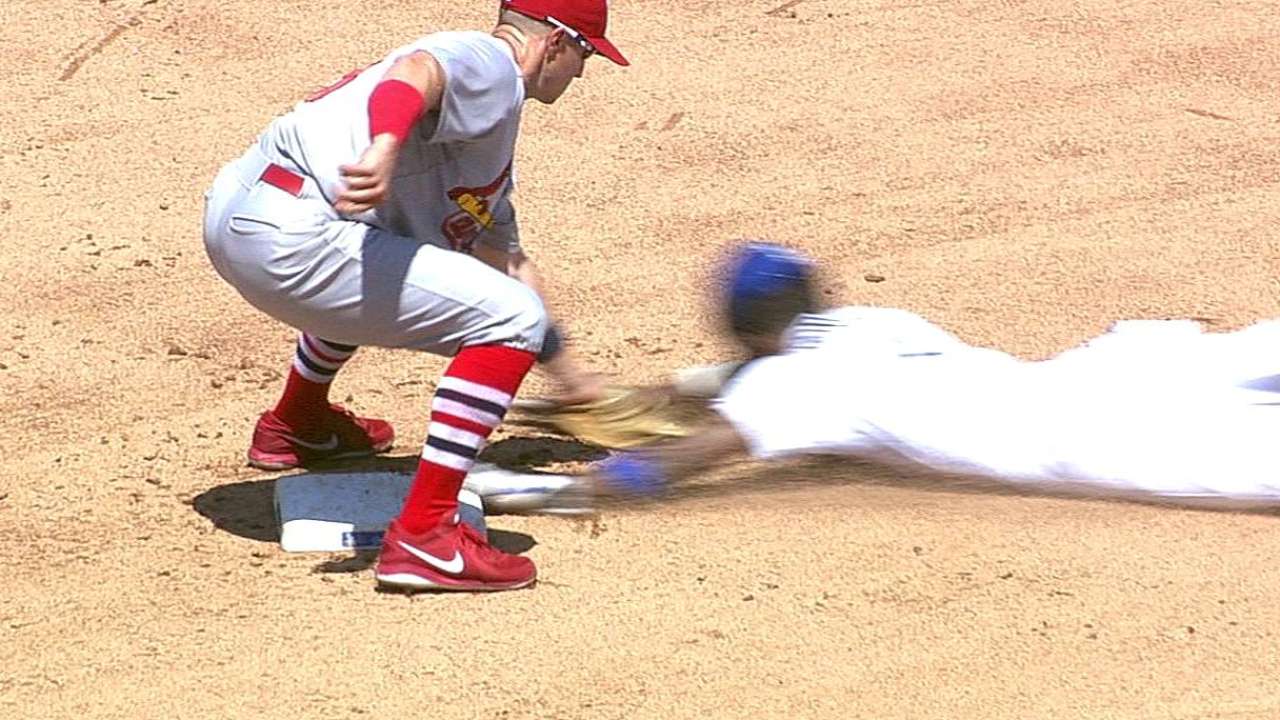 LOS ANGELES -- The Cardinals' offense, as is often the case, left Colorado on a high, having scored 22 runs in a three-day span to take the first series on this three-city trip.
Momentum never made it to the next stop.
The Cardinals closed their punchless series Sunday as no challenge to Dodgers ace Clayton Kershaw, who capped off a career month with his third straight scoreless start. This one finished as a 6-0 win at Dodger Stadium and sent the Cardinals out of town having lost three of four.
"These were playoff games," Matt Carpenter said. "These were games where you're going to go out there and battle someone who is on their game and runs are going to be at a premium."
The diminished productivity of the Cardinals' offense has been a permeating storyline through the season's first three months. Some perspective is required as it relates to this four-game stretch, though, as the scoring struggles had as much to do with the opponent as it did any hole in the Cardinals' roster.
The Dodgers bookended the series with shutouts, the first started by a rejuvenated Josh Beckett. The Cardinals scratched just enough off Hyun-Jin Ryu in a Friday win and then saw two complicated innings over the weekend knock them out of games.
"We're not clicking, producing, whatever verb you want to throw with it to describe us not being able to throw many hits together," manager Mike Matheny said. "You cannot, again, deny that not many guys are throwing a lot of hits together against these guys. There is no reason to start standing on a chair and start screaming at people. But I know our guys are frustrated, no matter who we face, walking out of here with zeros. We don't think we're that kind of team that is going to get shut out very often."
The Cardinals totaled four runs on 24 hits in four days. Six of those hits came on Sunday, and Carpenter had half of them. Kershaw had previously allowed eight hits to left-handed batters all season.
"We've been like that all year," Carpenter said of the hot-then-cold offense. "Just because we come in here and lost three out of four to the Dodgers at the end of June, that this was the moment that 'Oh, we're not playing very well.' It's been like that all season. We're trying to figure it out and get it going and catch a stride. It just hasn't happened."
Carpenter's pair of leadoff singles and a two-out double did nothing to spark any scoring. The Cardinals had four players reach second; none inched any further. Kershaw notched 13 strikeouts.
Kershaw, who finishes June with six wins, a no-hitter and a 0.82 ERA, extended his scoreless-innings streak to 28 with his seven shutout frames. It's the longest scoreless streak by any pitcher in the Majors this season.
"Obviously, there are stretches where he's really, really, over-the-top good," Dodgers manager Don Mattingly said. "But every year, there's been numerous games where you feel like he's just gone out and did this."
It also meant that Cardinals starter Shelby Miller needed to be nearly perfect to match him on the mound. Miller started off so, retiring eight straight, the first three on strikeouts. That string was interrupted when he walked Kershaw. As was the case with that at-bat, Miller would be hurt not by his back on Sunday, but rather by an inability to finish.
He opened the fourth by jumping ahead, 0-2, against Yasiel Puig and walked him. Adrian Gonzalez then exploited the Cardinals' defensive shift by laying down a bunt to a wide-open third-base side. Both runners would eventually score.
The Dodgers began the rout in the fifth, scoring four times off Miller with two out. After Yadier Molina erased a baserunner trying to steal, Miller served up four consecutive hits, the final one a three-run blast by Andre Ethier.
"It's tough when the other pitcher is going out there, knowing what he's capable of and doing what he's doing," Miller said. "In your head, you know you got to do the same thing. It's just frustrating when you give up runs, give up those big innings and give up a lot of momentum with a guy like that."
Miller, who exited his last start in the third inning with back tightness, lasted five innings. In a series that pitted the National League's two best rotations (based on ERA), only one Cardinals starter (Adam Wainwright) was able to pitch past the fifth. Contrastingly, all four Dodgers starters finished seven innings.
Ten of the 15 runs the Dodgers scored over the final two games came in two innings. Those inning implosions changed the complexion of the series.
"I really don't want to beat this only scoring so many runs here, when you're facing some really good pitching and our offense wasn't so bad a couple days ago," Matheny said. "We steal that game one and it's kind of a different conversation, too. ... But you're looking at a couple bad innings that kind of dictated the ugliness the last two days.
"Right now, it felt like we got kicked."
Jenifer Langosch is a reporter for MLB.com. Read her blog, By Gosh, It's Langosch, and follow her on Twitter @LangoschMLB. This story was not subject to the approval of Major League Baseball or its clubs.