Reds finish big sweep of Giants behind Bailey
Righty's shutout is first four-game road brooming at AT&T Park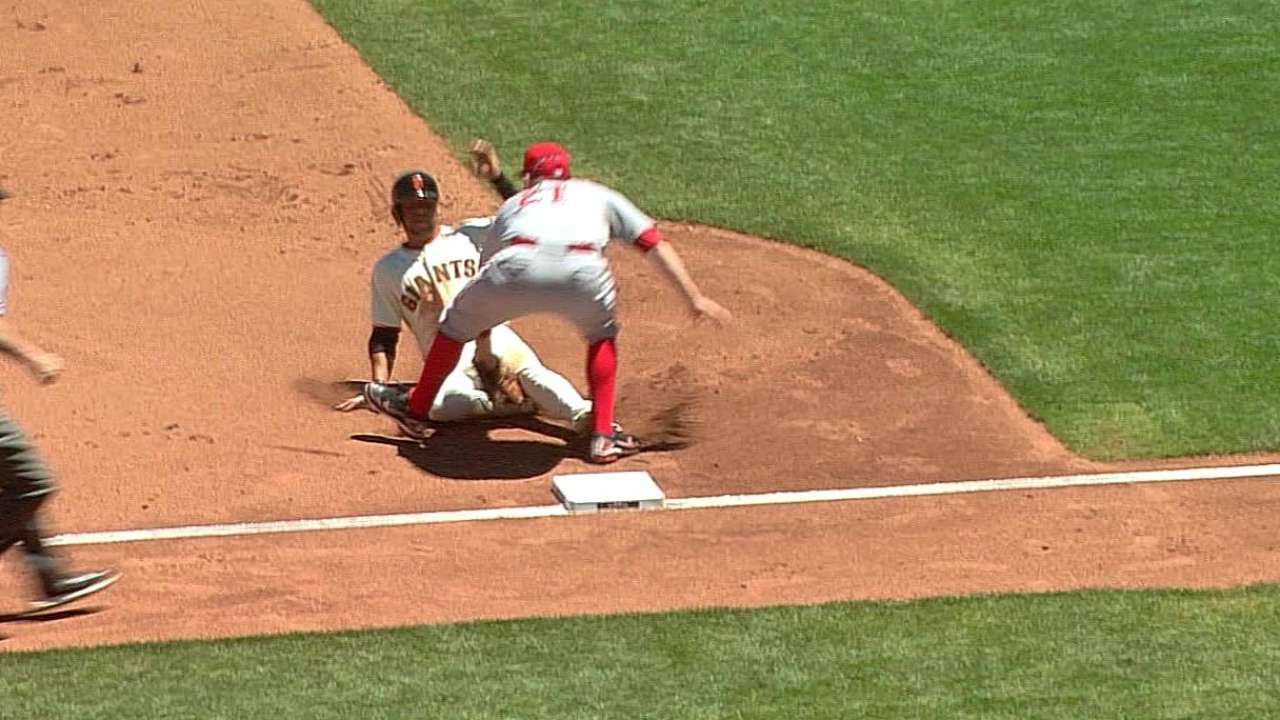 SAN FRANCISCO -- Even with three wins already in the series, the Reds did not feel compelled to take their collective feet off the Giants' throats Sunday during the finale.
Especially not when Homer Bailey brought no-hit-type stuff to the mound and real momentum has been building lately.
Bailey lost a bid for a third career no-hitter with two outs in the seventh inning but notched his fourth career shutout in the Reds' 4-0 win over the Giants to complete the four-game sweep.
"These guys, we beat them three in a row, so you can imagine them not feeling their best. We knew that going into this and we tried to be aggressive," said Bailey, who gave up three hits and one walk with seven strikeouts for the sixth complete game of his career and first this season.
It was the first time the Giants were dealt a four-game sweep at AT&T Park, which opened in 2000. No Reds player on the active roster was alive the last time the club achieved a four-game series sweep of the Giants in San Francisco. It previously happened from May 16-18, 1972, at Candlestick Park.
"I probably saw a couple of those games, to be honest with you, back in '72," said Reds manager Bryan Price, a San Francisco native. "It certainly feels great. The big thing is we're playing much better baseball. And I think we can feel a somewhat of a palpable feeling of expecting to win. It was hard to get to that place. I think we're there now."
Cincinnati, which has a season-high five-game win streak, has also won eight of its last nine games and 14 of 18. The 6-1 record through series vs. the Cubs and Giants also guarantees a winning 10-game road trip with the struggling Padres up next Monday.
"This is the team we felt like we had coming out of spring. Now we're healthy," left fielder Skip Schumaker said. "That's the main thing. Our pitching staff is deeper. Everybody on our offense is finally healthy and getting going. It's a fun thing to be around right now."
The Reds are a season-best five games over .500 at 43-38. With losses by the Brewers and Cardinals, they moved into second place by .0008 percentage points. Milwaukee still leads the National League Central by 6 1/2 games.
"The guys aren't taking anything for granted right now," Price said. "We can't afford to lay back and give games away because we feel we're playing good and already have a series. We have to go out there and try to sweep because we're a good distance behind Milwaukee."
Tim Hudson pitched a great game for the Giants but not great enough as he allowed two runs and five hits while pitching into the ninth inning. In the top of the third inning, Billy Hamilton lofted an RBI double to right-center field that scored Schumaker to make it 1-0. Cincinnati added on three big insurance runs in the top of the ninth to lift the tension.
How good are things going for the Reds right now? They outscored the Giants 20-6 in the four games. Reds starters were 3-0 with a 1.11 ERA (four earned runs over 32 1/3 innings) with five walks and 26 strikeouts.
You know things are going a team's way when the worst start of the four was one run allowed over seven innings, which is what Alfredo Simon did Saturday in a no-decision. Giants manager Bruce Bochy said the work of Bailey, Simon, Johnny Cueto and Mike Leake was the best he's ever seen in a four-game set.
"We ran into as hot of a team as there is in baseball, and we're really as cold as any team in baseball with the bats," said Bochy, whose club has lost 15 of its last 19 games.
"A lot of people in baseball are very jealous of the pitching staff we have," Reds catcher Brayan Pena said. "We just have to continue to help them succeed and we just continue to improve. You have to continue to improve, you can never be satisfied."
Bailey retired his first nine batters until a four-pitch walk to leadoff batter Gregor Blanco ended ideas of a perfect game. With one out and Buster Posey batting, Blanco broke to swipe third base. Bailey stepped off the rubber late but fired a throw to Todd Frazier in time for the out. Posey then struck out to end the inning.
A stretch of 10 in a row retired was capped when Hunter Pence struck out on a nasty slider away to finish a nine-pitch at-bat and put Bailey seven outs from the no-hitter. Next, a 1-1 pitch to Posey was lined for a clean single to right field as the sellout crowd cheered with a measure of relief.
Bailey had only 93 pitches through eight innings and returned for the ninth. Following a two-out single by Pence, Posey flied out to center field to end the game.
"We had a lot of early outs and our pitch count was low all day and we scored enough runs," Bailey said. "Hudson really threw the ball pretty good. It's just kind of our lucky day, I guess."
Mark Sheldon is a reporter for MLB.com. Read his blog, Mark My Word, and follow him on Twitter @m_sheldon. This story was not subject to the approval of Major League Baseball or its clubs.