Sticking to hitting plan has paid off for Reds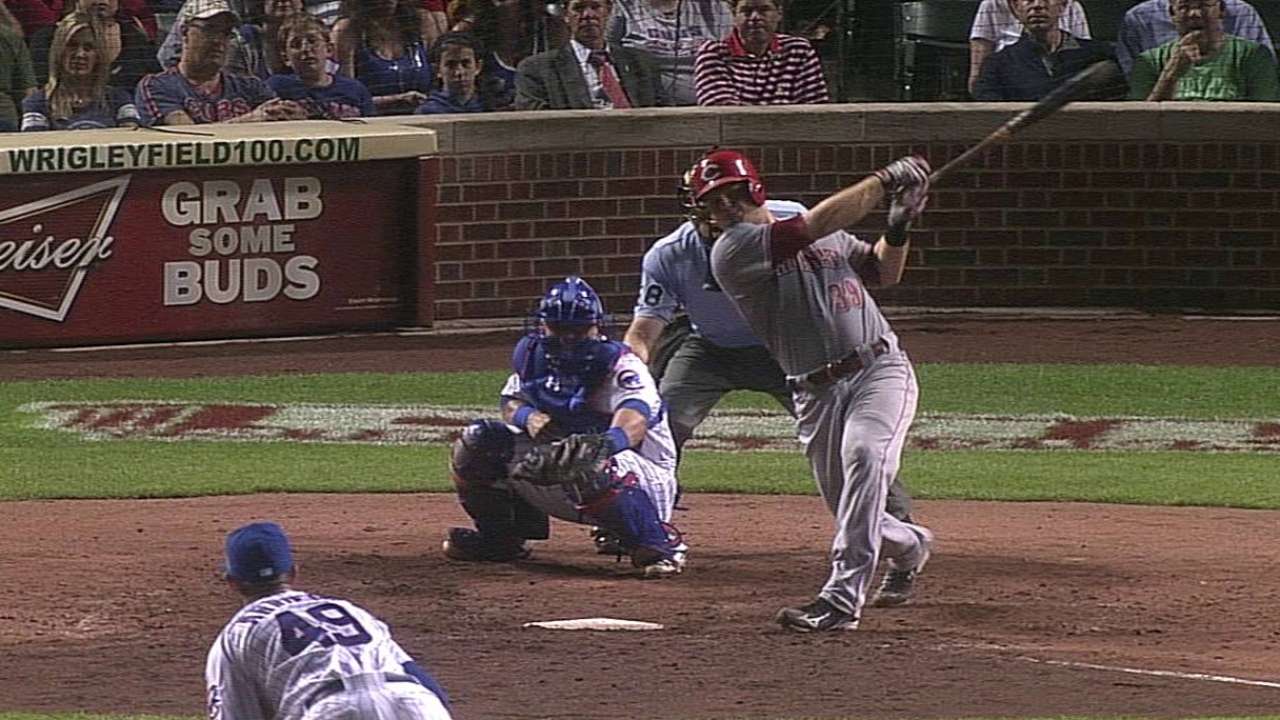 SAN FRANCISCO -- The engine under the hood of the Reds lineup has been humming strong and loud lately as improved offensive production has been a big part of the recent winning surge.
Entering Sunday, Cincinnati averaged 5.8 runs per game and batted .279 over its previous 18 games and had scored six or more runs in nine games. In June, the Reds lead the National League with a .327 average with runners in scoring position.
In the 62 games prior to June 10, the team averaged 3.5 runs and batted .237. It was clear that the Reds' offense was sputtering and lacked energy. There were seven shutout losses, including one game where only the minimum 27 batters batted vs. Arizona's Josh Collmenter on May 29.
Reds hitting coach Don Long didn't believe anything really changed dramatically in the team's approach, but rather the opposite. Long credited the players for sticking with the battling philosophy in at-bats that's been installed since the start of the season.
"When you're contentious about doing things the right way, play the game and not getting results that match the effort you're putting in, there's a lot of frustration," Long said Sunday. "Ultimately, you arrive to the point where you say being frustrated isn't helping. We're doing the work and we're doing the preparation. We have to go out and trust what we have."
Joey Votto returned to the lineup June 10 when he was activated from the disabled list, and Jay Bruce and Devin Mesoraco also missed time on the DL this season. While Bruce and Mesoraco have taken off at the plate, Votto has yet to. But his presence in the lineup has brought stabilization.
"It allows Bryan [Price, the manager] to put guys in their more natural spots in the order and allowed everything to kind of settle down," Long said. "I think we are capturing the mindset of understanding our strengths and trying to hit to those strengths until two strikes, and then being really willing to battle through the at-bat from there. We understand there is value in an at-bat that may end up in an out or a strikeout, that it made the pitcher work. If every guy in the order has that mindset, you'll have some games where it doesn't look particularly good the first four or five innings but the starter has 80, 90 pitches and you're wearing him down.
"There is a mentality from a pitcher's standpoint that 'I'm trying to put a guy away and put my best pitch right where I wanted it and he's still up there and not out.' Our guys have a resolve to their at-bats now. I think it's been building and part of what we're trying to do."
Mark Sheldon is a reporter for MLB.com. Read his blog, Mark My Word, and follow him on Twitter @m_sheldon. This story was not subject to the approval of Major League Baseball or its clubs.