Tomlin being modest about his one-hit gem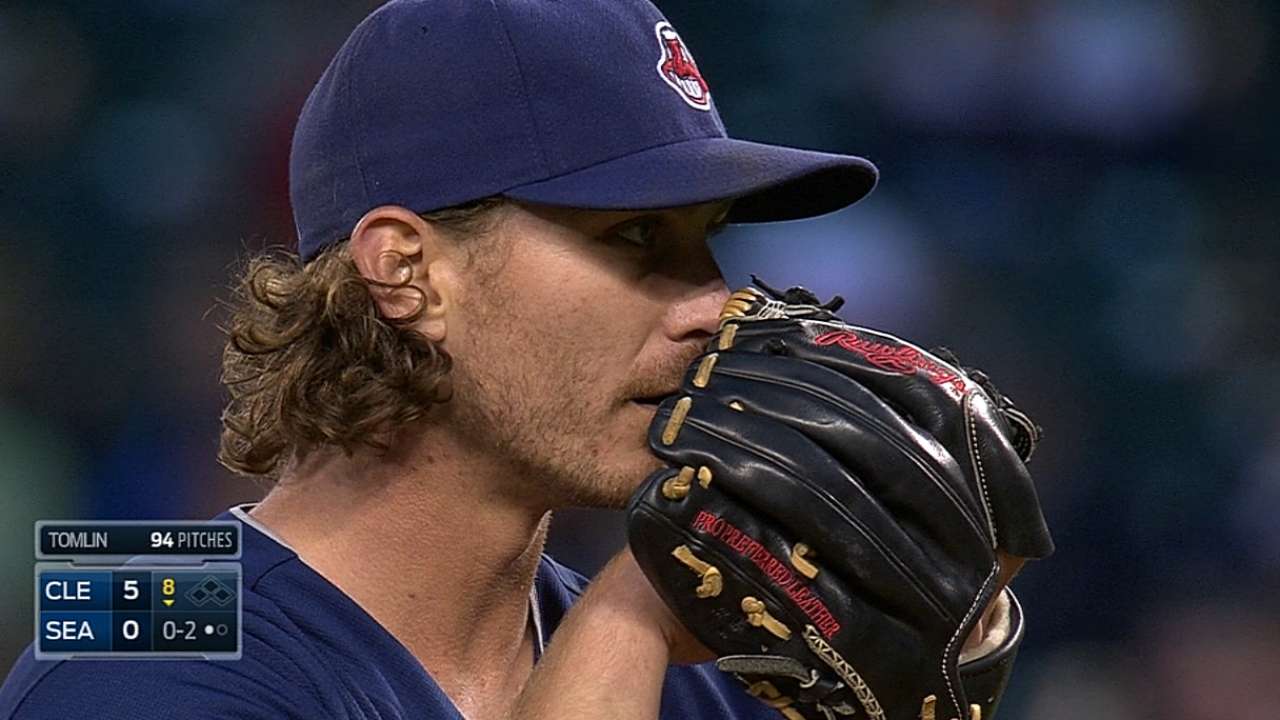 SEATTLE -- Josh Tomlin's phone was flooded with congratulatory messages when he got back to his locker at Safeco Field on Saturday night. When the Indians' pitcher woke up on Sunday morning, there was a second wave of notes waiting for him.
Tomlin estimated that he had over 100 messages to return after throwing his one-hitter against the Mariners in Saturday's 5-0 victory for Cleveland. The softspoken right-hander also said he was not sure why everyone was making such a big deal about his performance.
"It was just another game," Tomlin said on Sunday. "It wasn't anything historic. That's why I didn't understand why I was getting all the messages from my friends and people tweeting."
Tomlin did not realize that his outing had plenty of historic elements to it.
With his showing in Seattle, Tomlin became only the second Indians pitcher in team history to have at least 11 strikeouts, no walks and no more than one hit allowed in a shutout. Len Barker also accomplished the feat in his perfect game on May 15, 1981. In fact, that unique pitching line has only been achieved 21 times in the past 100 years.
There have only been 23 perfect games in baseball history.
"So, that's been done just as seldom as a perfect game?" Tomlin said. "We won. That's all that matters to me."
Sitting in the visitors' dugout at Safeco Field on Sunday, Indians pitching coach Mickey Callaway rattled off the numbers from Tomlin's start: 111 pitches, 64 fastballs, 24 cutters, 19 curveballs and four changeups. Tomlin held lefties to a 1-for-25 showing, generated 18 swings-and-misses and had 17 at-bats end with him ahead in the count.
What stood out the most to Callaway?
"That he pitched exactly to the game plan," said the pitching coach. "He did everything we asked, as far as what we talked about in the advance meeting. He did a really good job with that."
Callaway was asked if he would request a copy of Tomlin's start be sent to each of Cleveland's Minor League pitchers. The Tribe's pitching coach let out a laugh.
"Yeah, 'Just do this,'" Callaway said. "Then I won't have to do anything ever again."
Jordan Bastian is a reporter for MLB.com. Read his blog, Major League Bastian, and follow him on Twitter @MLBastian. This story was not subject to the approval of Major League Baseball or its clubs.