After Gonzalez's early exit, Rays tee off on 'pen
Righty gives up three runs in 4 2/3 before TB touches 'pen for nine more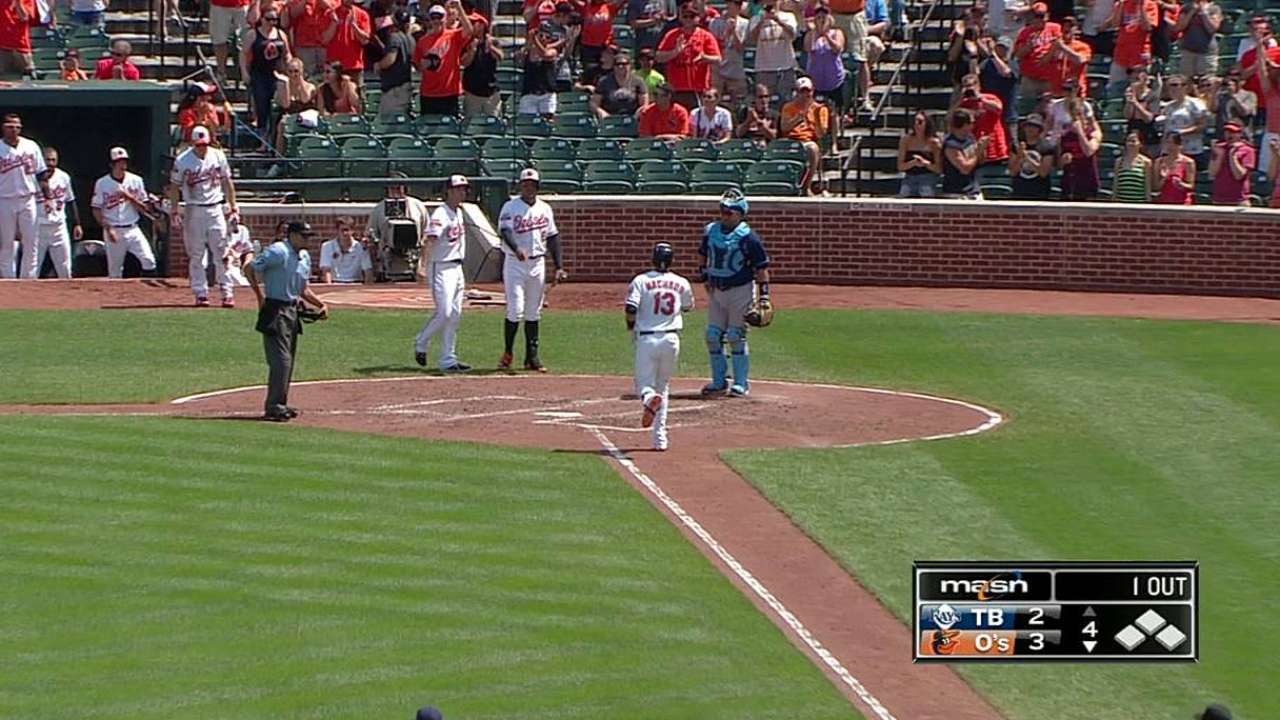 BALTIMORE -- Another short start by Miguel Gonzalez and some disastrous relief pitching saw the Orioles' home troubles continue to add up.
Baltimore surrendered a season-high 12 runs to a last-place -- and light-hitting -- Rays team, with Gonzalez perhaps putting his rotation spot on thin ice following an uninspiring 4 2/3-inning outing. The end result -- a 12-7 defeat that gave the Orioles a series loss in a four-game set against Tampa Bay -- drops the O's to 19-21 at Camden Yards this season with series wins in just two of their last seven home sets.
"That was a tough one to swallow," Gonzalez said of a bullpen that had allowed just one earned run over the first six games of the homestand, a 23 2/3-inning stretch, before Sunday. "They've been doing a good job, and I just feel like I [let] them down. They grinded it out, our hitters as well. They did what they had to win a ballgame, but we were just a little short."
Gonzalez's abbreviated outing helped drop the O's to 3-4 on their current 11-game homestand -- and 1-6 at home on Sundays -- but they remain just 1 1/2 games back of first-place Toronto given its loss on Sunday.
It also made it pretty clear that the Orioles, who are already bracing to play a man down with Manny Machado's pending suspension, will probably have to shuffle the roster and add some bullpen help behind Ubaldo Jimenez on Monday.
"You can't keep running the same people out there night after night, and our starters know that and they take it very personal," said manager Buck Showalter, who planned on sitting down and going over who could benefit from a stint at Triple-A Norfolk. "It's just, [we] weren't able to execute well enough to get done what they wanted to get done. But it's a domino effect on a lot of different things."
Gonzalez, who had a stretch of four consecutive quality starts before hitting the disabled list earlier this month, has shown no signs of regaining that form. Over his past three starts, the righty has gone 14 2/3 innings and allowed 10 earned runs on 25 hits and nine walks with eight strikeouts, which translates into a 6.14 ERA.
"It's a little frustrating," he said of his recent performance. "It's frustrating to come back and not able to have that success. But it's a grind. The first half, we've got to keep working and hopefully finish strong."
Gonzalez didn't have a clean inning on Sunday, and he was fortunate to allow just three runs with 11 baserunners. He surrendered a pair of solo homers, one of two hit by Matt Joyce in a career-high five-hit afternoon, and exited with the bases loaded in the fifth inning in favor of righty Evan Meek, marking the third consecutive game Gonzalez wasn't able to record an out in the sixth.
"Just a lot of elevated pitches," Showalter said. "There's such a fine line. That's a big difference, pitching and hitting. He's trying to go down away and goes middle up and you're missing height and location as far as in or out. He wasn't the only one. That's for sure."
Meek got out of Gonzalez's jam by striking out Logan Forsythe, but was charged with four of the Rays' seven runs in the sixth. Tampa Bay, which turned in its first double-digit output in a nine-inning contest since April 19, got a solo shot from Kevin Kiermaier off Meek and a two-run shot from Forsythe one-out later off lefty Brian Matusz. Matusz, who was charged with five earned runs, surrendered Joyce's second blast -- a two-run homer in the seventh inning -- but was able to go 2 1/3 innings to help save the rest of the relief corps.
"You're not going to give up 12 runs a game," catcher Nick Hundley said of a relief group that gave up the most runs since July 16, 2012 (12). "Our pitching staff's been throwing the ball great, so like I said, you don't make the exception to the rule. In a 162-game season, some games are going to get away from you. This one did a little bit. It's my job behind the plate to slow it down and not let it get out of control like that, and I couldn't do it. So I'll look internally and the next time out there, try to be able to slow it down and not let it snowball like that."
The O's scored their first four runs off Rays starter Alex Cobb, who allowed eight hits over five innings. Steve Pearce drove in Nick Markakis in the third and Manny Machado's two-run homer gave the Orioles a short-lived lead in the fourth.
Markakis, who became just the eighth player in franchise history to record 100 hits in nine separate seasons with a third-inning double, singled and scored on Jose Molina's passed ball in the fifth.
The O's brought the game within five on Ryan Flaherty's three-run homer off Cesar Ramos in the ninth, but that's as close as they would get in rallying from the eight-run deficit.
"All our guys know that's the corner you paint yourself into when you have those types of challenges," said Showalter, who was trying to stay away from three guys and balance the fact that lefty reliever T.J. McFarland is the logical candidate for Tuesday's spot start.
"Not the first time, won't be the last time. It happened in 2012, it happened in 2013. We've just got to work our way out of it. A couple of good starts, and we'll be back on our feet."
Brittany Ghiroli is a reporter for MLB.com. Read her blog, Britt's Bird Watch, and follow her on Facebook and Twitter @britt_ghiroli. This story was not subject to the approval of Major League Baseball or its clubs.