Late Mets rally falls short after Bartolo falters
New York blanked until two-run ninth; righty allows five runs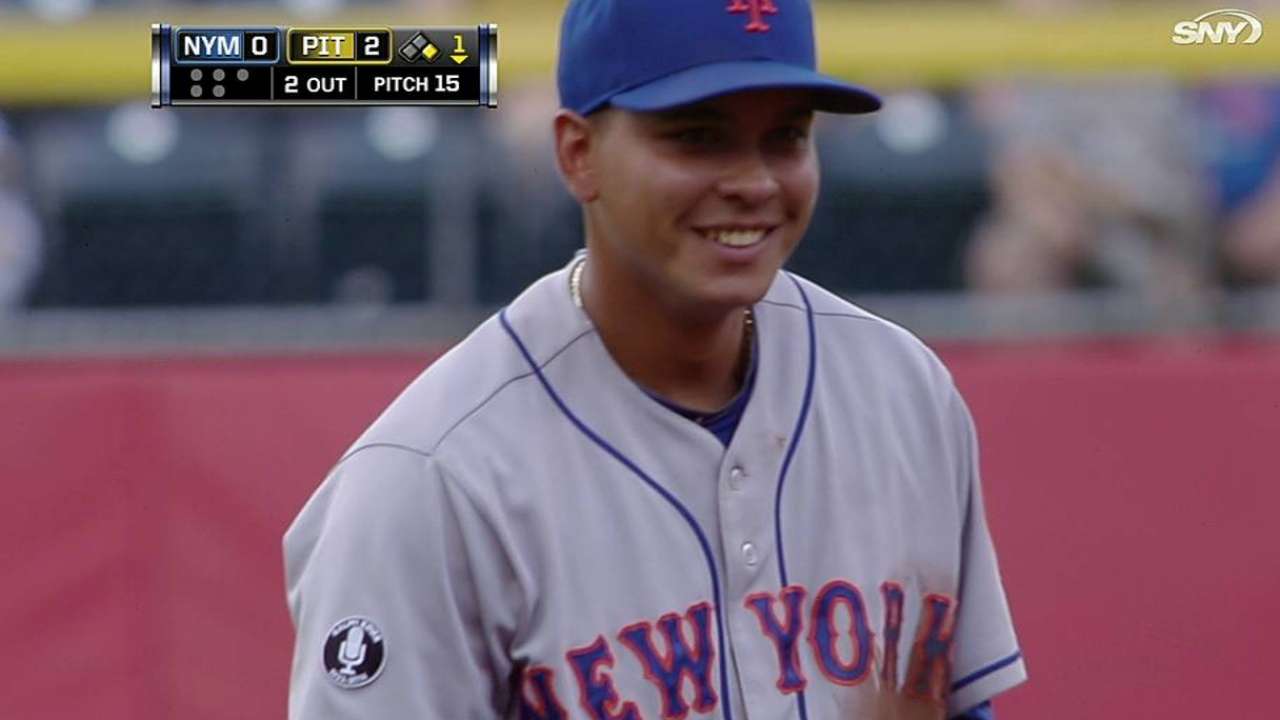 PITTSBURGH -- The Mets finally broke through in the ninth inning and had a few baserunners cross the plate. However, with the tying run at the plate, the game's final out resulted in two more stranded baserunners in a game where the club stranded plenty.
The Mets left 11 men on base, were 2-for-15 with runners in scoring position and scored just two runs despite 13 hits on Sunday at PNC Park. The lack of timely hitting paired with a mediocre performance from Bartolo Colon resulted in a 5-2 Pirates victory.
The Mets out-hit the Bucs in all four games of the weekend series, yet they leave the Steel City with just one win to show for it. On Sunday, they had hits in each of the first seven innings, were even helped by two errors, but couldn't get on the board until the ninth.
"You think you're out of it, you think you're swinging good, and it comes back," manager Terry Collins said of his team's missed chances. "It was just one of those games we didn't get the runs in."
New York was hitting Pittsburgh starter Edinson Volquez hard all day. The Mets had eight hits against the righty and also drove a few balls to the warning track. But every time it seemed the Mets were bound to break through, Volquez induced a weakly hit ball or had one of his seven strikeouts.
"Jams are part of the game," said Volquez, who pitched out of the stretch to 14 of the 26 batters he faced. "The sooner you're able to control the game, and turn the right page and get out of there, the better off you are."
The best chance the Mets had against Volquez came in the third inning when they had runners on the corners after an Eric Young Jr. double and Ruben Tejada single. However, Daniel Murphy struck out and Curtis Granderson ended the inning when he hit a fly ball to right field on a 3-0 pitch.
Granderson went 0-for-5 in the game, and recorded the final out when he again flied out to right with Murphy at second base and Tejada at third. The right fielder was in a 7-for-14 stretch entering the series, but was hitless in 17 at-bats at PNC Park, even though he hit a few balls to the wall.
"In the last three games, [Granderson]'s hit, six, eight, 10 fly balls that he's this far from hitting homers," Collins said while holding up his barely separated fingers. "A week ago, everything he swung at he was squaring up, and now he's just a quarter-inch off. They become fly balls instead of homers. To be honest, that's why the game's hard, and that's why the game is great. There are no givens."
Coming off three straight starts in which he pitched into the eighth inning, Colon was tagged for three runs in the first. The scoring started when former Met Ike Davis lined a single to left field for two RBIs. It was Davis' first hit against his old team in 15 at-bats.
Pedro Alvarez continued the first-inning scoring with a double to right-center field, and before he had recorded three outs, Colon had already given up more than two earned runs for the first time in seven starts.
"When you put those kinds of swings on it, he was putting the ball in the middle of the plate," Collins said. "He hasn't been hit that hard in a long time."
Colon, 41, was touched up by Alvarez again in the fourth inning when the third baseman hit a towering two-run homer to right field. Colon managed to get through six innings and gave up the five runs on seven hits to go with two strikeouts and a walk. It was his first loss since May 6 -- snapping a streak of six consecutive decisions without a defeat.
The right-hander had a much more favorable start against Pittsburgh earlier this season when he pitched 7 1/3 scoreless innings and struck out nine in a May 28 victory. Colon said the familiarity the Pirates had with him may have been a disadvantage on Sunday, however.
"I just think that since I'd already gone against them once, they were prepared and knew what I was coming with," he said.
The Mets got a scoreless inning each from Gonzalez Germen and Dana Eveland, and were able to avoid their eighth shutout of the season with RBIs from Chris Young and Tejada against reliever Jared Hughes. But it was the third time in the series the Mets mustered only two runs, and all three of those games were losses.
Stephen Pianovich is an associate reporter for MLB.com. This story was not subject to the approval of Major League Baseball or its clubs.