Gallardo stumbles as season sweep eludes Crew
After six straight wins vs. Rox, Brewers come up short in finale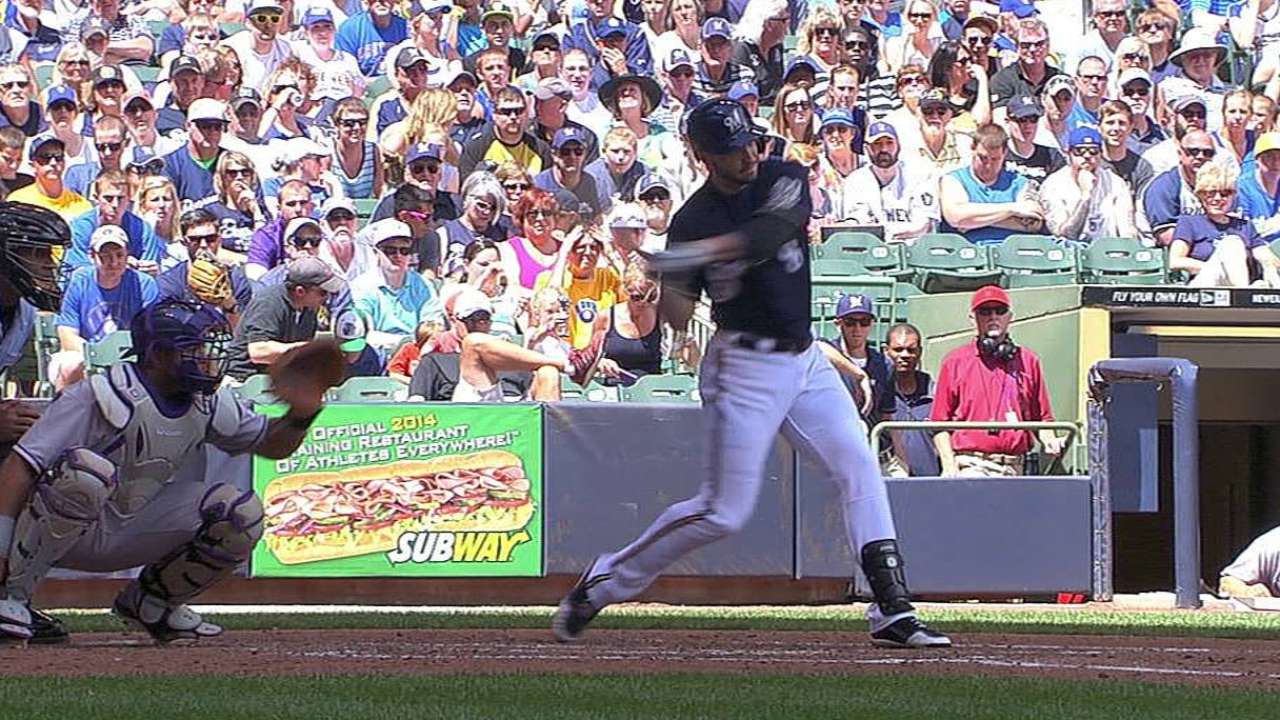 MILWAUKEE -- It was a productive run of 20 games in 20 days for the Brewers, but it ended with a dud.
Yovani Gallardo continued to have trouble against Colorado, and his teammates did not fare much better at the plate or in the field, sending the Brewers to a 10-4 loss in front of a sellout crowd at Miller Park.
A Brewers victory would have finished both a series and season sweep of the Rockies, pushed Milwaukee 20 games over .500 and back onto a 100-win pace. Instead, the Brewers settled for going 13-7 during their longest uninterrupted stretch of the schedule while increasing their lead in the National League Central from five games over the Cardinals to 6 1/2 games at the end of a 20-game grind.
Perhaps that fact helped heal the sting from Sunday's ugliness.
"No excuses. Bad game for everybody," said Brewers third baseman Aramis Ramirez, who stole two bases for the first time in his career but committed the first of two Brewers errors on an ugly play in the fifth inning. "It's going to happen. It's a 162-game season, a long season, so you're going to have days like this that we don't pitch well and don't play defense. We only got four hits. So we didn't do anything right."
A circus play in the top of the fifth typified the Brewers' long day at the ballpark.
Ryan Braun's solo home run and Khris Davis' sacrifice fly had just cut the deficit to 5-2 when the Rockies opened the fifth inning against Gallardo with two singles. Colorado catcher Wilin Rosario hit a grounder that got by Ramirez for an error. Shortstop Jeff Bianchi tracked down the baseball near the tarp as the second Rockies runner scored, and catcher Jonathan Lucroy fired a return throw toward third in an attempt to retire Rosario. It sailed back down the baseline toward the tarp, allowing Rosario to complete his trip all the way around the bases.
"After getting those two runs it's a 5-2 ballgame, I'm feeling pretty good," Brewers manager Ron Roenicke said. "I feel like our offense is going to come back, and then we melt down that inning. … We just, we had a meltdown. That's hard on an offense when you come back and then you have that kind of inning."
All three runs were unearned against Gallardo, who had allowed three total runs over his previous four starts, spanning 27 innings. In five innings on Sunday, he was charged with eight runs (five earned) on a season-high 10 hits with a walk and three strikeouts. He fell to 0-5 with a 6.08 ERA in 10 games (nine starts) against the Rockies.
Two teams have given Gallardo particular trouble. In 27 starts plus one relief appearance against the Cardinals and the Rockies, he is 1-16 with a 6.24 ERA. Against the rest of baseball, he is 85-42 with a 3.34 ERA.
"I don't really know how to answer that," Roenicke said. "I just know coming out watching him throw, I know when he's off, and you look at the great curveball he's had for quite a while now, he didn't have it today."
"I wish I knew where it went," Gallardo said, "[but] it's one game. You never want to lose a game to begin with, but you have to stay positive and get ready for the next one."
With two hits including his 11th home run this season, Braun improved his career line against De La Rosa to 10-for-14 with three home runs, but De La Rosa emerged victorious. The left-hander worked six slow innings against his former team, allowing four earned runs on four hits.
Asked about his trouble with Braun, De La Rosa said: "I don't know. You've got to ask him. Obviously whatever I threw to him, he found the ball with the barrel and hit it good. I have to take my hat off and say, good player. He's not any other hitter."
Braun finished 10-for-25 on the homestand, and if the Brewers were looking for a bright spot on an otherwise frustrating day, their right fielder may have provided it.
"He's not chasing as much, he's hitting the ball hard the other way, he pulled the ball down the line for a double today -- he's hitting the ball all over the ballpark," Roenicke said. "I just see a better swing from him. I'm hoping this is a good sign."
Adam McCalvy is a reporter for MLB.com. Read his blog, Brew Beat, and follow him on Twitter at @AdamMcCalvy. This story was not subject to the approval of Major League Baseball or its clubs.