Offense rallies behind De La Rosa in finale
Big first vs. Gallardo helps build momentum at end of rough June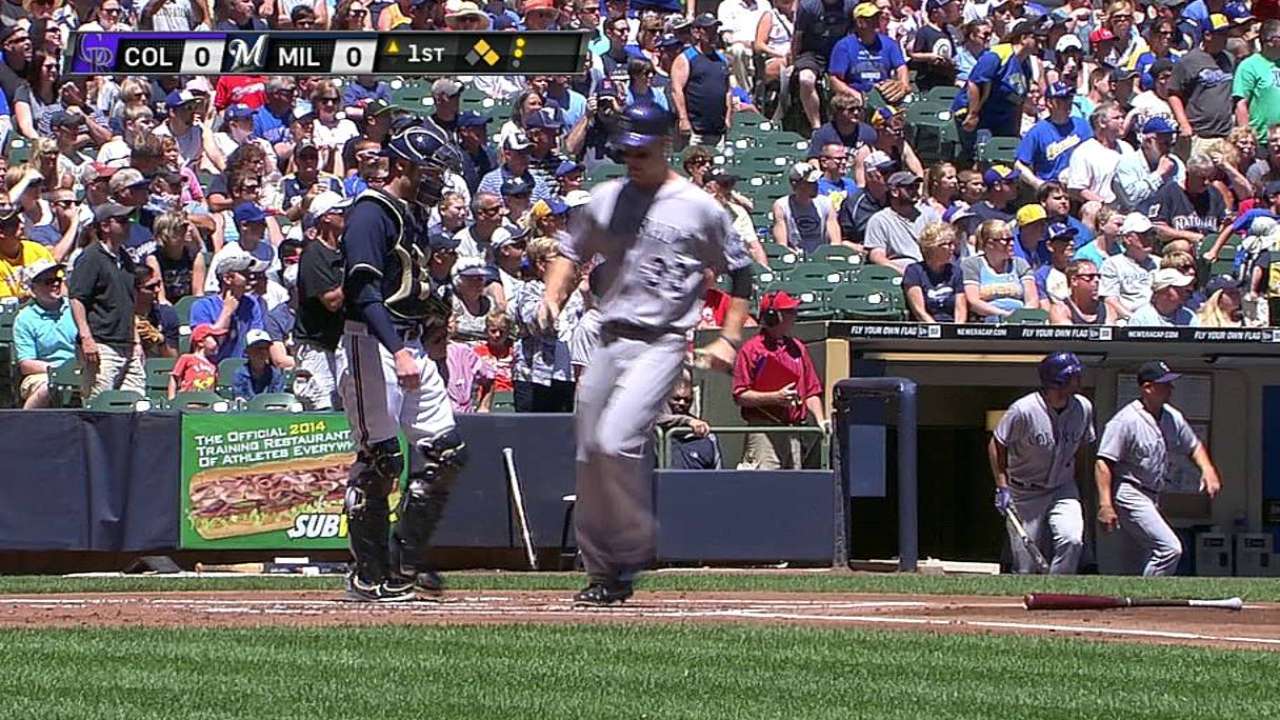 MILWAUKEE -- The bats came alive early, Jorge De La Rosa put in six solid innings and the Rockies even got a little bit of good luck. Everything finally came together on Sunday as Colorado cruised to a 10-4 win over Milwaukee at Miller Park, the Rox's second win in their past 13 games.
"It seems like every day there's a new storyline or a new challenge," Rockies manager Walt Weiss said. "It's good getting on a plane after a win, heading into Washington where we're going to face some more tough pitching. Good win today, in a lot of ways."
After struggling to score runs early on Friday and Saturday, the Rockies' bats came alive in Sunday's first inning and never cooled off. The team totaled 15 hits, with each member of the starting lineup recording at least one. Troy Tulowitzki led the way, going 3-for-5 with two runs.
On the mound, De La Rosa helped out the exhausted Rockies bullpen with six innings, limiting Milwaukee to four runs on four hits. Though he gave up three wild pitches -- and a home run to Ryan Braun, who is now batting .714 against him over his career -- he kept the Brewers at arm's length throughout Sunday's game.
De La Rosa was the winning pitcher in both of Colorado's wins in this recent rough stretch.
"He did a good job today," Weiss said. "He had to labor through a couple innings but did a nice job for us. We needed a lift today. He got us through six and put us in position."
With the win, the Rockies avoided a sweep in their seven-game season series against the Brewers, who hold the National League's best record. Colorado improved to 8-19 in June with one game to go.
The scoring started early against Milwaukee's Yovani Gallardo, who now has an 0-5 record and 6.08 ERA in his career against Colorado. After retiring the game's first two batters, Gallardo walked Justin Morneau and allowed consecutive hits to Tulowitzki, Corey Dickerson, Wilin Rosario and Ryan Wheeler. After leading for just one inning in the first three games of this series, the Rockies found themselves ahead by three right away on Sunday.
"When our offense gets rolling, we feed off each other, and it's good to get that early," Dickerson said. "I still feel like we're scoring a lot of runs in games, but you need it early sometimes. You just need to pick up the pitcher if they're struggling, or give them confidence."
The Rockies added a run in both the second and third innings, and De La Rosa cruised until the fourth, when he allowed the home run to Braun and another run, on a Khris Davis sacrifice fly.
But two Brewers blunders in the fifth inning led to three unearned runs that would help put the game away for Colorado. Tulowitzki and Dickerson led off the inning with consecutive singles, and Rosario hit Gallardo's first pitch sharply to third baseman Aramis Ramirez. Ramirez tried to backhand the ball but booted it into the outfield, allowing both runners to score.
Rosario advanced to third on Jeff Bianchi's throw to home plate, and when Jonathan Lucroy attempted to throw him out there, the ball sailed into left field, allowing him to come all the way around to score.
The play came eight days after the Rockies allowed the Brewers to score three runs on a wild pitch and subsequent error during the teams' series at Coors Field.
"That's a home run for Rosario," Weiss said, grinning. "It was a big play, obviously. It was one of the turning points, if not the turning point, of the game. It felt good to be on this end of it."
De La Rosa allowed two more runs in the sixth, but they would be of no consequence as Tommy Kahnle and LaTroy Hawkins combined for three hitless innings to wrap up the win.
"I always try to go as long as I can in the game, to try to give the team a chance to win every time I go out there," De La Rosa said. "They responded very good with the bats, and I'm glad for that."
Charlie Culberson also added two runs with a pinch-hit home run in the eighth inning, his second of the year.
Dickerson left the game in the middle of an at-bat in the eighth inning, but he said it was just a leg cramp and that his removal was precautionary. He did not expect to miss any more time.
The blowout win finally gave the Rockies a chance to exhale in a stretch in which they have not been able to put it all together.
"The offense has been swinging the bat well," Weiss said. "I feel like we've had a good approach at the plate, and today we swung the bats really well against a good pitcher. We just keep grinding through it."
Caitlin Swieca is an associate reporter for MLB.com. This story was not subject to the approval of Major League Baseball or its clubs.