Hernandez dazzles, tosses one-hitter for 10th win
Cano breaks out of slump to seal victory with two-run homer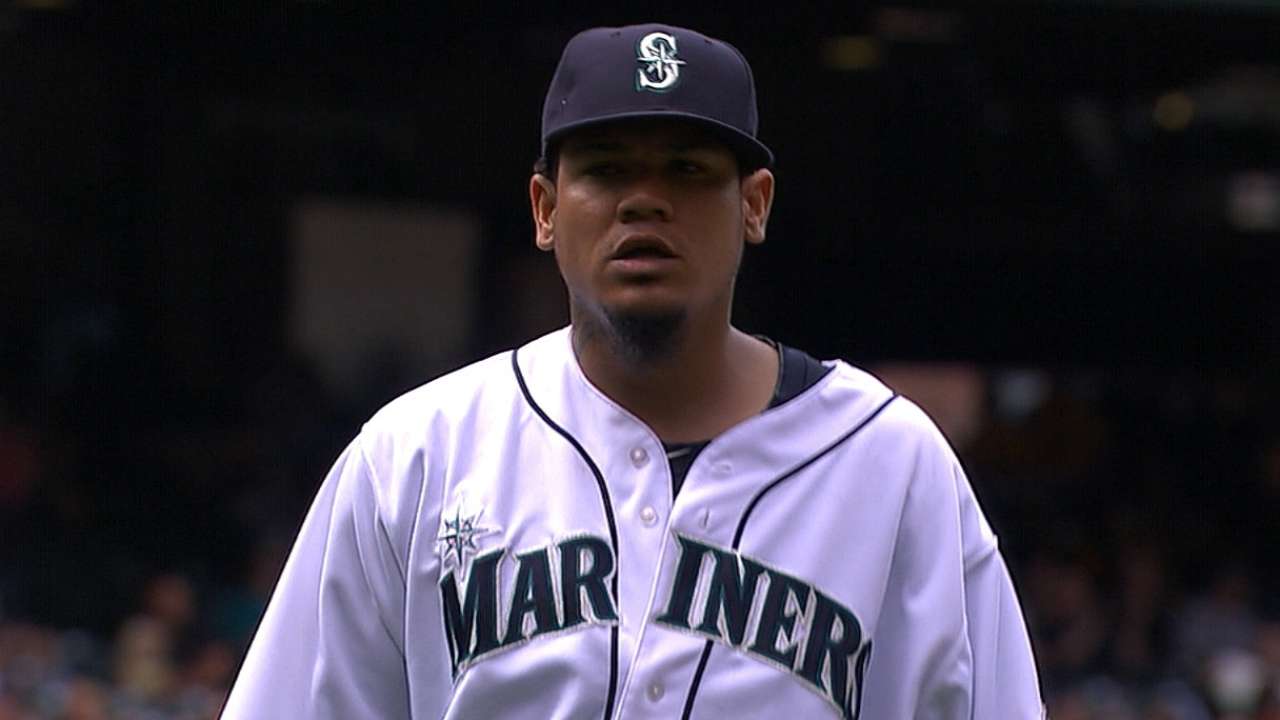 SEATTLE -- Run support. No run support. Right now, it barely matters when Felix Hernandez is pitching for the Mariners.
Hernandez dazzled again Sunday at Safeco Field, allowing one hit -- a dribbling single from third baseman Lonnie Chisenhall -- over eight shutout innings, as the Mariners beat the Indians, 3-0, to take two of three from Cleveland and finish their homestand with a 4-2 mark.
Second baseman Robinson Cano added his fifth homer of the season to pace the Mariners to their third consecutive series win.
"He listened to me pretty good today," manager Lloyd McClendon joked when asked about Hernandez after the Mariners improved to 44-38. "I had a pretty good game plan for him and he followed it. Felix is great. I don't have the adjectives to explain it anymore. He's just unbelievable."
Here are some numbers to prove his point.
With the win, Hernandez improved to 10-2 while his ERA dropped to a microscopic 2.10. The latter tied him with Yankees right-hander Masahiro Tanaka for the AL lead. Hernandez fanned nine and walked three. Dating back to May 18, he has pitched at least seven innings while allowing two runs or fewer in each of his nine starts, a club record. In that span, he's 6-1 with a 1.30 ERA, 77 strikeouts and 10 walks.
On Sunday, he outdueled Cleveland southpaw T.J. House (0-2), who was recalled early in the day because right-handed pitcher Justin Masterson was scratched due to knee soreness.
When asked what was working, Hernandez listed his pitches -- fastball, breaking balls, changeups, but noted that his fastball was "pretty sharp."
McClendon agreed.
"It's hard to sit on any one pitch when he's throwing 94," McClendon said. "[They] had some guys trying to sit on changeups and he painted fastballs away."
The Mariners' offense was lifeless until the sixth inning, when outfielder Michael Saunders reached on a swinging-bunt single. When House fielded the bunt, it looked as if the play at first was going to be close, but he threw wide of the bag and down the right-field line, allowing Saunders to reach third.
After House buzzed a first-pitch fastball by Cano's head, the second baseman launched a 2-0 offering deep into the seats down the right-field line. The two-run homer broke his 0-for-14 slump and gave the Mariners a 2-0 lead. It also snapped Seattle's streak of 15 consecutive scoreless innings after they were one-hit Saturday in a 5-0 loss.
Cano wasn't pleased with the preceding brushback pitch.
"Anytime you see a ball close to your face or head. That's the last thing you want to happen," Cano said. "The last two weeks I've been seeing that a lot."
The homer was all the Mariners needed on an afternoon Hernandez dominated, though catcher Mike Zunino added an insurance run with an RBI single in the eighth inning. Closer Fernando Rodney worked a rare 1-2-3 ninth for his 23rd save in 25 chances.
Hernandez didn't allow a hit until Chisenhall led off the fifth inning with a slow-bouncing single back through the middle. Cano went into a slide and nearly corralled it, but the ball slid under his glove, ending Hernandez's chances of a no-hitter.
"To be honest, I think about a [no-hitter] every game," Hernandez said.
Next up, right fielder David Murphy lined out to third baseman Kyle Seager, who threw to first and doubled off Chisenhall. That was the last time Cleveland threatened.
The Mariners had a few chances. In the first inning, Willie Bloomquist led off with a single. After Saunders struck out, Cano grounded into a forceout at second on what should have been an inning-ending double play.
But first baseman Nick Swisher dropped shortstop Mike Aviles' ensuing throw. Swisher was charged with an error, then Seager, who finished 2-for-4 to lift his average to .277, singled before catcher Zunino walked, loading the bases.
The Indians escaped falling behind when designated hitter Logan Morrison fanned to end the inning.
But they couldn't escape Hernandez, who inched closer to surpassing Tanaka as the front-runner to start for the American League in the All-Star Game on July 15 at Target Field.
Hernandez has reached the 10-win mark before the All-Star Break for just the third time. On Sunday, his career strikeout total reached 1,840, helping him surpass Indians Hall of Fame pitcher Bob Feller for the sixth most strikeouts in a player's career before his 29th birthday.
Hernandez is entering rare company. Ask McClendon.
"I think Felix is unique -- probably a combination of Doc Gooden and Greg Maddux," McClendon said. "The devastating changeup, the big hook and the fastball that's 94-95. I'd say probably a combination of both of those guys."
Adam Lewis is an associate reporter for MLB.com. This story was not subject to the approval of Major League Baseball or its clubs.