Rookie House is solid, but offense goes silent vs. Felix
Starter, called up from Triple-A for finale, gives up two runs in six-plus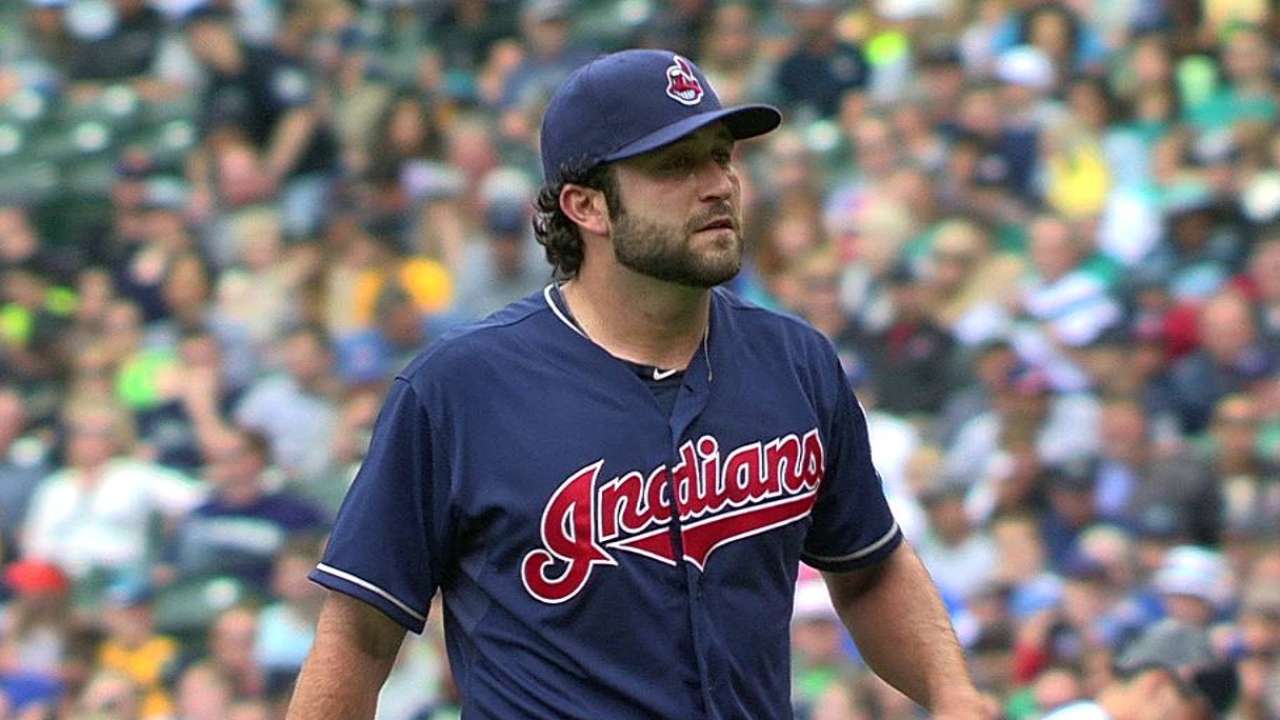 SEATTLE -- When Indians left-hander T.J. House arrived at Safeco Field this weekend, he had a locker waiting for him in the visitors' clubhouse. It was in the middle of a stall used for the bat boy and another locker used for lost-and-found items.
Not only was the real estate less than ideal for House, the rookie was also tasked with returning from Triple-A Columbus for a start opposite Mariners ace Felix Hernandez. House proved up for the challenge, but Cleveland's offense went silent against King Felix in a 3-0 loss in the finale of this three-game series.
"T.J. was really good," Indians manager Terry Francona said. "On a lot of nights, we're sitting here right now bragging about his outing. Because of the way Felix threw, any mistake makes it really difficult to win that game."
With the defeat, the Indians lost the series and have now dropped six of their past eight games.
One day after Josh Tomlin's brilliant shutout against Seattle, Hernandez returned the favor with a dominant performance against Cleveland. Across eight innings, the right-hander piled up nine strikeouts against three walks with only one hit allowed. Combined with closer Fernando Rodney's clean ninth, Seattle answered Tomlin's one-hitter with one of its own.
It represented the first time that an American League venue saw consecutive one-hitters since May 3-4, 1996, when the Rangers spun two such games in a row against Detroit at Tiger Stadium. The last time it happened overall was on April 25-26 last season, when Washington completed consecutive one-hitters against the Reds at Nationals Park.
The lone hit allowed Sunday came courtesy of Lonnie Chisenhall, who sent a pitch up the middle and into center field for a leadoff single in the fifth inning. As it happens, it was a leadoff single in the fifth (Kyle Seager) that spoiled Tomlin's near perfect game on Saturday night.
"It certainly makes for some quick games," said Chisenhall, who is now batting .350 on the season. "Josh had a great game last night. You never want it to be you who gets one-hit. But, it happens every now and then."
The Indians had not been held to one hit or less since July 27, 2011, when Ervin Santana spun a no-hitter for the Angels in Cleveland. For the Mariners, this marked the sixth time in franchise history that the club ended a contest with at least 10 strikeouts, no runs allowed and one or zero hits relinquished.
King Felix has been on the hill for the past three of those occurrences.
"Felix was so good," Francona said. "He had everything working. He pitched. It's hard to get a bead on him. He commands his fastball. He spins a breaking ball. He throws a changeup off both of those. And, he locates all of them. That's tough.
"He's not only been good today. He does that -- maybe not one hit -- but he goes out there for about eight innings every start."
Hernandez's showing was a continuation of a strong stretch for the 2010 American League Cy Young Award winner. Entering the afternoon, the right-hander had spun a 1.48 ERA over his previous eight starts, which included 68 strikeouts against only seven walks in 61 innings.
House -- officially recalled from Triple-A prior to Sunday's game -- traded zeros with Hernandez for the first five innings. Seattle loaded the bases behind two hits and one walk in the first, but the 24-year-old lefty escaped the jam with an inning-ending strikeout of Logan Morrison. After giving up a two-out single to Cole Gillespie in the second, House retired 10 Seattle hitters in a row.
"I thought I did a good job up until the sixth inning," House said.
That stellar 10-hitter stretch led House into the sixth, when Michael Saunders led off by chopping a pitch up the first-base line. House sprinted off the mound and scooped up the grounder, but then spun and threw wildy beyond first for an error that allowed the runner to advance to third. House said he did not realize how close he was to first and threw too hard.
That set the stage for Robinson Cano, who ended an 0-for-14 slump with a powerful swing.
On a 2-0 count, Cano lifted a pitch from House down the right-field line for a no-doubt, two-run home run that put Cleveland behind for good. That represented Seattle's only breakthrough against House, who scattered seven hits, but limited the damage in his six innings on the hill. The left-hander struck out five and walked one in his sixth start of the season for the Tribe.
"I'm definitely disappointed with how the sixth went," House said. "I kind of hurt myself there making that error and then giving up that two-run home run to Cano. I've got to do a better job with that. But, I felt great out there. I thought my stuff was working pretty good."
Cleveland has yet to decide whether House had bought himself another turn in the rotation.
"I don't know a thing," House said. "I just know that I had today and I was happy to have that."
House did not mind where his locker was located, either.
"It happens," he said with a smile. "That's all right."
Jordan Bastian is a reporter for MLB.com. Read his blog, Major League Bastian, and follow him on Twitter @MLBastian. This story was not subject to the approval of Major League Baseball or its clubs.