Despaigne delivers encore effort, edges D-backs
Righty allows one run in 6 2/3 innings despite four walks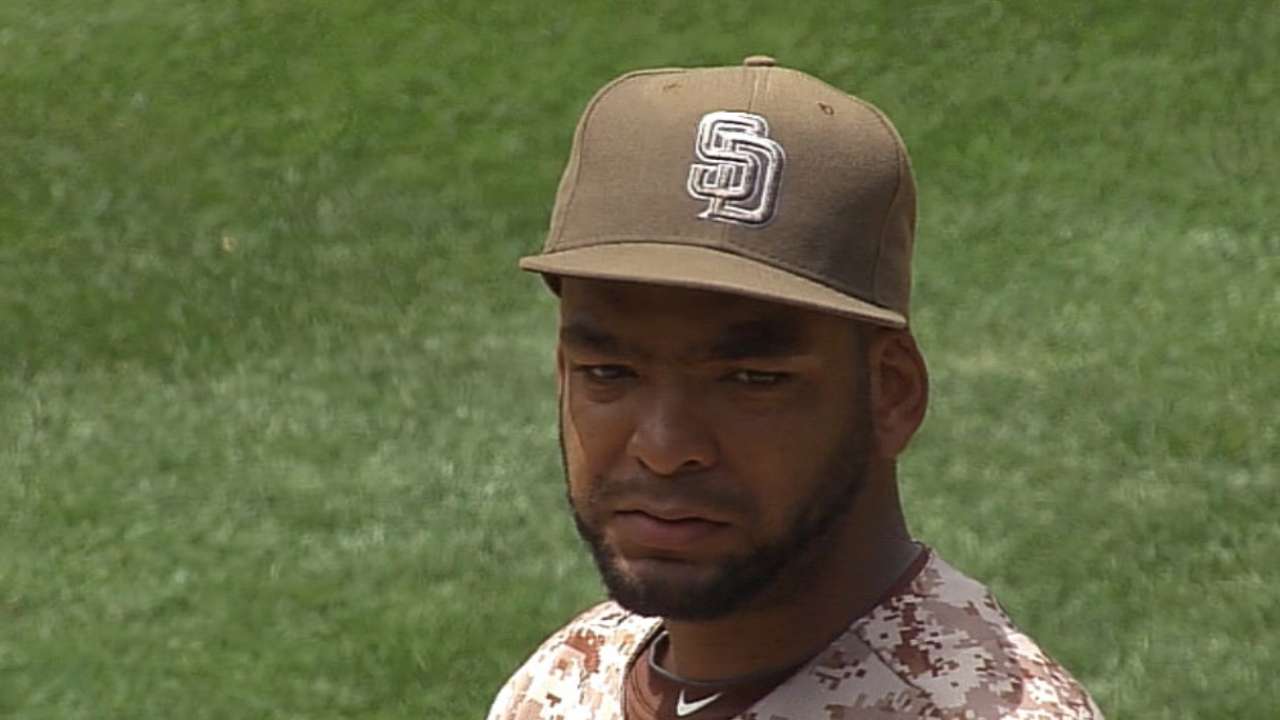 SAN DIEGO -- When right-hander Odrisamer Despaigne was called up from Triple-A El Paso barely a month after he was signed as a Cuban defector by the Padres, the move was made out of necessity, as ace Andrew Cashner was placed on the disabled list with shoulder soreness.
But after two starts in the Majors, Despaigne is making a solid case that he should've been up in the big leagues all along.
Despaigne helped the Padres salvage the finale of their three-game series with Arizona on Sunday by pitching into the seventh inning of a 2-1 win at Petco Park that lifted San Diego back ahead of the D-backs in the National League West.
"I was excited to pitch here in front of the fans," Despaine said through translator Yasmani Grandal, his catcher and fellow Cuban. "I felt good, but the breaking pitches were outside the zone, so I had to make adjustments."
Despaigne's debut last Monday defied his Minor League statistics. Despite issuing 18 free passes in 31 1/3 innings in seven starts between Double-A San Antonio and Triple-A El Paso, he didn't issue any free passes -- or runs -- against the Giants in seven innings while earning the win.
Sunday's outing signaled a return to the mean in that regard, as Despaigne experienced early control issues with three walks in the first four innings. But he battled through to scatter five hits and one run across 6 2/3 innings with four walks and two strikeouts.
"He seemed to come up with some pitches when he needed to," said Padres manager Bud Black. "I thought last week he might've had a little more velocity. … Today I think the assortment of breaking pitches and arm angles was very effective."
Arizona struck in the first, as Miguel Montero plated Ender Inciarte with an RBI single to charge Despaigne with his first earned run in the Majors.
But the 27-year-old settled down after that. His repertoire featured a low-90s fastball and a looping curveball that dipped as low as 62-mph on Sunday, and that combination helped keep the D-backs off-balance. Arizona got hitters on base in six of Despaigne's seven innings on the mound, but the Padres' defense used three double plays to erase several threats.
"[Despaigne] was mixing it up against everyone and he did a good job keeping guys off balance," said Arizona first baseman Paul Goldschmidt. "If you get too aggressive on him, he gets some quick outs and that's really what he did in the middle of the game."
Meanwhile, San Diego's offense gave Despaigne all the run support he needed in the fourth.
Cameron Maybin had the big hit off Arizona rookie starter Mike Bolsinger (1-4), an opposite-field RBI double off the wall in the right-field corner that brought in Chase Headley. Alexi Amarista followed with a sacrifice fly to bring in Tommy Medica and give the Padres a 2-1 lead that held.
"I'll take any hit I can get, but I'm always trying to use the whole field," Maybin said. "We've been scuffling a little bit. So, big hit, and a good way to start the second half."
Bolsinger took the loss despite pitching six solid innings, allowing three hits and two runs with four walks and six strikeouts.
The loser of each game in the series was held to one run, as the teams combined for just 10 runs in the three contests. The Padres (35-47) now sit one game ahead of the D-backs (35-49) for fourth place in the NL West.
"This series was well-pitched and overall, well-defended," Black said. "They out-pitched us the first two nights, we out-pitched them today."
Despaigne exited in the seventh inning with two outs after giving up Nick Ahmed's first career hit to put runners on first on second for Arizona. But Kevin Quackenbush came on to strike out pinch-hitter Roger Kieschnick with a high fastball to end the threat.
"Quack's been really good for us, and he delivered," Black said. "I trusted him to get the lefty out."
Joaquin Benoit pitched a perfect eighth and Huston Street closed out the ninth for his 21st save in 21 chances.
The Padres continue their nine-game homestand on Monday at 7:10 p.m. PT. They'll kick off a three-game series against the Reds, with rookie Jesse Hahn (3-1, 2.38 ERA) going against former Padre Mat Latos (1-0, 2.89 ERA).
Will Laws is an associate reporter for MLB.com. This story was not subject to the approval of Major League Baseball or its clubs.