Bats fade as Padres derail D-backs' sweep attempt
Bolsinger gives quality start, but Arizona shut out in final eight frames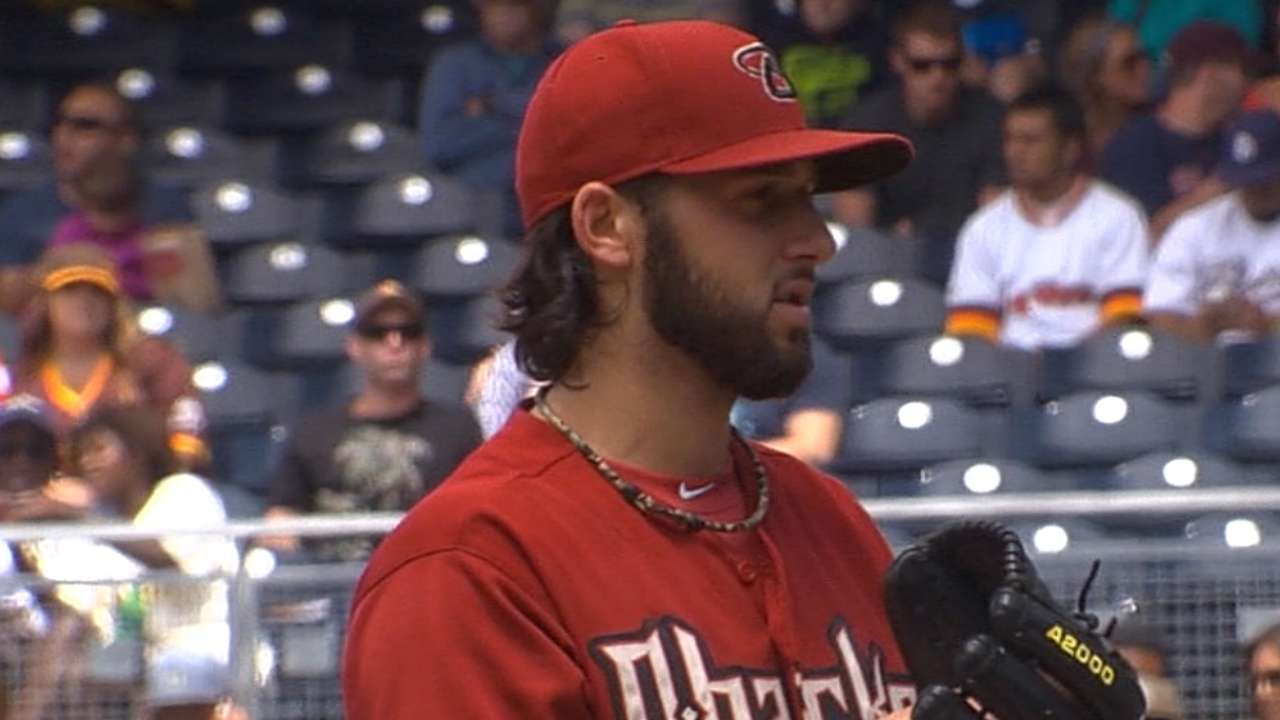 SAN DIEGO -- In the end, it was the walk to lead off the fourth inning that D-backs pitcher Mike Bolsinger regretted most from his start on Sunday.
That runner ended up coming around to score as part of a two-run rally that proved to be the difference as the D-backs were unable to complete the sweep of the Padres and fell, 2-1, at Petco Park.
"Offensively, we only scored six runs," D-backs manager Kirk Gibson said of the series. "I think we were kind of fortunate to have two wins to be honest with you."
The game got away from Bolsinger and the D-backs in the fourth.
After striking out the side in the third, Bolsinger (1-4) seemed to lose the strike zone to start the fourth, as he walked Chase Headley to open the frame.
"Especially with the way my curveball was working all game to get ahead of him and not be able to throw the curveball for a strike or strike him out with it is pretty disappointing," Bolsinger said.
One out later, Tommy Medica singled to left and Cameron Maybin delivered a run-scoring double off the wall in right to tie the game at 1.
Alexi Amarista then hit a sacrifice fly to center that scored Medica to give San Diego a 2-1 lead.
"He had a good breaking ball," Padres manager Bud Black said of Bolsinger. "Had a little cut fastball too that looked to be effective. Out of the windup, that little hesitation leg-kick pause might be a little disruptive. From what I've heard, the kid's competitive, got good makeup, good head on his shoulders."
Overall, Bolsinger walked four batters, which he found unacceptable especially after what happened to him in his last start against the Giants, when his lone walk of the game wound up being the only run he allowed.
"Since I've been up here I've been proud of myself for not walking people, and like the San Francisco game the one walk I gave up scored," Bolsinger said. "That's just something that I've got to try to eliminate. Besides that, everything else felt pretty good."
Indeed, Bolsinger has put together back-to-back quality starts, allowing four runs in 13 2/3 innings.
"You've just kind of got to build on every start and that's what I'm trying to do," he said. "The only thing that kind of went backwards today was the walks. Hopefully my next start I can eliminate that and keep us in the gameplan."
The D-backs gave Bolsinger a lead in the first inning when Ender Inciarte led off with an infield single and came around to score on a Miguel Montero single to left-center field.
Padres starter Odrisamer Despaigne, though, was able to pitch out of that jam in the first and the D-backs were unable to solve him after that.
"We had a good opportunity in the first inning to tack on a run and didn't do that and then the only other good time was in the seventh and Roger [Kieschnick] struck out," Gibson said. "The Padres pitched pretty good."
The Padres displayed a strategy that the D-backs are likely to see more and more of in the coming weeks when they walked Paul Goldschmidt seven times during the series, tying a franchise record for most walks in one series.
"He's pretty patient," Gibson said. "He's trying to wait for balls and it's going to be hard, but we're going to have to pick it up behind him and take some pressure off him."
Making his second big league start, Despaigne (2-0) allowed five hits over 6 2/3 innings.
The D-backs did have some baserunners to work with as the right-hander walked four, but the Padres were able to turn three double plays while he was on the mound.
"Lot of deception," Gibson said. "He's thrown two games and given up one run, he's doing something right."
Kevin Quackenbush took over for Despaigne to finish off the seventh, Joaquin Benoit tossed a scoreless eighth and Huston Street recorded his 21st save in the ninth.
Steve Gilbert is a reporter for MLB.com. Read his blog, Inside the D-backs, and follow him on Twitter @SteveGilbertMLB. This story was not subject to the approval of Major League Baseball or its clubs.