Braves post first four-game sweep in Philly since '64
B.J. Upton, Laird back solid Harang; Atlanta half-game up in NL East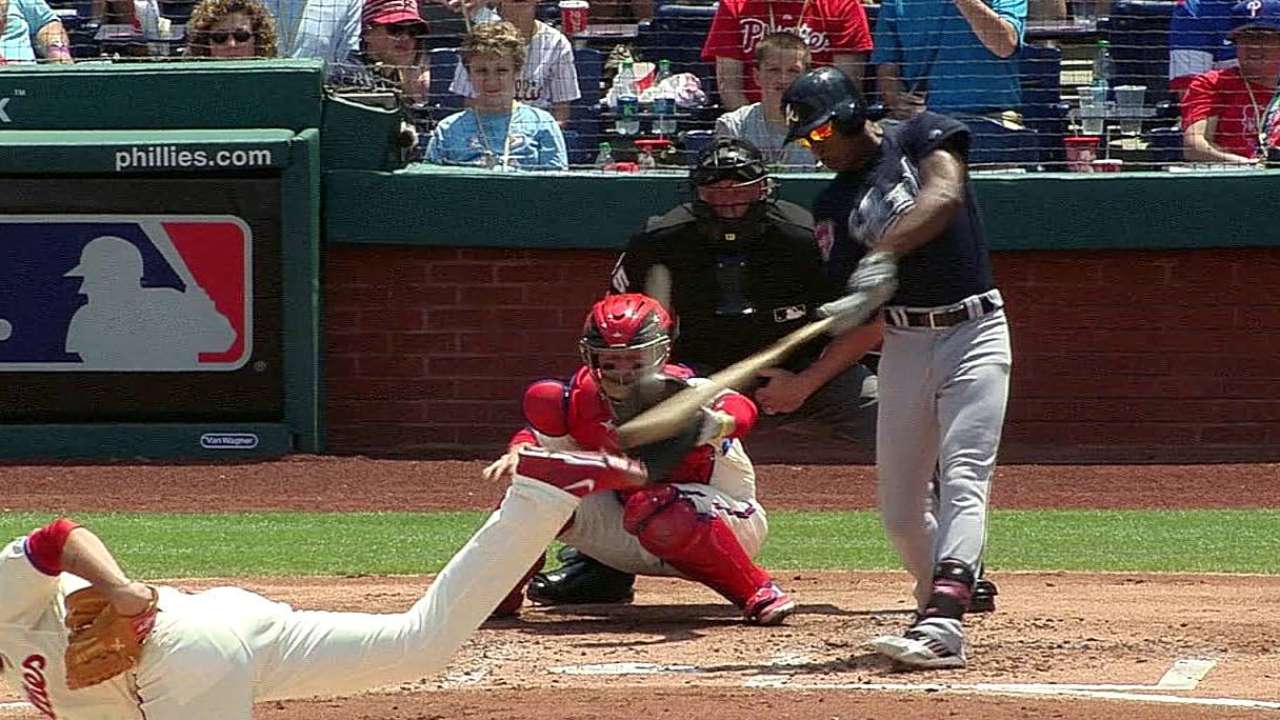 PHILADELPHIA -- For the first time since September 1964, the Braves swept a four-game series in Philadelphia. And in doing so, they made a statement to the rest of the National League East.
The Braves outhit, outpitched and outplayed the Phillies in the four-game set that was capped by a 3-2 victory at Citizens Bank Park on Sunday afternoon. Atlanta owns sole possession of first place, holding a half-game lead over Washington.
The Braves finished the road trip 8-3 and averaged 11 hits per game with only six home runs over that span.
"A little out of character for us," B.J. Upton said. "We haven't really hit that many home runs. But I think we've pieced together some hits when we needed to, especially with runners in scoring position."
Sunday's game was the tightest of the series, but Aaron Harang put forth a gutsy performance, jumping in and out of hot water several times while holding Phillies batters to 0-for-6 with runners in scoring position and stranding eight men on base.
"Veteran" was the term players and coaches tossed around the clubhouse to describe Harang's outing. But they didn't mean veteran in the sense that he's an aging pitcher and past his prime. His experience, composure and wherewithal on the mound allowed him to negotiate dangerous situations seamlessly.
"He doesn't panic," Upton said.
"He's a wily veteran," manager Fredi Gonzalez said.
"He battled. No big hits," Freddie Freeman said.
During those treacherous points, the biggest thing is to focus on one pitch at a time, according to Harang.
"It all comes down to executing that pitch when you really need it," he said.
Marlon Byrd had Harang's number early, though, blasting two solo shots off the right-hander, but that would account for all of Philadelphia's offense.
Philly's right fielder came to the plate for his third at-bat with runners on first and third and two outs in the fifth. A home run this time would have been a killer, but the king of damage control was undaunted.
A two-seam fastball by Harang on the first pitch of the at-bat got Byrd to ground out to end the threat.
"That's the game of baseball. [Byrd] hits a slider out, hits a heater away out and then gets one right down the middle," Freeman said. "As hitters, sometimes you might see it too good and just want to get too big on it."
The offering was over the plate enough that Byrd was tempted to hack away, but low enough that he couldn't do anything with it.
"I knew he was going to probably come out and try to be aggressive," Harang said. "So I was able to get the fastball down in the zone a little bit that time. Get him to hit it on the ground."
Harang went seven innings, allowing two earned runs on seven hits and a 4/2 strikeout-to-walk ratio.
Atlanta's biggest blow came in the second, when a walk by Tommy La Stella and a single by Harang brought Upton to the plate with two men on. The center fielder jumped on the first pitch from Phillies starter David Buchanan and sent it to the deepest part of the ballpark in center field. Ben Revere nearly made a miraculous over-the-shoulder catch, but only managed to tip the ball with his glove as he rapidly approached the wall. La Stella and Harang came around to score as Upton pulled in with a triple.
"Just wanted to not try and do too much," Upton said. "It's been a different guy in different spots, basically this whole road trip. That was the big thing."
The teams then traded runs in the fourth. La Stella was in the middle of the action again with a leadoff double to left field. Gerald Laird followed with a double to drive him in before Byrd hit his second homer of the game in the bottom half of the inning.
Shae Simmons pitched a 1-2-3 eighth for the Braves before Craig Kimbrel came in for the ninth, when he put runners on first and third with two outs. But the three-time All-Star buckled down.
"When he really needs to turn it up, he can," Harang said of Kimbrel.
And he did. Kimbrel got Chase Utley to pop out, securing the historic sweep and putting the finishes touches on Atlanta's revenge of a series sweep they suffered against Philly at Turner Field during the last homestand.
"Doing it in that fashion, with pitching and timely offense. You can't ask for anything more than that," Gonzalez said.
Erik Bacharach is an associate reporter for MLB.com. This story was not subject to the approval of Major League Baseball or its clubs.