Gomez, Segura expected back in lineup vs. Toronto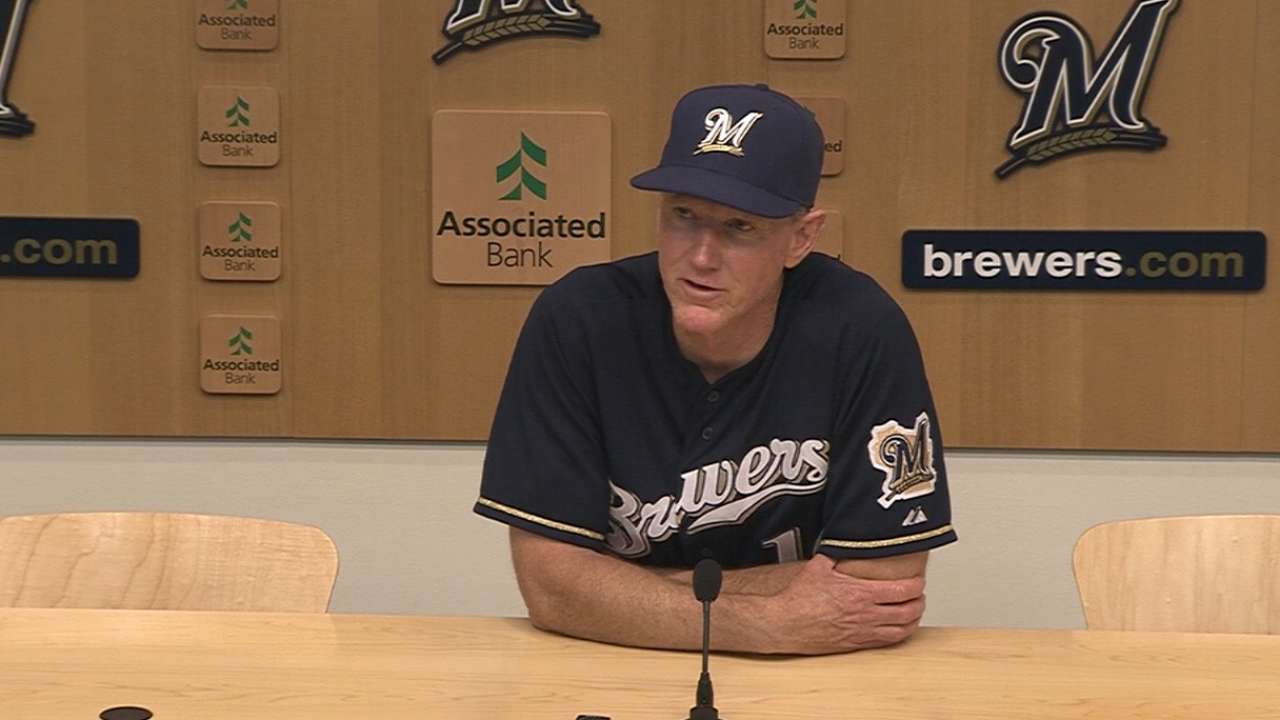 MILWAUKEE -- Brewers center fielder Carlos Gomez was feeling better than expected the morning after his outfield collision on Saturday and deemed himself available to play, but he began the finale against the Brewers on the bench out of caution.
Shortstop Jean Segura, meanwhile, sat out because of cramping in his left quad.
The decisions were partially informed by the promotion of utility man Jeff Bianchi -- giving the Brewers an extra position player on the roster who could start in place of Segura on Sunday -- and also by the fact Monday is an open date on the schedule. By giving Gomez a day to clear his head and Segura a day to rest his legs, manager Ron Roenicke was actually giving both players two days.
"We're doing OK" as far as player availability, Roenicke said. "'Seggy' is out, but I think he can pinch-hit. I don't know about the running part. We're going to check him out. Gomez is actually pretty good, and we were going back and forth on whether to play him or not. I asked him how he was doing, and we decided off today would help with the one tomorrow.
"Both of those guys, I'm hoping will be fine in Toronto [when a two-game Interleague series begins Tuesday]."
Following a 10-4 loss to the Rockies on Sunday, Roenicke expressed more confidence in getting Gomez back than Segura.
Gomez exited Saturday's win over the Rockies after colliding in right-center field with Ryan Braun, and he also banged his head in Friday night's game. He passed a concussion test Saturday night but was experiencing a bit of a headache Sunday morning and some pain near his left ear.
"In the moment yesterday I feel scary, because I had tingling in all my body, and I feel, I'm conscious, but it was scary," Gomez said. "I went through the concussion test and everything, it's fine. I can still remember the three words."
During the test, a subject is told to remember three words. After some physical checks, he is told to repeat them. Gomez was still able to remember his on Sunday morning: "Tree, book and pants."
"I'm available for everything today, pinch-hit, defense, running," he said. "It's like a regular off-day."
Assuming Gomez returns Tuesday, he would have two games to make a final push for All-Star Game votes. In the most recent National League balloting update, Gomez ranked third among outfielders with just shy of 2.5 million votes, about 279,000 more votes than fourth-ranked Giancarlo Stanton of the Marlins. That gap was important because the top three vote-getters will be named starters.
Fans can cast their votes for starters at MLB.com -- online or on a mobile device -- using the 2014 All-Star Game MLB.com Ballot Sponsored by Experian until Thursday, July 3, at 10:59 p.m. CT. The 2014 All-Star Game will be played at Target Field on Tuesday, July 15, on FOX.
Adam McCalvy is a reporter for MLB.com. Read his blog, Brew Beat, and follow him on Twitter at @AdamMcCalvy. This story was not subject to the approval of Major League Baseball or its clubs.