Astros hit way to series win against Tigers
Altuve, Dominguez and Corporan each tally three knocks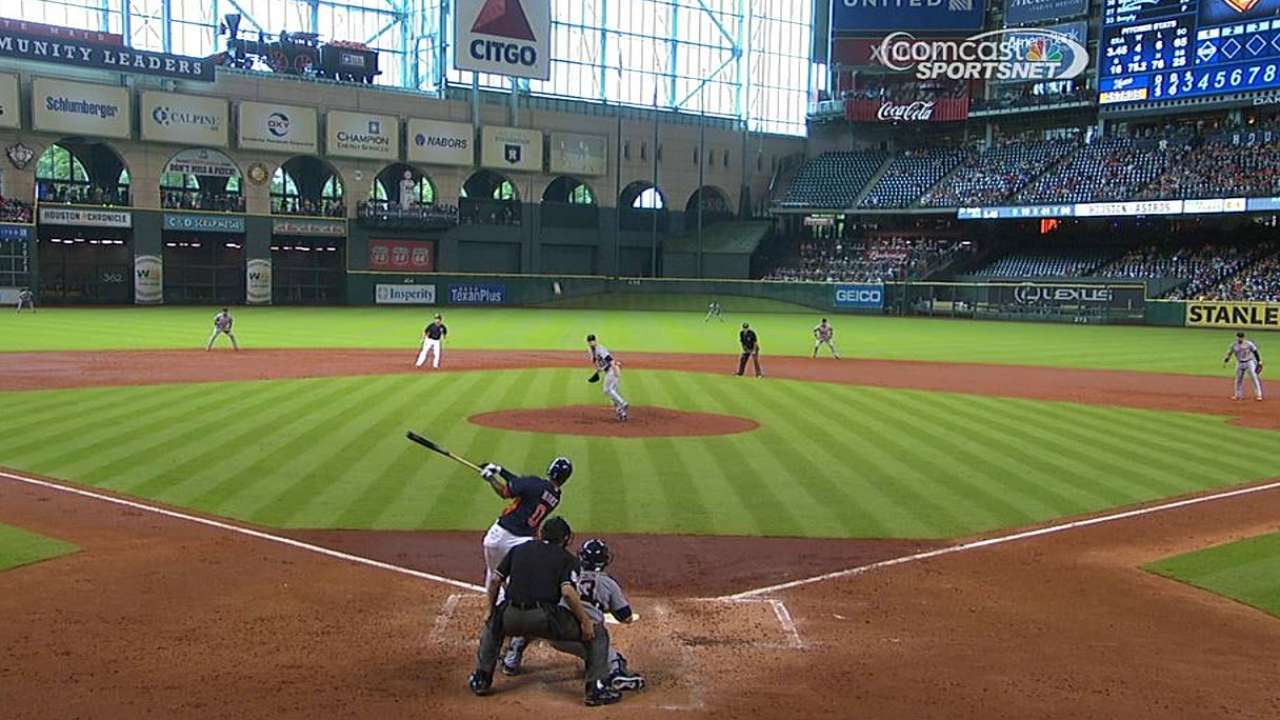 HOUSTON -- At this point, the Astros know what they're getting with Jose Altuve -- hits and lots of them. He had some company in the Houston lineup on Sunday afternoon.
Though the sparkplug second baseman notched three more hits and swiped two more bases, he wasn't the only bright spot for a Houston offense that handled the Tigers' vaunted pitching staff all weekend better than most anticipated.
The Astros pounded out 14 hits, got some sharp glove work and their timely relief kept Scott Feldman's solid start from crumbling as Houston held off Detroit, 6-4, at Minute Maid Park.
The victory secured a series win, a rare accomplishment of late after a hot May and scorching early June. It was the Astros' first series triumph in their last five tries and their first over the perennially contending Tigers since May 2009. It flipped the script from the teams' last meeting, when the American League Central leaders easily grabbed three out of four last month in Detroit.
"They're a much-improved team, and I think they're aggressive on the bases," said Tigers manager Brad Ausmus. "They do a lot of things to put themselves in scoring position. Overall, they played well this series."
The two teams looked every bit each other's equal this weekend, as Houston was a heartbreaking out away on Saturday from sweeping a Detroit team that entered the series on a seven-game winning streak.
"One thing is for certain: We've got a strong group of men in that clubhouse," said Astros manager Bo Porter. "They responded today in a way that you would be proud of."
The evidence was on display from the start. Altuve's leadoff single maneuvered through the infield and kick-started a defining first inning. Altuve stole second, and George Springer promptly doubled him home. Springer then stole third, and Jesus Guzman racked up an RBI single before eventually coming home on a shallow L.J. Hoes flyout.
"Losing the way we lost [on Saturday], I thought our guys did a great job of putting that behind us and making that known early," Porter said.
It never really stopped, either, as Matt Dominguez and Carlos Corporan each joined Altuve with three hits. It felt like the Detroit pitching staff was playing Whac-A-Mole with the Houston lineup.
Handed a 3-0 lead out of the gate, Feldman held things together just enough. Though he hardly been the dominant ace he was before a disabled list stint in April, the lanky righty cobbled together a nice June.
"We'll have to see [if the adjustments are working]," he said. "You're going to have ups and downs. I know I'll have some more good outings and probably some bad ones, too. I like where I'm headed at this point."
Feldman, who allowed two runs over six-plus innings, now has four straight starts with three or fewer runs allowed. The latest effort hardly came easy, with the Detroit lineup nearly tagging him for several home runs. Springer made a leaping catch to keep Miguel Cabrera in the ballpark in the sixth, one inning after a nifty double play by the Astros saved Feldman and Houston's tenuous 4-2 lead.
"Luckily, a lot of the balls they hit hard were out to center," Feldman chuckled. "That kept them down for me."
A bases-loaded walk to Jon Singleton followed in the bottom of the sixth, adding some cushion for an Astros bullpen that had struggled recently, most notably in the ninth inning of Saturday's 4-3 loss when Ian Kinsler ripped a three-run homer off Jerome Williams to erase a Houston lead.
It was another adventure on Sunday. After Darin Downs cruised through the seventh, Jose Veras appeared to be doing the same in the eighth. A two-out walk followed, fellow former Astros outfielder J.D. Martinez singled and Nick Castellanos plated them with a looping triple down the left-field line. Tony Sipp replaced Veras and struck out Kinsler to preserve the advantage.
Sipp returned for the ninth, earning his first save with a clean inning.
The Tigers' late charge wasn't enough to erase a prolific outing for the Astros' offense. Of course, Altuve was at the center of the action. He finished the series with nine hits, six stolen bases and three runs scored.
"I've seen some players locked in during all my years of playing, but the impact Jose Altuve is having on the baseball game, I'd have to really sit down and think about or have some numbers in front of me to make me think someone's having more of an impact on a game than he is right now," Porter said.
Porter called Altuve "the best player in baseball," and the second baseman agreed in his own way.
"I think we all played like the best players in the game today," Altuve said. "Almost all weekend, really."
Singleton overcame a three-strikeout day to drive in the Astros' insurance run with a ninth-inning single, something Porter highlighted as the biggest positive in a game full of them.
"What I like about our performance today, we had some chances slip away, but we were still able to come through with the big hits," Porter said. "That's enough for us to win series like this."
Chris Abshire is a contributor to MLB.com. This story was not subject to the approval of Major League Baseball or its clubs.