Morales' clutch hit in ninth ends Twins' road woes
Go-ahead double snaps streak of 10 straight away losses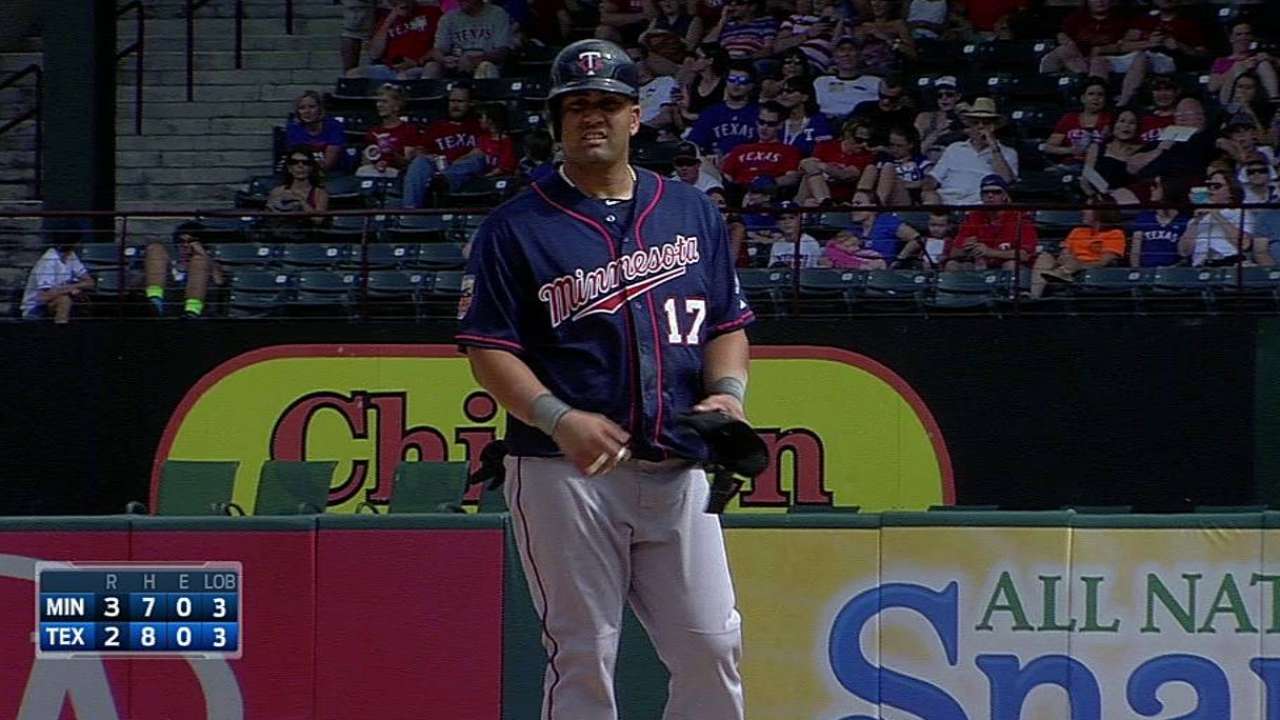 ARLINGTON -- The music blared through the walls of the ecstatic Twins clubhouse, the room echoed with the voices of players singing along.
Just less than 24 hours earlier, this same clubhouse -- the one that was now buzzing with light-hearted chatter and smiling faces -- had been virtually silent after yet another road loss. Minnesota's 10th road defeat in a row.
But now, with a 3-2 win against the Rangers for their first win in five games, the Twins had breathed a much-needed sigh of relief. At least for now, all was right.
With his lone hit of the game, the 6-foot-1, 225 pound Kendrys Morales sent a ricocheting line drive to left field that brought in pinch-runner Sam Fuld for a ninth-inning advantage that the Twins wouldn't relinquish.
The Rangers and the Twins had been tied at 2 since the fifth inning, and Morales' RBI had put the Twins up 3-2 with just half of an inning remaining in the game.
It had made the difference. The Rangers didn't score in their half of the ninth.
"You're on a road trip and you haven't won a game, you need to win one. On a flight, it's always nice to come home a winner back to our ballpark," Twins manager Ron Gardenhire said. "A big hit there at the end by Morales. Another one down that line that worked out for us."
But the Twins hadn't led from the game's begin.
It was the Rangers who scored the game's first run when Adrian Beltre's RBI single to right field scored Shin-Soo Choo in the first inning. Choo had led off with a single to center.
In the third, the Twins tied the game, and then took the lead when they scored their first runs since the ninth inning of Friday's 5-4 loss to the Rangers. Eduardo Escobar led the inning off with a double to right, and then scored when rookie Jorge Polanco doubled for his second hit since his Major League debut Thursday. Polanco tripled for his first hit Friday, and scored his second run as a big leaguer when Joe Mauer singled to right, giving the Twins a 2-1 lead. Mauer extended his hitting streak to 10 games.
"He did great," Gardenhire said of Polanco. "He pretty much covered the field in plays that he had to make and made them all with really nice throws … You know what? He's doing just fine. He's got things to learn, but he's doing just fine."
The Rangers tied it at 2 in the fifth when catcher Robinson Chirinos blasted a leadoff homer over the left-field fence for his seventh home run of the season.
But ultimately it wasn't enough after the Twins went ahead in the ninth.
Rangers starter Colby Lewis went six innings with five hits, two runs -- both earned -- and a season-high eight strikeouts for his first quality start of the season.
Meanwhile, Kyle Gibson worked eight innings with eight hits and two earned runs for the Twins - a performance that both merited his coach's praise and boosted his own confidence after a rough outing in his last start.
"Today was a little bit unique. Mainly because of the wind blowing out, my sinker was probably moving as most as I've ever seen it really," Gibson said. "I think whenever the wind is helping my best pitch like that, I think it makes it more comfortable out there knowing that I can throw those just about any time, and with the way they're moving, it's going to be tough to hit."
As Gibson spoke, he cracked several smiles as his teammates goofed off in the background.
The mood had changed -- dramatically -- from the day before, and it was all due to the RBI that came from the same guy who had entered Sunday 1-for-8 against Texas in the series.
"He always wants to play," Gardenhire said of Morales. "Just like today I asked him about [how he felt] and he said, 'I'm good. Wherever you want me.' And he'll say that pretty much every day. He likes to play baseball."
Morales echoed that sentiment, while he too, enjoyed the Twins' celebration.
"It's a lot happier today," he said.
And he was right.
Grace Raynor is an associate reporter for MLB.com. This story was not subject to the approval of Major League Baseball or its clubs.