Soria, Rangers can't hold off Twins in ninth
Closer gives up go-ahead run on Kendrys Morales' one-out double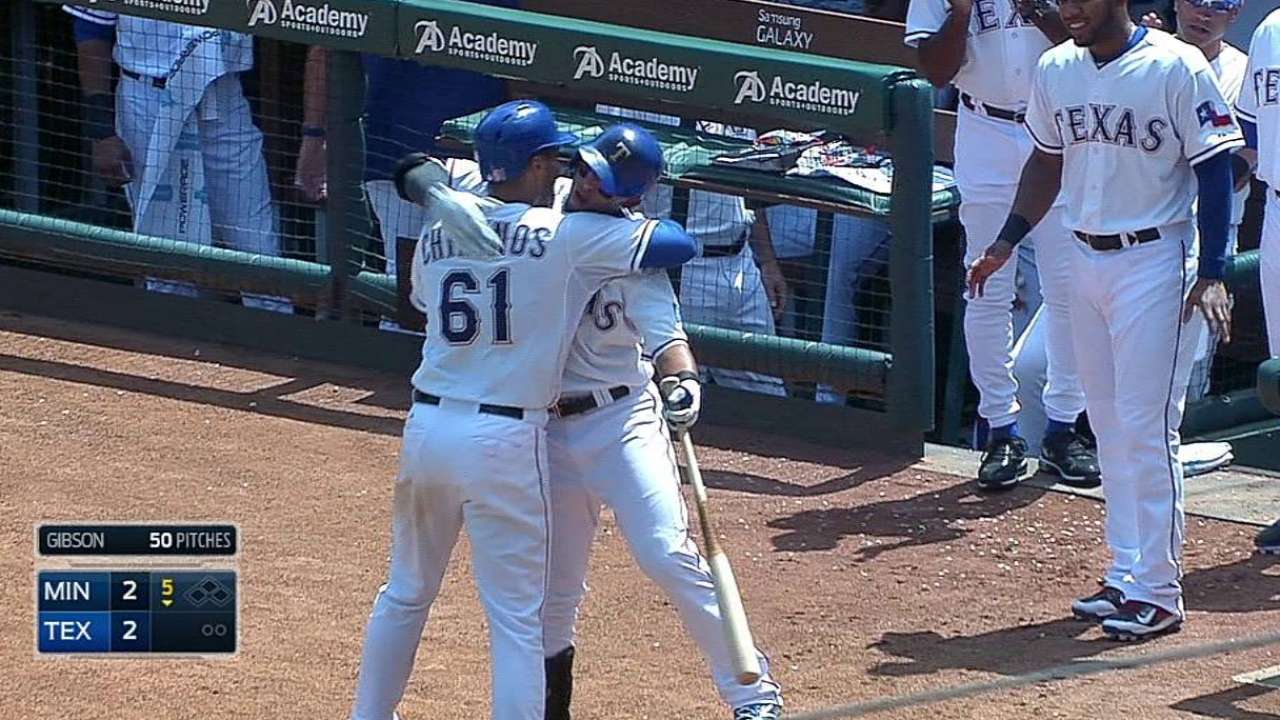 ARLINGTON -- Sometimes the foul line is just a little too far foul and sometimes a checked swing is just as effective as a big rip. Sometimes the best opportunities with runners in scoring position go to the players with the least experience in those situations. Sometimes the young guys come through; sometimes they don't.
That's the way it was for the Rangers on Sunday, when a pair of only-just-fair doubles by Minnesota, plus a pair of ill-timed double-play grounders by Texas rookies, added up to a 3-2 loss. Colby Lewis pitched as well as he has all season for the Rangers, but again got nothing to show for it.
In the third inning against Lewis, switch-hitter Jorge Polanco -- who made his Major League debut Thursday -- checked his swing and poked a double down the third-base line to bring in the game's first run. And in the ninth, with closer Joakim Soria on the mound for Texas, lefty Kendrys Morales sliced a double down the line that hit the side wall and pinballed away from left fielder Michael Choice, giving pinch-runner Sam Fuld plenty of time to score from first.
"They did what they had to do to win the game; we didn't," manager Ron Washington said. "Even if it was checked swings and all that stuff, it's baseball. You can't control what happens sometimes and you can't control what inning it's going to happen in."
Twins manager Ron Gardenhire saw things much the same way Washington did.
"A check swing over the base… a big hit there at the end by Morales … another one down that line that worked out for us, got a good ricochet," Gardenhire said. "So a couple breaks went our way today and we won a ballgame."
After Polanco's double, Joe Mauer drove him in with a single up the middle for the Twins' second run.
Polanco made his first Major League start Sunday at shortstop. But his almost-accidental double outdid two slightly more seasoned Rangers rookies who didn't get the job done when they had their chance.
Rougned Odor and Choice, with 315 career Major League at-bats between them, each grounded into double plays with men on first and third to end the second and seventh innings.
"The situation is paramount, that's what they should learn," Washington said. "Each time right there you want to try to keep the ball in the big part of the field, you want to try to get you something up in the zone, but sometimes that heart goes to racing and you try to get things done too fast. … You have to walk up to the plate and know what needs to be done in that situation and make certain that you make the pitcher do just that. He's the one in trouble, not you."
Twins starter Kyle Gibson was in trouble other times -- he allowed eight hits, including Adrian Beltre's RBI single in the first and Robinson Chirinos's solo home run in the fifth. But Gibson made it through eight innings to earn the victory.
Glen Perkins struck out the side in the ninth for his 20th save of 2014.
Meanwhile, in six innings Lewis tied his season high with eight strikeouts and did not walk a batter. The five hits he allowed were tied for the fewest he has surrendered this year.
Sunday was Lewis's 14th start and marked the first time this season he has pitched at least six innings in consecutive starts.
"I felt like I threw the ball real similar to last start," Lewis said. "Even today, I didn't feel like there were a couple things, the check swing that went down the line, I led Mauer the whole at-bat, threw one fastball in and he hits it for a base hit, so I felt like it was one of those days I really commanded the fastball."
Aaron Poreda, Ben Rowen and Neal Cotts combined to throw two scoreless innings after Lewis left, but Soria took over for the ninth and allowed a one-out single up the middle to Josh Willingham.
Gardenhire sent in the quick outfielder Fuld to run for Willingham and Morales drove him in on 1-2 fastball. Soria recovered to strike out the next two hitters, but it was too late.
"I thought he was throwing the ball well," Washington said. "I just think you've got to give Willingham credit for his at-bat, he bounced one over the mound that could have very easily been an out. [Soria] made a good pitch to Morales, a professional hitter. He stayed on the pitch and ended up hitting it down the left-field line. Once again that's baseball. If we had done it, I'd have loved it."
Dave Sessions is a contributor to MLB.com. This story was not subject to the approval of Major League Baseball or its clubs.