Volquez stifles Mets to give Bucs series win
Righty goes six scoreless frames; Alvarez drives in three runs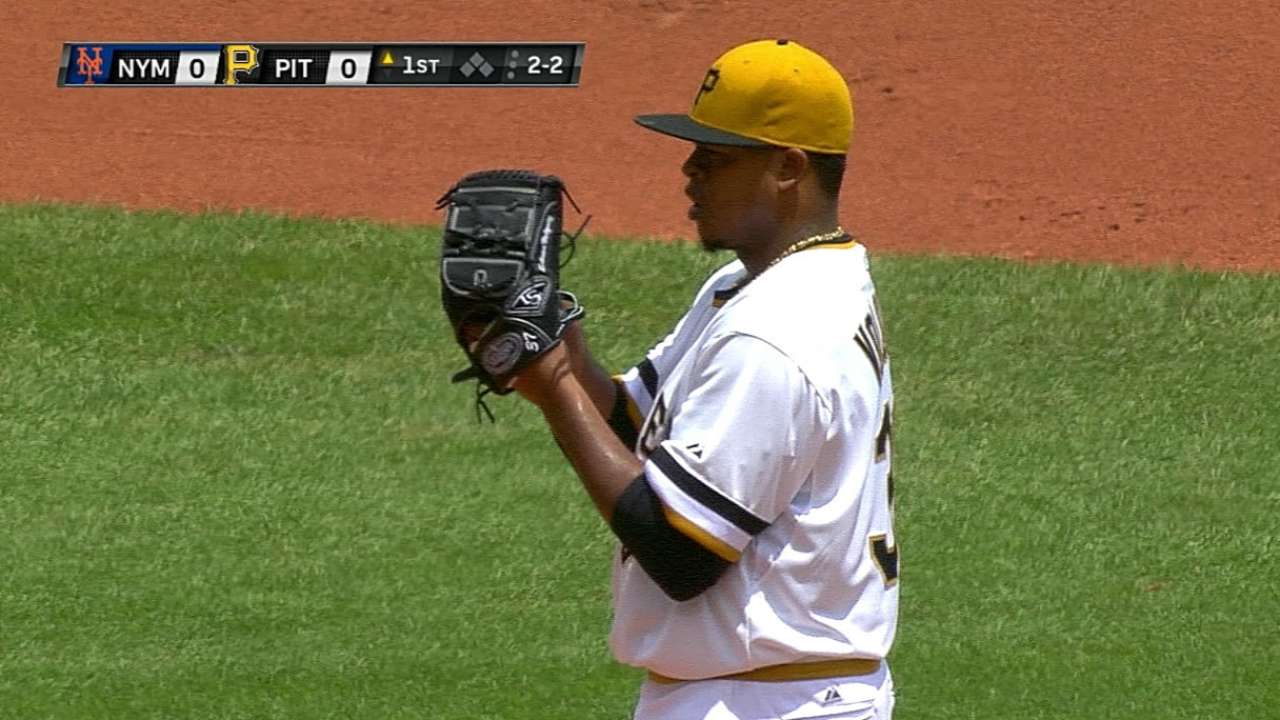 PITTSBURGH -- In Spring Training, when, as Pirates manager Clint Hurdle likes to say, results don't count but still matter, Edinson Volquez looked like a big mistake. When the bell rang, Volquez answered, and he has been answering it ever since.
As for the Pirates' prayers to be kept alive in the 2014 postseason race, Volquez has answered those, too.
The right-hander tendered another of his frequent gems on Sunday, scattering eight hits across six shutout innings as the Bucs downed the Mets, 5-2, in front of another PNC Park sellout crowd.
This wasn't a gem by dominance, but by doggedness. Volquez faced frequent jeopardy, but kept fighting through the Mets as well as through 80 degrees of breathtaking humidity. By actual count, he got to pitch from the windup to only 12 of the 26 batters he faced -- and that included the leadoff men in his six innings.
"Jams are part of the game," he said. "The sooner you're able to regain control of the game and the turn the right page, the better."
"It was so fun to watch him go to work in the third, fourth and sixth innings," said Hurdle. "In the third, it's first and third and one out. In the fourth, runner at second and no outs. Then in the sixth, first and second and no outs."
And no New York runs -- not until the Mets pushed across a couple against Jared Hughes in the ninth, requiring Mark Melancon to appear for the final out and his 15th save.
It was the second one-out save of Melancon's career, the first having come with the Astros on Aug. 29, 2011 -- against the Pirates.
A fourth straight sellout of 37,290 brought the gate for the four-game series with the Mets to 150,819 -- more than 21,000 above the previous PNC Park record for a four-date set. The Pirates won three of the four games in the series.
Volquez departed with a 13-inning shutout streak intact in leveling his own record at 6-6 while sending the Bucs into their final off-day prior to the All-Star break with a 42-40 record.
"The day off comes at a very good time for us. We poured everything we had into this series," Hurdle said. "We'll catch our breath and get right back it."
For the Bucs to have a winning record at this point despite only one win by their undisputed 2013 ace, Francisco Liriano, is a testament both to the organization's depth and to Volquez's contribution.
In the last three weeks, Volquez has demonstrated the inconsistency that had been his trademark and burden for years. On June 12, he blanked the Cubs for seven innings. Six days later, he was a wreck against Cincinnati, being battered for eight runs in 2 1/3 innings. In two starts since, he has allowed one run in 14 innings, posting victories against the Rays and the Mets.
"Sometimes, you have to take a step back to move forward," Volquez said. "That day [against the Reds], I had a bad game. But I responded pretty good in [St. Petersburg], and today I pitched a really good game."
A couple of Bucs had the law of averages on their side in taking care of Volquez's lead.
Ike Davis delivered the first blow, a two-run single in the first that was his first hit of the year against New York, Mets (0-for-14 previously) and Yankees (0-for-6) combined.
"But I've been hitting the ball hard, drawing some walks," said the ex-Met, who was aware of the goose egg. "Got a couple to fall in today."
Also posting two hits was Pedro Alvarez, who in the fourth opened up a 5-0 lead with a two-run homer -- only his second in 29 day games this season, compared to the 14 he had in 2013.
Alvarez thus concluded a 6-for-12 series which hiked his average to .241, his season high point thus far.
"We all know what he's capable of. He had very good swings throughout the day and improved swings throughout the series," Hurdle said. "You see the difference he can make in a game."
Volquez, walking one and striking out seven, outpitched Bartolo Colon, who had given the Bucs fits in blanking them, 5-0, a month ago in New York.
This time, Colon allowed five runs in six innings, with a walk and two strikeouts.
"First and foremost, I don't think he had his A-game. But he can still compete and win games without it," Hurdle said.
"I just think that since I'd already gone against them once, they were prepared and knew what I was coming with," Colon conceded
Tom Singer is a reporter for MLB.com and writes an MLBlog Change for a Nickel. He can also be found on Twitter @Tom_Singer. This story was not subject to the approval of Major League Baseball or its clubs.