Bautista grounds out in pinch-hit return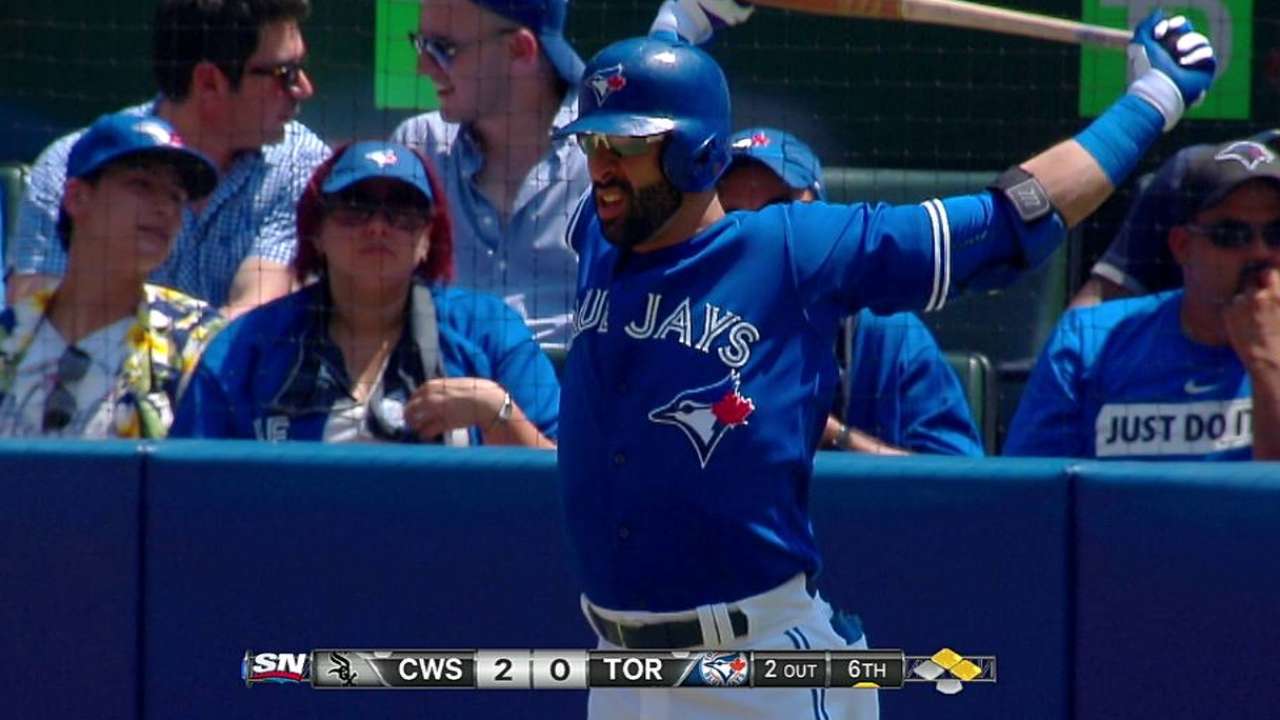 TORONTO -- Blue Jays slugger Jose Bautista grounded into a fielder's choice in a pinch-hit appearance with two outs and two runners on in the sixth inning of Sunday's series finale against the White Sox. It was his first appearance since aggravating a left hamstring injury last Sunday against the Reds.
Bautista pinch-hit for catcher Dioner Navarro, who was 0-for-2 in the game. Navarro was replaced by backup catcher Josh Thole behind the plate in the seventh inning.
Bautista did some light running in the outfield prior to Sunday's game and was deemed available to pinch-hit. Under the supervision of club trainers, he ran along the warning track at an estimated 50-60 percent, he said, and went through a series of stretches to test his strained left hamstring. Bautista said he could still feel something in the back of his leg when running, but that he didn't experience the same feeling when he hit in the cages.
The Blue Jays have an off-day Monday before returning to action Tuesday vs. Milwaukee, and Bautista is hoping he'll be in the starting lineup for that game.
"Everybody knows I can't go out on the field and not be 100 percent," said Bautista, who has 15 home runs. "Hopefully by Tuesday I feel better and I can be in the outfield. If not, I can DH the whole game and play the day after.
"I did all the testing that I could've done in order to see if I could pinch-hit today."
Bautista said he will still have to exercise caution when running the bases if he enters Sunday's game as a pinch-hitter. If he reaches, he'll likely be removed for a pinch-runner immediately.
"I'll run just as hard as I did this morning," he said. "I won't push it any further than that, especially with the adrenaline and being in the game and not just running early. You always put a little more effort into it."
The team originally hoped Bautista would return to action during the club's previous three-game set with the Yankees, but he missed that series before sitting out against the White Sox. Bautista injured himself against the Reds after running out a bunt attempt. He was forced to leave that game and hasn't played since.
Although the four-time All-Star has been sidelined for a week -- forcing the Blue Jays to play a man short -- he's relieved that it appears he will avoid a trip to the disabled list.
"It's huge," Bautista said. "That's still not in the plans, but you never know how things are going to respond so I just want to make it clear that I can get back into playing."
Bautista, who currently leads the Major Leagues in fan voting for the upcoming All-Star Game in Minnesota, is the Home Run Derby captain for the American League. The 33-year-old said some players have already told him they would participate, and Bautista is still trying to convince White Sox slugger Jose Abreu to join. Abreu has previously said he didn't want to take part in the event, but he has not completely ruled it out.
Fans can cast their votes for starters at MLB.com -- online or on a mobile device -- using the 2014 All-Star Game MLB.com Ballot Sponsored by Experian until Thursday, July 3, at 11:59 p.m. ET. The 2014 All-Star Game will be played at Target Field on Tuesday, July 15 on FOX.
Chris Toman is a contributor to MLB.com. This story was not subject to the approval of Major League Baseball or its clubs.