Tigers' dominant road trip ends on low note
Smyly's rough start proves costly in finale at Minute Maid Park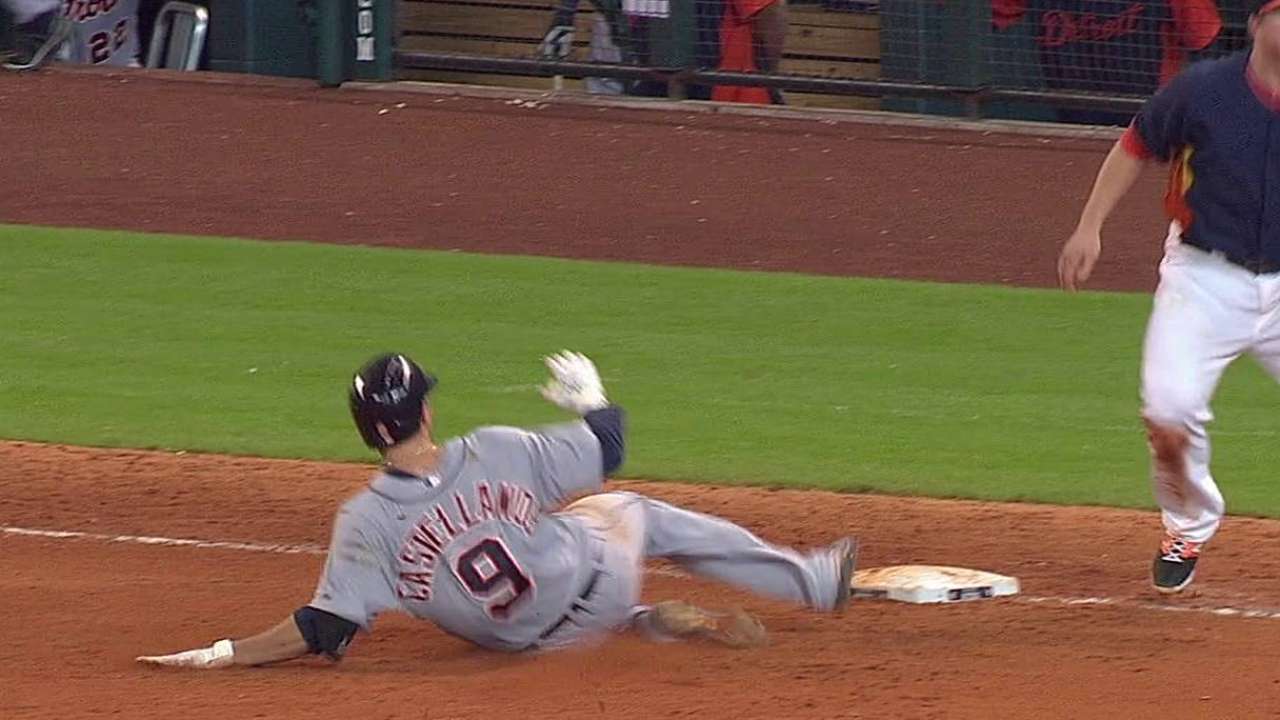 HOUSTON -- In the midst of the Tigers' quiet clubhouse after Sunday's loss, Miguel Cabrera broke the silence.
"So what we lost," Cabrera told his teammates. "Great road trip."
Cabrera provided some veteran perspective after a trek that was nothing for Detroit to be quiet about. Sure, the nine-game stint ended with a 6-4 loss to the Astros at Minute Maid Park, but as Cabrera knows, it's trips like these that keep a team in first place.
The Tigers went 7-2 during their three-game series against the Indians, Rangers and Astros. After sweeping both Cleveland and Texas, Detroit lost two of three to Houston, with the one win coming off a ninth-inning homer from Ian Kinsler on Saturday.
There were no late-inning heroics on Sunday, however, just a tough outing from Drew Smyly accompanied with a pesky Jose Altuve that kept the Tigers from winning yet another road series.
As it turns out, Smyly was sick on Saturday and had to leave the clubhouse before that game even started. Manager Brad Ausmus said it was a head and chest illness, but it was not something Smyly was going to blame for the shortest outing he's had as a starter this season.
"I was sick yesterday, I'm not going to use that as an excuse," Smyly said. "They came out swinging. I didn't bring it; they did."
Smyly gave up four runs on eight hits and two walks in 2 1/3 innings, raising his season ERA to 3.57. As it happened all weekend, Altuve got the Astros started, leading off the first with a single before stealing second. The Tigers had Altuve beat, but shortstop Eugenio Suarez was a little late covering the bag and couldn't make the catch to tag Altuve. Houston rookie George Springer knocked Altuve in with a double.
"He's got to be there sooner," Ausmus said of the rookie Suarez. "With young players, there's always going to be growing pains. Simple fact."
Smyly gave up two more runs in the opening inning off two more hits, setting the tone for his rough afternoon.
He gave up two more hits in the second inning, including a single and stolen base by Altuve that made him the third player in the modern era with four consecutive multi-steal games, according to Elias Sports Bureau, with the most recent coming in 1917.
After giving up back-to-back doubles and a walk in the third inning, Smyly was relieved by Chad Smith, who nearly kept the Tigers in the game, giving up just one hit and no runs in 2 2/3 relief innings.
Houston pitcher Scott Feldman kept the Tigers at bay, though they consistently hit the ball hard for a second straight game. He gave up two runs and seven hits in six-plus innings.
"Luckily, a lot of the balls they hit hard were out to center," Feldman said. "That kept them down for me."
Torii Hunter hit an RBI double in the third to score Andrew Romine, and Alex Avila homered in the fifth to cut the Astros lead to 4-2. It remained that way for an additional inning, before the Tigers intentionally walked Springer to load the bases in the sixth. Patrick McCoy threw four straight balls to Jon Singleton, walking in a run for a 5-2 Houston lead.
"You try to make the decision you think is best to help you win the game," Ausmus said. "They're not always going to work."
Nick Castellanos added a two-run triple in the eighth to make it a 5-4 game, but the Astros got a run back in the eighth on Singleton's RBI single.
While Ausmus agreed that it's sour to lose the last game of a road trip, he still couldn't be upset with his team's play.
"There's not a club on the planet that wouldn't take 7-2," he said.
Mike Vernon is an associate reporter for MLB.com. This story was not subject to the approval of Major League Baseball or its clubs.