Buehrle strong but bats silenced in finale
Veteran lefty tosses eight quality innings vs. former team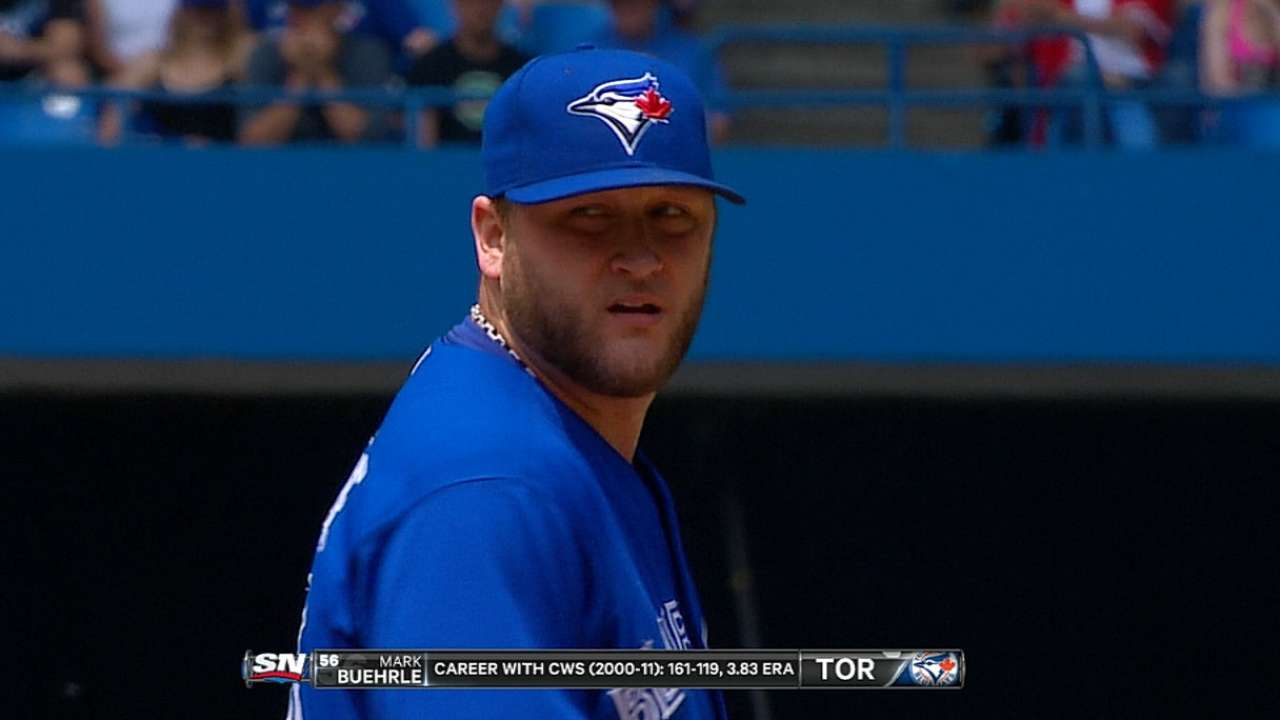 TORONTO -- A scorching-hot May not only propelled the Blue Jays into first place in the American League East, it also helped them build a sizable cushion.
The comfortable lead the club once held, however, has dwindled away following a rough June, which was capped off by Sunday's 4-0 loss in the series finale vs. the White Sox.
Mark Buehrle was outpitched by fellow left-hander Jose Quintana, who kept the Blue Jays' bats cold in front of 33,177 at Rogers Centre.
"If we want to continue in first place, we have to play better baseball," said Jose Reyes, who recorded his fourth multi-hit game in his last six contests. "We're going to continue grinding. We know it's going to be tough. There's nothing easy in baseball."
After taking the first of the four-game set against Chicago, the Blue Jays dropped the last three to finish June with a 12-15 record following a 21-9 May. The Blue Jays won, 7-0, in the first game of the series, but scored seven runs total the last three and were shut out Sunday for the fifth time this season. Of the five shutouts, four have come over the club's last 22 games.
Toronto has lost four of its last five games, nine of 13, and has gone 13-17 since reeling off a season-high nine wins in a row in late May. The Blue Jays, who were 5 1/2 games up on both the Orioles and Yankees on June 10, were up by just 1 1/2 games over Baltimore and New York following Sunday's loss.
"Since our big streak, we've cooled off quite a bit," Blue Jays manager John Gibbons said. "We need to get going."
The White Sox broke open a scoreless affair with two outs in the third on a Jose Abreu RBI single to left to take a 1-0 advantage. An inning later, former Blue Jays player Moises Sierra took Buehrle deep to add to Chicago's lead.
Sierra drove a 1-0 offering over the fence in left field for his second homer of the season to put the White Sox ahead, 2-0.
Although Buehrle turned in a strong effort and kept his team in the game -- like he has done in the majority of his starts this season -- he was upset with himself for letting the free-swinging Sierra take him yard.
"Sierra of all people, knowing that guy chases a lot," said Buehrle, who allowed a homer for the fifth straight start. "I threw a changeup pretty much right down the middle. It's frustrating because you know you don't have to throw much in the strike zone and I pretty much teed one up for him. That's what he's supposed to do."
Buehrle didn't allow another run after that but took the loss to fall to 10-5 on the year. After starting the season 10-1, Buehrle hasn't won since June 1 -- a span of five starts -- but he has gone six-plus innings in all of those outings and has a respectable 3.44 ERA over the stretch.
The 35-year-old threw eight strong innings, allowing two runs on six hits, while walking two and striking out five.
It marked the second time in Buehrle's career that he has faced the White Sox, whom he broke into the Majors with in 2000 and was a member of until 2011. Buehrle won last year's contest against Chicago, but didn't have the same luck this time around as Toronto's offense was unable to solve Quintana.
The southpaw hurled seven scoreless innings of three-hit ball, walked two and struck out seven for his 13th quality start in 17 outings this season. Quintana has a 1.29 ERA over his last three starts, working seven innings in all of them, with 21 strikeouts and six walks.
"He was tough," White Sox manager Robin Ventura said of Quintana. "Moving it around both sides of the plate. It was a well-pitched game."
Reyes, who recorded two of Toronto's three hits off Quintana, was left stranded both times he reached base.
Toronto's best chance came in the sixth, when Reyes started a one-out rally with a double to left. Reyes narrowly beat Dayan Viciedo's throw to second before Edwin Encarnacion drew a two-out walk for pinch-hitter Jose Bautista, who made his first plate appearance since last Sunday's contest against the Reds. Bautista, sidelined for a week with a strained left hamstring, grounded into a fielder's choice to end the threat.
"Had a couple guys on, down two runs, had the lefty out there you want. You take your shot," Gibbons said of the decision to lift catcher Dioner Navarro for Bautista in that spot.
Toronto, which has an off-day Monday, will conclude its nine-game homestand on Tuesday and Wednesday vs. the Brewers.
"It's frustrating," Gibbons said of his club's recent play. "We do need a day off tomorrow, that's for sure."
Chris Toman is a contributor to MLB.com. This story was not subject to the approval of Major League Baseball or its clubs.