Quintana notches series win for White Sox
Lefty throws seven scoreless, Sierra homers vs. former team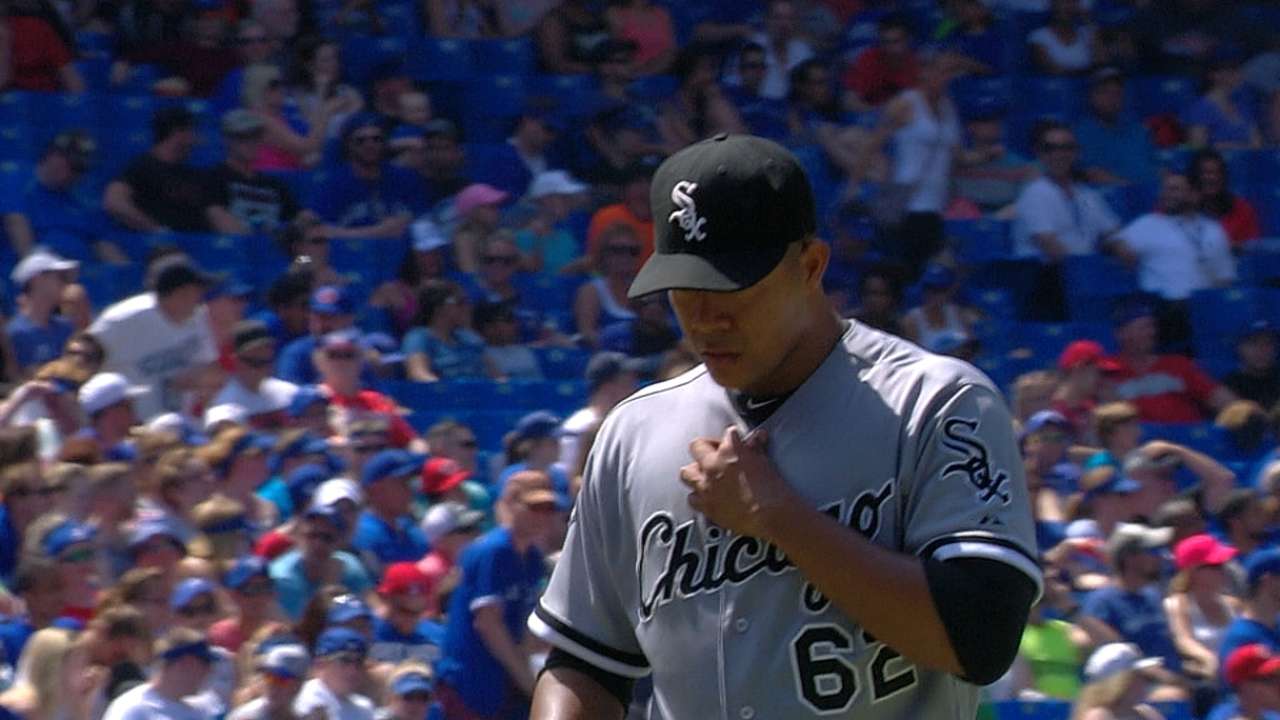 TORONTO -- The White Sox were already missing Chicago when they came into Toronto on Thursday for a four-game series against the Blue Jays.
In the midst of an 11-game road trip, the club had lost six of its previous seven games before stepping on to the turf at Rogers Centre. A shutout loss in Game 1 had the Sox looking defeated and poised to endure one of their worst 10-game stretches of the season. But something clicked, and the White Sox put up three straight much-needed road wins, culminating in a series-clinching 4-0 victory over the Blue Jays on Sunday.
Jose Quintana pitched seven scoreless innings to improve his lifetime record to 4-1 against Toronto, and Moises Sierra belted a solo shot off his old team as the White Sox salvaged a 4-7 record on their long haul away from U.S. Cellular Field. They return home Monday for a three-game series against the Angels.
"It was not a fun start," manager Robin Ventura said of the road trip. "I think that's just part of baseball. When you play this many games you go through tough stretches, and it's good to get a win like this on our way home."
Quintana improved to 5-7 in delivering his 13th quality start of the season. The left-hander allowed only three hits and a pair of walks with seven strikeouts.
He breezed through five innings, allowing two hits, and didn't have a runner on third base until his mettle was tested in the sixth.
After giving up a double to Jose Reyes before walking Edwin Encarnacion, he had two aboard with two outs and the pinch-hitting Jose Bautista at the plate. With Reyes advancing to third on a passed ball, the dangerous Bautista -- who hadn't played since June 22 while nursing a left hamstring injury -- had an opportunity to put Toronto on the board, but he grounded into a fielder's choice to end the threat.
"I think he kind of likes those situations. He doesn't really get into them all that much so I think he enjoys it a little more," White Sox catcher Tyler Flowers, who added some padding with a two-run single in the ninth, said of Quintana. "We weren't going to give into [Bautista] there, obviously, throwing a number of breaking balls and then kind of surprised him with that last one."
Quintana was still going strong in the seventh as he retired the side with a popout and a pair of strikeouts.
He was relieved by Eric Surkamp, who pitched for the fourth day in a row since being recalled. The 26-year-old lefty retired the side in the eighth before giving way to Jake Petricka, who finished the game with a scoreless ninth.
Mark Buehrle, facing his old team, took the loss for the Blue Jays. The veteran left-hander saw his record slip to 10-5. He hasn't picked up a win since June 1. He pitched eight innings, allowing six hits and two runs with two walks and five strikeouts.
Buehrle's first stumble of the afternoon came with two outs in the top of third. After Gordon Beckham hit a ground-rule double, Jose Abreu took a first-pitch cutter to left field, driving in one to give the Sox the 1-0 lead. The single extended the power-hitting rookie's career-high hitting streak to 14 games.
Then in the fourth, the former Blue Jay, Sierra, hit his second homer of the season to left field for a 2-0 White Sox advantage.
"Sierra of all people, knowing that guy chases a lot, I threw a changeup pretty much right down the middle," Buehrle said. "It's frustrating because you know you don't have to throw much in the strike zone and I pretty much teed one up for him. That's what he's supposed to do."
The Chicago offense put the game out of reach in the top of the ninth. Facing reliever Sergio Santos, Sierra doubled to left before Flowers scored two with a single to center field as the White Sox took the series, 3-1.
"That was good," Ventura said of the late run support, which helped avoid another photo finish after the two previous games were decided by one run. "We got a couple of runs early and the big ones flowed in at the end."
Jamie Ross is an associate reporter for MLB.com. This story was not subject to the approval of Major League Baseball or its clubs.