Freiman's clutch homer backs solid Milone
First baseman delivers the day he's called up to help complete sweep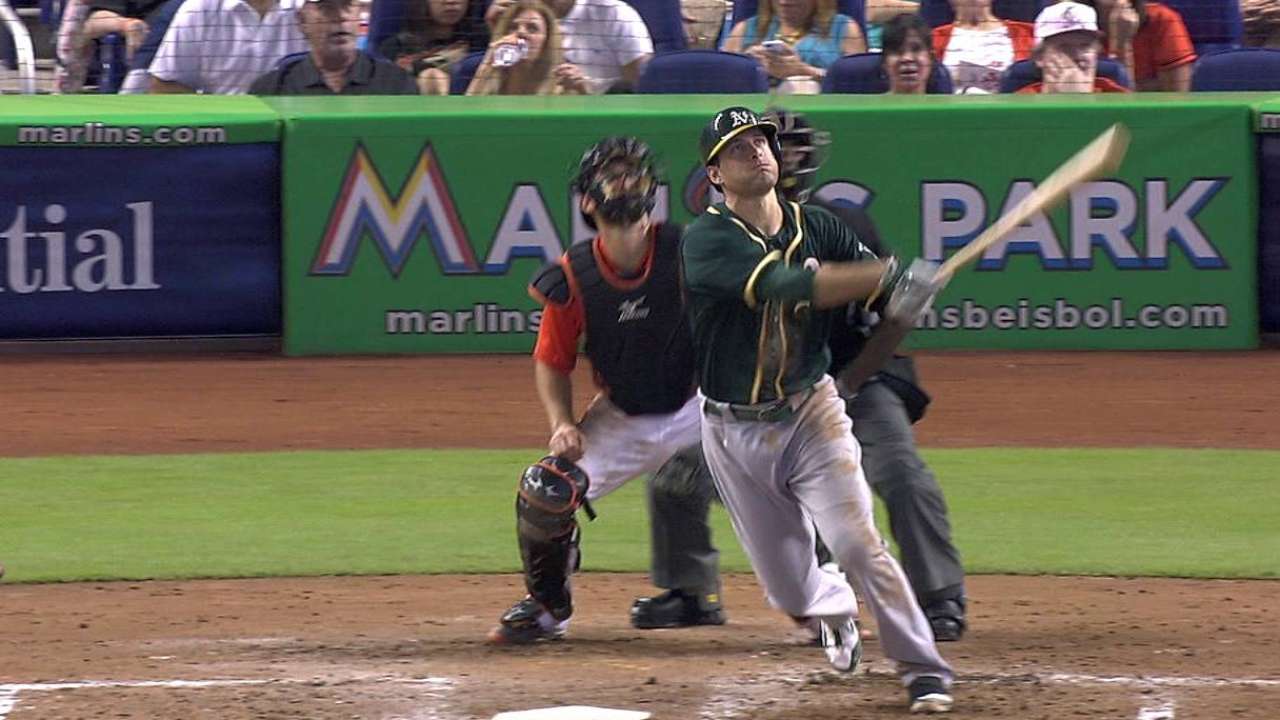 MIAMI -- Fueled by adrenaline and an equally large dose of coffee, following a sleepless night on a red-eye flight from Sacramento to Miami, Nate Freiman celebrated his promotion Sunday with a towering three-run homer that helped the A's finish off a three-game sweep of the Marlins.
"Once I get on the plane, I think I'm gonna be out," said Freiman, smiling. "A lot of adrenaline getting back in the game here. I was wired."
He more than deserves the nap.
Oakland's 4-3 Interleague victory, which pushed the club 21 games over .500 (51-30) at the exact midpoint of this season, was a particularly satisfying one, given the fragile state of the roster at the start of the day.
The only reason Freiman was recalled from Triple-A was to offset the loss of Josh Reddick to a knee injury for the second time this month. The A's were also without an ailing Derek Norris, who was unavailable again because of back soreness, as well as several bullpen arms following Saturday's 14-inning escapade.
That's why manager Bob Melvin was on edge before the game, saying, "We're trying to get through what could be a difficult day for us in terms of personnel."
Baseball's best team made it look easy.
Lefty Tommy Milone rose to the occasion and gave the A's seven solid innings to save the depleted bullpen, allowing three runs (two earned) while providing stellar defense. Fernando Abad notched a pair of outs, and Ryan Cook fanned two in a four-out save.
The only other pitcher available was Jeff Francis.
"Sometimes you just gotta play the hand you're dealt," said Melvin. "They knew it going in, Cookie knew he was closing, and everyone contributed again."
"Having Abad and Cook come in and pick up the eighth and ninth like it was their everyday job, it was great," said catcher Stephen Vogt. "That's just the depth of this staff. Anyone in our bullpen can pitch in any role, and that's very unique to have with that versatility."
It's one of several reasons why the A's, winners of four in a row and 11 of their last 14, have shouldered the Majors' best record for 12 consecutive days. Their 51-30 first half is the best start in Oakland history since 1972.
"We've been playing tremendous baseball, and that's obviously what we expect from ourselves, but the goal now is just to keep it up," said Milone. "We can't get soft. We have to continue to play good baseball."
Milone was touched for an unearned run just two pitches into the game when Marlins outfielder Christian Yelich led off with a triple and scored on a throwing error by Alberto Callaspo, but he faced the minimum over his next 15 batters, allowing the A's to stage a comeback.
They got all of their day's work done in a four-run sixth inning against lefty Andrew Heaney. Three consecutive hits from Callaspo, Yoenis Cespedes and Josh Donaldson plated the tying run, and Freiman absolutely crushed the first pitch he saw from Heaney to left field for a go-ahead three run homer.
"That was really fun. That was really nice that they put me in there today, and I'm happy that I was able to help out," said Freiman, sporting a narrower stance since last year. "I was just making sure I was on time for a fastball."
"We've been noticing what he's been doing down in Triple-A, and it's no secret that he's got pop," said Milone. "He changed his stance and he's driving the ball a little more. You saw it today."
That would mark the final inning for Heaney, while Milone went one further, finishing at 95 pitches. The lefty improved to 6-0 with a 2.87 ERA over his last 10 starts and 6-3 overall with a 3.79 ERA on the season.
"To an extent," said Melvin, "you know you have to get quite a few innings to only end up having to use the guys you want to use, and he gave us exactly what we needed. All around, a great performance by him."
The new kid wasn't bad, either.
Jane Lee is a reporter for MLB.com. This story was not subject to the approval of Major League Baseball or its clubs.