Heaney solid, but Marlins fall short vs. A's
Yelich, Ozuna deliver big hits, but offense denied in finale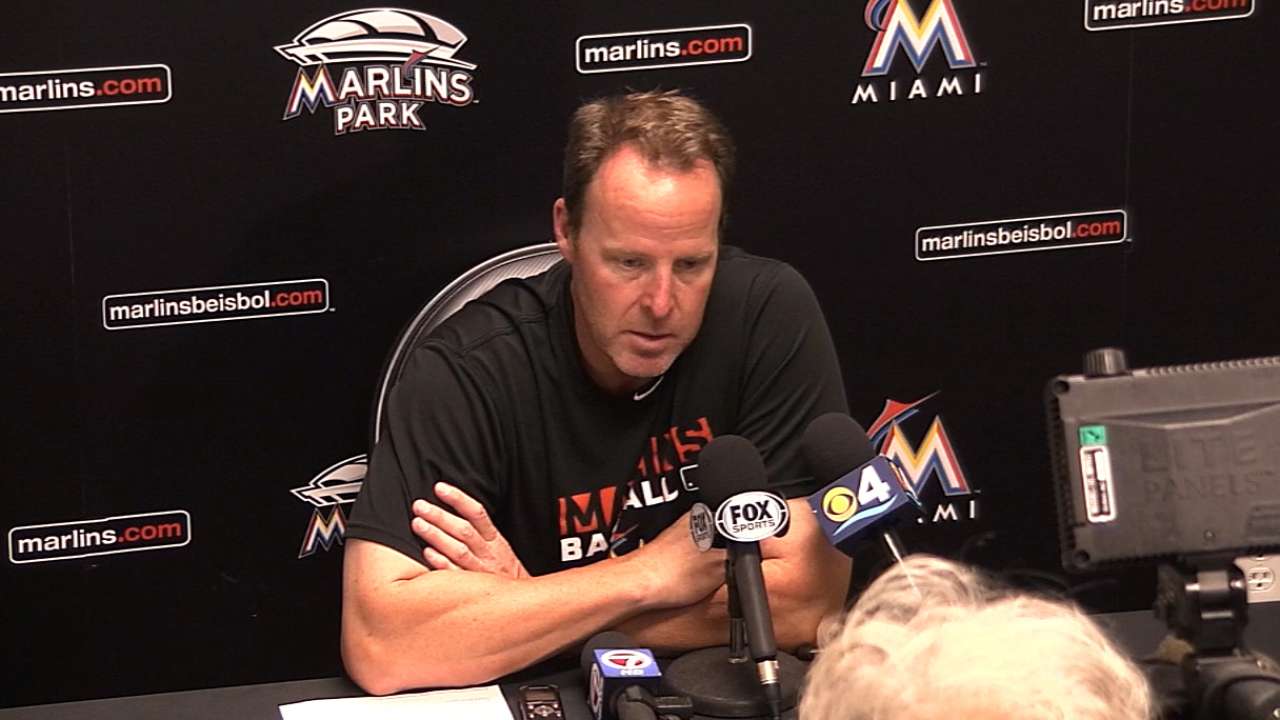 MIAMI -- Andrew Heaney showed flashes on Sunday as to why he was so highly-touted. But the A's demonstrated yet again why they have the best record in the Majors.
Nate Freiman's three-run homer in the sixth off Heaney highlighted a four-run inning that powered Oakland to a 4-3 win over the Marlins.
The A's completed their Interleague sweep, and sent Miami spiraling to its fourth straight loss. The Marlins are now 8-4 in Interleague Play this year.
Now, 39-43, the Marlins matched a season-worst mark of being four-games under .500. They were 6-10 on April 16.
"There aren't moral victories in the big leagues, but we're close," manager Mike Redmond said. "If we continue to execute. We make that one mistake, whether it's a pitch or baserunning or a defensive play that's just keeping us from winning these ballgames. When we get there and we get that consistency, then we're going to get on the other end of it."
For Heaney, his line of four runs on eight hits with four strikeouts is a bit deceiving.
"He looked more comfortable to me today," Redmond said. "He was pounding the strike zone with the fastball. You could tell by the swings. I think that will continue as he gets more and more starts. He's going to be fine. He's got good stuff. I like his poise out there. I like his demeanor, the way he competes."
Ranked by MLB.com as the 25th best prospect in the game, Heaney has now come up on the losing end of each of his first three big league decisions. But Sunday was his most effective outing against a team that leads the Majors in runs scored.
"This is a learning experience," Heaney said. "I'd like to say I'm having good outings to learn from. I feel like every time out, I've gotten better. Hopefully, I can have one where I'm taking a lot more positives and celebrating a win."
For the third straight game, the Marlins lost in frustrating fashion. They led in each contest, but were burned once again by a four-run inning.
Heaney, making his third big league start, was sailing along for 5 2/3 innings, in keeping the Major League's highest-scoring team off the board. But like they've shown all series, the A's can do serious damage in a hurry.
They struck again in the sixth.
Alberto Callaspo started a string of four straight hits, which resulted in four runs. Yoenis Cespedes lifted a broken-bat single to right, and Josh Donaldson ripped two-strike single to left, tying the score at one.
The crushing blow for Heaney was Freiman's towering, three-run blast to left. In each of the three games, Oakland had a four-run inning.
"I was just making sure I was on time for a fastball," said Freiman, just called up from Triple-A. "I was a little late on some of my other swings in my first two at-bats."
Heaney scattered four hits until the A's put four on the board with two outs.
"If I make a little better pitch to Donaldson right there, or I don't leave one middle-middle to Freiman, we're probably talking about something a little different," Heaney said.
Oakland's Tommy Milone allowed three runs (two earned) in seven innings, including a home run to Marcell Ozuna.
Miami chipped back to make it 4-2 on Ozuna's pinch-hit, opposite-field homer off Milone in the sixth inning. Because of a right leg cramp sustained in the seventh inning on Saturday, Ozuna wasn't in the starting lineup. The drive to right field was his first career pinch-hit homer.
In the seventh inning, Jeff Baker's sacrifice fly pulled Miami to within 4-3.
The Marlins grabbed a first-inning lead off Milone, who improved to 6-3.
Christian Yelich, reinstated from the disabled list after being out with a lower back strain, made an immediate impact. On the second pitch the 22-year-old saw, he knocked it off the wall in right-center for a triple. He scored on the play when Callaspo's relay throw to third skipped past Donaldson.
The play was scored a triple and an error, enabling Yelich to circle the bases. The run ended up being unearned.
"We gave ourselves a chance and we couldn't punch it," Redmond said. "We just need another big hit. I guess probably the story of our month maybe."
Joe Frisaro is a reporter for MLB.com. He writes a blog, called The Fish Pond. Follow him on Twitter @JoeFrisaro. This story was not subject to the approval of Major League Baseball or its clubs.