Reds win fourth straight with 11th-inning surge
Phillips hits go-ahead homer in ninth; Cincinnati plates five in extras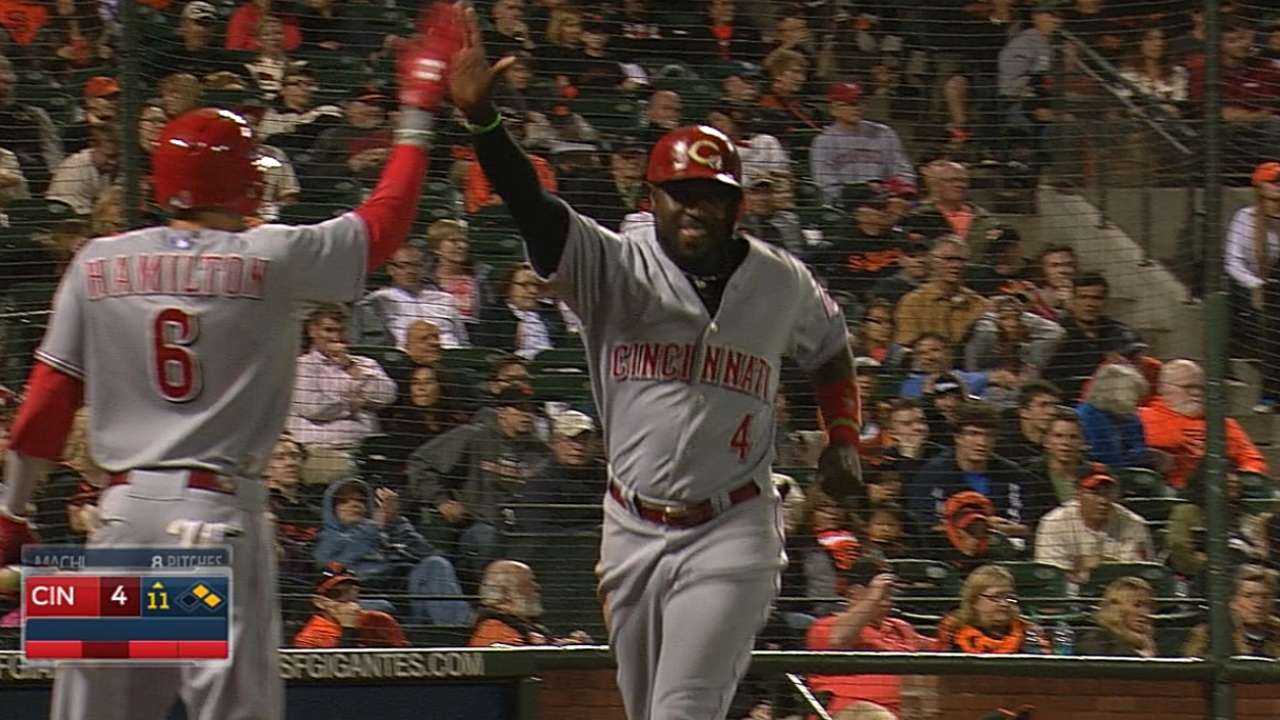 SAN FRANCISCO -- One of the perks of a team being on a roll is that winning the harder games still seems possible even when things look bleak. The way that the Reds fought to emerge with a 7-3 win with a five-run top of the 11th inning Saturday showed something.
Cincinnati was down, 1-0, through eight innings and took a 2-1 lead in the top of the ninth inning. After Aroldis Chapman blew the save in the bottom of the ninth and sent the game to extras, the Reds didn't fold up. Zack Cozart's two-run lined single to center field off Jean Machi in the 11th provided the go-ahead runs.
"I would have said three weeks ago, we probably wouldn't have come back like we did tonight," said Cozart, who has RBIs in the last three games. "I think we're starting to build some momentum and get some confidence."
The Reds claimed the four-game series with Sunday's game still remaining to win their fifth straight series and be unbeaten in the last seven series. This while improving to 5-1 on the 10-game road trip and winning seven of their last eight games.
At 42-38, the Reds are now one game behind the second-place Cardinals in the National League Central. They still trail the first-place Brewers, winners of four straight games, by 7 1/2 games.
It was a wild night in many respects. Here are some of the ways:
• Until Cozart's hit in the 11th, the Reds were 0-for-9 with runners in scoring position after being 7-for-18 in the previous two wins.
• Cincinnati had no putouts recorded in the outfield for the entire game. The Blue Jays also did that to the Rangers on May 18.
• Cozart had 11 assists in the game. The last Reds player to do that was third baseman Chris Sabo in 1988. The last shortstop who did for the team was Davey Concepcion in 1982.
"Those are fun," Cozart said. "It's fun to play behind guys that are working fast and pumping the strike zone. We have a lot of pitchers that do that. It was a busy night for me."
• The Giants were celebrating an "All-Brandon" weekend with giveaways commemorating their players -- Brandon Crawford and Brandon Belt. On Saturday, a Brandon who wasn't part of the festivities crashed the party. Brandon Phillips, who turned 33 on Saturday, hit a ninth-inning, two-run home run off Giants closer Sergio Romo that put the Reds ahead.
• Chapman worked four straight days for only the second time in his career. The other time he did it, Sept. 3-6, 2013, he struck out the side in the fourth game.
This time, Chapman blew only his second save of the season in 18 chances. Following a Hunter Pence single and Pablo Sandoval walk, Buster Posey's pinch-hit RBI double made it a 2-2 game.
Jonathan Broxton got the victory after he gave up a leadoff infield hit in the bottom of the 10th but kept San Francisco from scoring. Jumbo Diaz allowed a two-out run in the bottom of the 11th before finishing off the victory.
Overshadowed was a great night for Reds starter Alfredo Simon, who threw only 80 pitches over seven innings. Simon, who was seeking to be the National League's first 11-game winner, allowed one run on three hits with one walk and four strikeouts. His sinker worked particularly well as he notched 15 ground-ball outs overall.
"It's what he does. It was one of those games unfortunately that we're down 1-0 and I had to hit for him," Reds manager Bryan Price said. "I know he wanted to stay in the game, but we had six outs to go and there's no way to let him hit in that situation."
In the top of the 11th vs. Javier Lopez, Joey Votto hit a leadoff double to left field. After Phillips was intentionally walked, Jay Bruce dropped his first sacrifice bunt since 2011. Devin Mesoraco's intentional walk loaded the bases. Cozart's hit put the Reds ahead and was followed by Chris Heisey's two-run triple and Billy Hamilton's RBI single.
"San Francisco is a very tough ballclub," Votto said. "Oftentimes, teams assume there will be a [series] split. It takes a lot to take a win away from a very good team on the road, especially a team as high caliber as the Giants. To come back late showed resiliency to fight through that ninth inning and put up five runs. It's very, very difficult to do that on the road."
Mark Sheldon is a reporter for MLB.com. Read his blog, Mark My Word, and follow him on Twitter @m_sheldon. This story was not subject to the approval of Major League Baseball or its clubs.