Surging offense silenced by Tribe's Tomlin
Seager notches Seattle's lone hit; Elias labors over six innings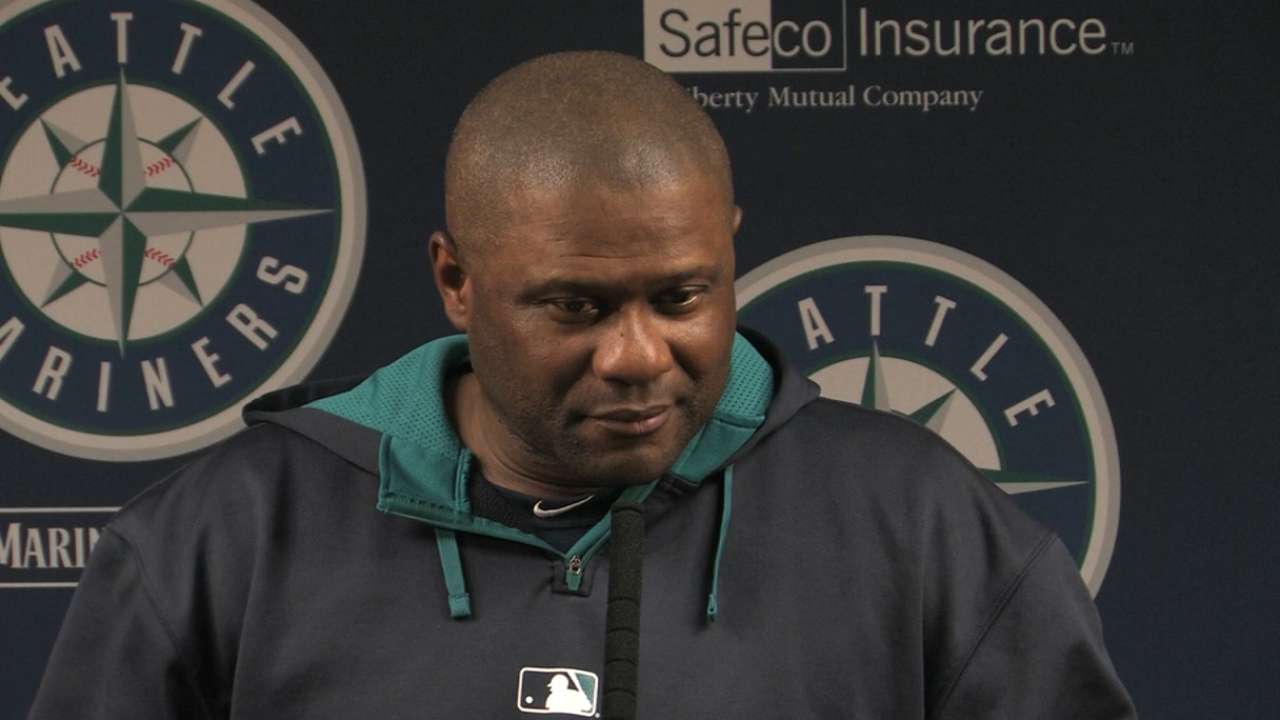 SEATTLE -- Indians right-hander Josh Tomlin put the clamps on the Mariners' recently revived bats Saturday, sending Seattle to a 5-0 defeat while allowing just one baserunner in nine innings.
The loss was just the second in the past eight games for a Mariners club whose offense had been warming in recent weeks but managed only a Kyle Seager single in the fifth against the 29-year-old Tomlin.
"The stars just didn't line up for us tonight in a lot of different ways," said Mariners manager Lloyd McClendon. "It was pretty ugly for us all the way around. Their guy threw a nice ballgame. It was just one of those days. Quite honestly, we haven't had one of those for quite a while. Every team has 'em and we had one tonight. Move on and get ready for tomorrow."
Tomlin struck out a career-high 11 and didn't walk a batter in evening his season record at 5-5 with a 3.78 ERA while snapping a personal three-game losing streak. It was the first one-hitter by an Indians pitcher since Billy Traber on July 8, 2003, against the Yankees.
"I don't know. I really don't know," Tomlin said of what flipped the switch for him. "I was finally back to commanding the ball like I used to. Good things happen in a ballpark like this, especially."
The Mariners have been one-hit twice this season, enduring the same fate in a 2-0 loss on April 9 against the Angels. It was the 22nd time in franchise history that Seattle has been held to one or no hits in a game.
The Mariners still hit the halfway point of the season with a 43-38 record, an eight-win improvement from last year's 35-46 mark. It's the first time Seattle has been over .500 at the midpoint since 2009.
Much of that improvement has come courtesy of a pitching staff that entered Saturday's games ranked second in the American League in ERA at 3.25, including a bullpen that had the best ERA in the league at 2.63.
But rookie southpaw Roenis Elias gave up five runs in six innings, dropping his record to 7-6 with a 3.96 ERA after he'd held the Padres and Royals to just one run in his last two outings. Elias allowed six hits with two walks and two strikeouts on 100 pitches.
"I just had a bad day," Elias said through interpreter Fernando Alcala. "In baseball sometimes that happens. It just didn't work out today."
He got no argument there from McClendon.
"He didn't really have command, particularly of the fastball," said the skipper. "No command of the breaking ball. It was just one of those nights. It was just a bad night all the way around. It's hard to explain. That's baseball. That's the way it goes sometimes. Our starter didn't have it, we didn't have it. They outplayed us in every facet of the game."
The Indians got to Elias right out of the gate with two runs in the top of the first on three straight one-out hits, including an RBI single by Michael Brantley and a run-scoring double by Carlos Santana.
The youngster corrected course and zipped through the fourth without any issues before giving up two more runs in the fifth on an RBI double by Michael Bourn and a sacrifice fly by Asdrubal Cabrera after balking Bourn to third when the ball slipped out of his hand as he stood on the rubber.
Catcher Yan Gomes gave Cleveland a 5-0 lead with a solo home run in the sixth before McClendon went to his bullpen. That was one positive for the Mariners as relievers Dominic Leone, Brandon Maurer and Tom Wilhelmsen gave up just one hit with four strikeouts in three innings, including another impressive frame from Maurer in his second relief stint since being recalled.
The Mariners' offense had come around considerably this month, with their June batting average of .266 going into Saturday's game ranking as the second-highest single-month mark for the club since 2010. But little of that was in evidence on a quiet Saturday night in front of a crowd of 23,012.
Indians right fielder Ryan Raburn robbed Seager of an extra-base hit with a diving catch in the second inning and Tomlin rolled through four perfect frames before Seager led off the fifth with a single to left.
Seager finished 1-for-3, putting him at .600 (12-for-20) with five runs, three doubles, two home runs and eight RBIs in the first five games of this six-game homestand, raising his average from .250 to .274 in the process.
But this night belonged to Tomlin, who recorded just the second complete game of his career and is now 4-1 with a 3.41 ERA in five starts against Seattle.
"We'd faced him a couple times," said Seager, who was 4-for-6 with four doubles against Tomlin coming in. "I had two games worth of at-bats on him and remembered him a little. I hadn't faced him too much, but we knew what he threw. He just threw it really well."
Robinson Cano was 5-for-11 with two doubles and a home run against Tomlin in previous meetings with the Yankees, but went 0-for-3 with two strikeouts.
"He was the same guy. It was just one of those nights," Cano said. "He threw his pitches right in the spots where he wanted. We just need to turn the page and be ready for tomorrow."
Greg Johns is a reporter for MLB.com. Follow him on Twitter @GregJohnsMLB as well as his Mariners Musings blog. This story was not subject to the approval of Major League Baseball or its clubs.