Tomlin stifles Mariners with one-hit, 11-K gem
Tribe right-hander a fifth-inning single shy of perfect night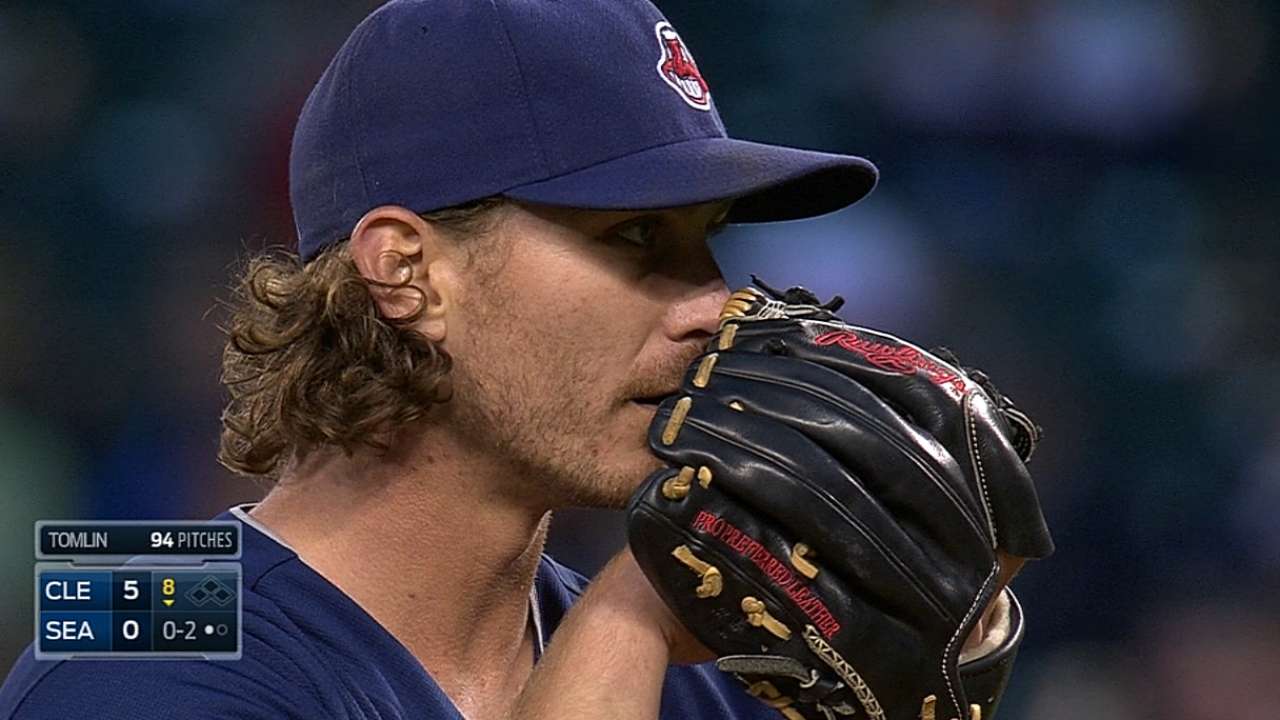 SEATTLE -- A perfect game was not on Josh Tomlin's mind when he gave up a leadoff single to Seattle's Kyle Seager in the fifth inning on Saturday night. Too much time remained in the game for the Indians starter to let his mind wander toward history.
Fifteen outs later, Tomlin still was not going to let himself wonder what could have been. The right-hander toyed with the Mariners en route to the first shutout of his career, turning in a performance that not only led Cleveland to a 5-0 victory, but stacked up against some of the great performances in baseball's annals.
Tomlin is not going to let that one pesky single get to him.
"I don't want to beat myself up doing that," Tomlin said with a smile.
Instead, the starter can savor what was, without a doubt, the best start of his career. Across nine stellar innings -- frames in which he dotted his fastball, showed off his new-and-improved curveball and had Seattle's hitters chasing changeups -- Tomlin finished with 11 strikeouts, no walks issued and Seager's single.
Tomlin joined Len Barker as the only Cleveland pitchers in the past 100 years to have at least 11 strikeouts, no walks and no more than one hit allowed in a shutout. Barker accomplished the feat in his perfect game against Toronto in 1981. The only other pitcher with that kind of line in the Majors this season is Dodgers lefty Clayton Kershaw, who did so in his no-hitter against Colorado on June 18.
Told that his start ranked second statistically to only Kershaw this year, Tomlin let out a laugh.
"Oh, come on," Tomlin said. "That's not right."
Believe it.
Cleveland outfielder Michael Bourn, who had a nice view of Tomlin's outing from center field, said the performance was even more impressive due to the pitcher's style. Tomlin's signature is finesse and command. The career-high 11 punchouts were the result of working inside and then expanding beyond the outer corner, enticing hitters to reach outside their comfort zone.
"He has to keep them off-balance," Bourn said. "They've got some people that can hit in that lineup. He kept them off-balance, kept them off the barrel, kept working them in and out."
Tomlin -- sidelined for most of last season while recovering from Tommy John elbow surgery -- has a fastball that sits around 89-91 mph. The word "overpowering" is not typically associated with the right-hander's performances. It was, of course, the only fitting description in the wake of his stellar showing at Safeco Field.
"The hitters will let you know what's hard enough," Indians manager Terry Francona said. "On a night like tonight, when he really had everything working, and he threw the ball where he wanted to, that's what happens. He pitched. I don't think the radar gun really came into play."
The win helped Cleveland (39-41) even the three-game weekend series with Seattle at one game apiece.
Tomlin (5-5) started off strong, but became dominant as the evening progressed. Eight of his 11 strikeouts came between the fifth and eighth innings, including four in a row between the seventh and eighth. Twice within the first four frames -- Michael Saunders in the third and Endy Chavez in the fourth -- Seattled tried unsuccessfully to bunt for a hit.
"I knew I felt good and I knew I was commanding the ball to both sides of the plate," Tomlin said. "I was on the same page as [catcher Yan Gomes] from the get-go and, the way the defense was playing, it was turning out to be a good night."
The lone misstep of the evening for Tomlin came in the fifth inning, when Seager sent a pitch into left field for a leadoff single. That snapped a run of 12 consecutive batters without allowing a hit for Tomlin, who then followed Seager's single by retiring the rest of the Seattle hitters he faced in order.
"It was pretty ugly for us all the way around," Mariners manager Lloyd McClendon said. "Their guy threw a nice ballgame for them."
The right-hander ended his 111-pitch effort with just one hit allowed in a start for the first time in his career. The complete game was Tomlin's first since Sept. 24, 2010, when the starter finished what he started against Kansas City.
Helping Tomlin's cause was a solid showing from the Tribe offense, which struck for five runs in the six innings logged by Mariners lefty Roenis Elias. Michael Brantley and Carlos Santana each contributed an RBI hit in the first inning, Michael Bourn (RBI double) and Asdrubal Cabrera (sacrifice fly) fueled a two-run fifth and Gomes launched a solo home run off Elias in the sixth.
That five-run cushion was more that sufficient for Tomlin.
"He's not going to beat himself," Francona said. "He understands what to do with a lead.
"He was just efficient and threw a bunch of strikes with a bunch of different pitches."
The hardest-hit ball for the Mariners on the night came in the second, when Seager drilled a line drive that seemed destined to drop into the right-center field gap. Ryan Raburn -- starting in place of regular right fielder David Murphy -- sprinted to his right to track down the ball. At the last possible moment, Raburn left his feet and made a spectacular diving grab for the out.
Standing near the mound, Tomlin raised his right arm and flashed a thumbs up to Raburn in right.
"That was a heck of a play," Tomlin said. "It took a dead sprint and a dive to catch that ball. That's exactly what he did."
Raburn's leaping grab aside, Tomlin did not require much help on this night.
"That was a clinic on how to pitch," Indians general manager Chris Antonetti said.
Jordan Bastian is a reporter for MLB.com. Read his blog, Major League Bastian, and follow him on Twitter @MLBastian. This story was not subject to the approval of Major League Baseball or its clubs.