Offense quieted as Phillies topped in nightcap
Momentum dissipates as club drops both ends of doubleheader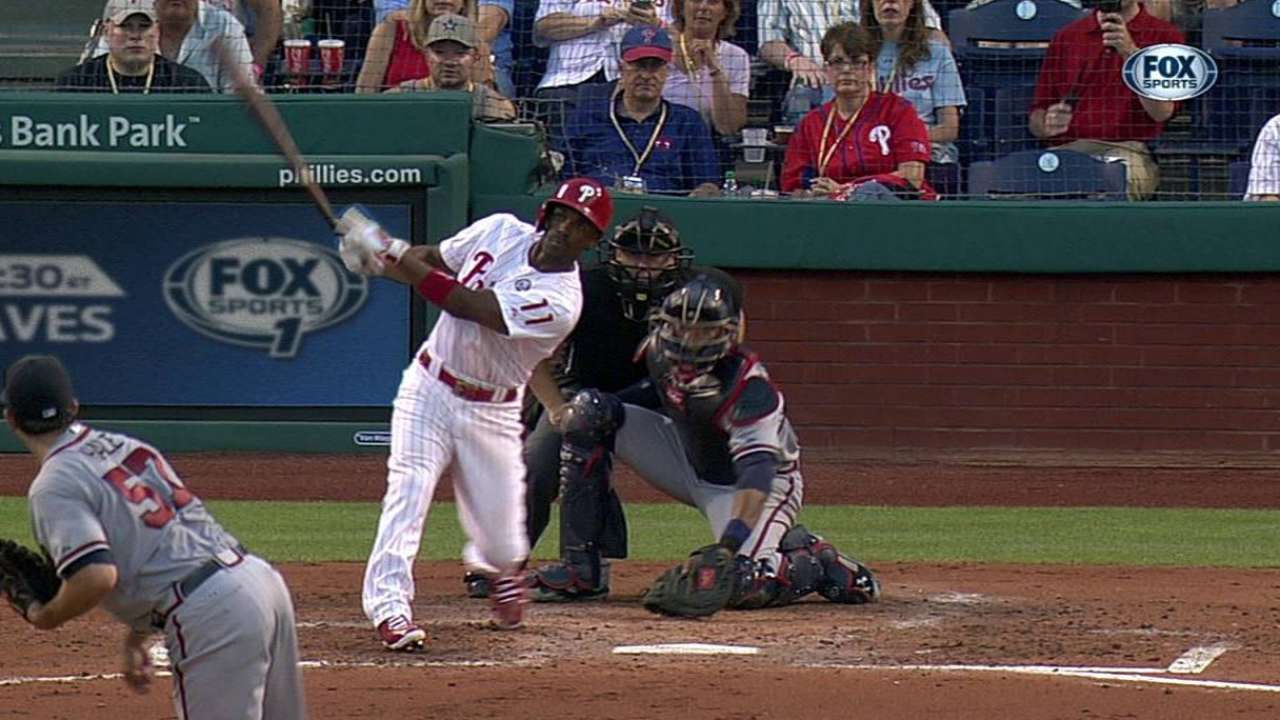 PHILADELPHIA -- The All-Star break is the unofficial midway point of the 2014 season, but the Phillies officially reached that mark Saturday in Game 2 of a doubleheader against the Braves at Citizens Bank Park.
It has been a mostly forgettable 81 games.
The Phillies followed a 10-3 loss to the Braves in Game 1 with a 5-1 loss in Game 2 to fall to 36-45 and seven games out of first place in the National League East. The Phillies are on pace to lose 90 games for the first time since 2000, when they finished 65-97. The team's .228 batting average at home is on pace to be the franchise's lowest mark in 100 years. Its 3.48 runs per game average at home is the lowest since 1972 (3.11) and its .649 OPS at home is the lowest since 1968 (.642).
"I still have faith in the squad," Phillies center fielder Ben Revere said. "A lot of things can happen in this game of baseball. We've got the guys to do it. We could go on a roll any time, win a couple series, sweep a couple good teams and we're right back in it. We're at the halfway point, but it's a long, long season. We've got the team to do that."
The Phillies had a modest five-game winning streak last week at the end of a 9-2 stretch, but have lost seven of their last nine games.
The momentum they had been building is gone.
"We have to do things differently," Phillies manager Ryne Sandberg said. "We definitely have to have more opportunities to score runs. We have to be more consistent putting the pitching and defense together and play more solidly, more consistently."
But can they?
Do they have the talent to do it?
"We can definitely sharpen up on just playing clean baseball," Sandberg said.
The Phillies must beat the Braves in Sunday's series finale to avoid a four-game sweep and finish the eight-game homestand at 3-5. They open a 10-game road trip Tuesday in Miami.
The Phillies asked their struggling offense and right-hander Sean O'Sullivan, who made his season debut, to stop the slide in Game 2. O'Sullivan posted a 5.89 ERA in 50 career appearances over parts of four seasons with the Angels, Royals and Padres and joined the Phillies as a non-roster invitee in Spring Training, where he went 1-2 with a 6.92 ERA in 13 innings.
He opened the season in Triple-A Lehigh Valley, going 3-6 with a 4.31 ERA in 15 starts.
O'Sullivan allowed a first-inning run when Ryan Howard, who committed two errors in Game 1, could not handle a ball hit to his right to allow Jordan Schafer to reach safely with a hit. Shafer stole second, advanced to third on a fielder's choice and scored on Justin Upton's single to right to hand the Braves a 1-0 lead.
The Phillies tied the game in the third when Cameron Rupp singled and later scored on Jimmy Rollins' sacrifice fly. O'Sullivan kept the score at 1-1 until the sixth. He retired the first two batters he faced on just two pitches, but Upton singled in a nine-pitch at-bat and Ryan Doumit singled in a seven-pitch at-bat to put runners on first and second with two outs.
Chris Johnson singled on a first-pitch sinker from O'Sullivan to score Upton to make it 2-1.
"He had seen quite a few offspeed pitches so I was looking to try to get an out with one pitch there," O'Sullivan said. "But big league hitter, put the barrel on it and served it into right."
Sandberg replaced O'Sullivan with Mario Hollands, who allowed a double to Tommy La Stella to clear the bases and make it 4-1.
The Phillies would not mount a comeback. They have hit .212 during their 2-7 slide, including .139 (10-for-72) with runners in scoring position.
"It is disappointing," Sandberg said. "It was a tough day today that's for sure."
Todd Zolecki is a reporter for MLB.com. This story was not subject to the approval of Major League Baseball or its clubs.