Hale delivers strong spot start as Braves take nightcap
Atlanta piles up 13 hits to finish impressive Saturday doubleheader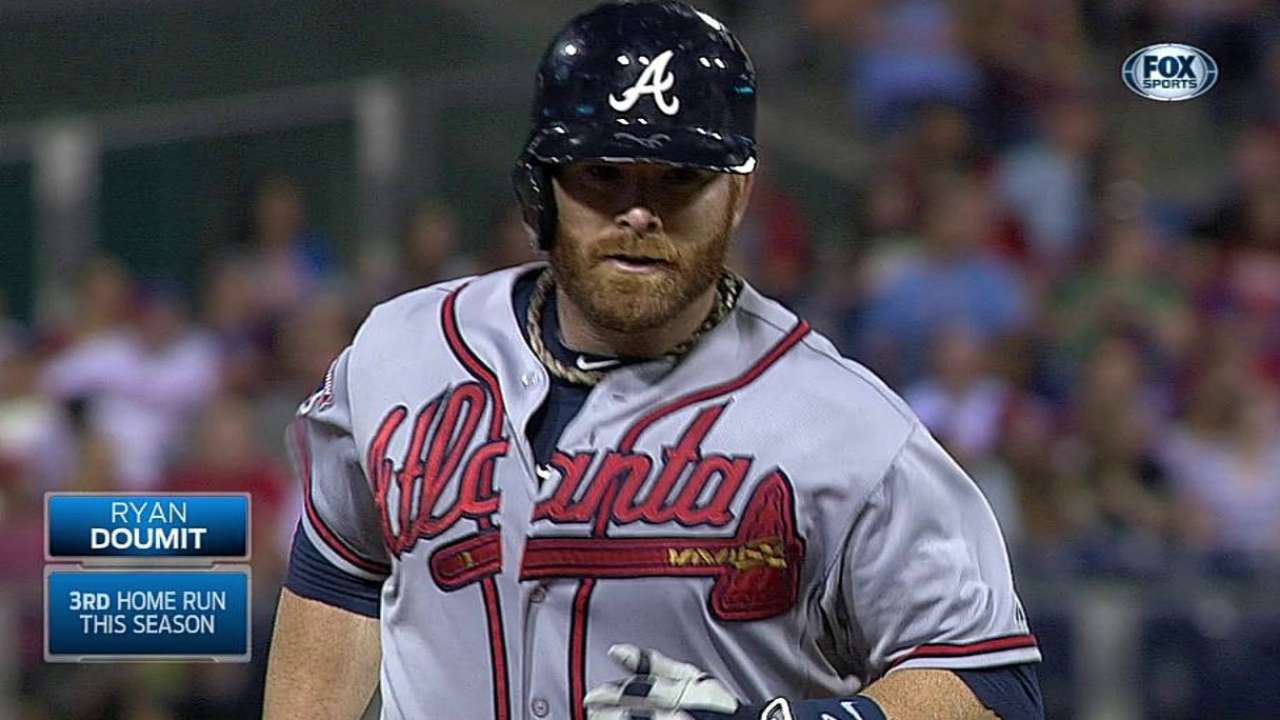 PHILADELPHIA -- Saturday couldn't have panned out better for the Braves.
During the doubleheader's intermission, highlights of Philly's series sweep of Atlanta on June 16-18 flashed on PhanaVision. But the allure of that series has long since faded for the Phillies after the Braves followed up a seven-run victory in Game 1 with a 5-1 win in the nightcap at Citizens Bank Park.
"They swept us at our place, so we wanted to come in here and win some ballgames," Chris Johnson said. "But for the most, I think we're just playing our baseball right now."
After plating 10 runs on seven hits in the matinee, the Braves scored five times on 13 hits in Game 2.
David Hale made a strong spot start for the Braves, and callup Christian Bethancourt made a situational start of his own at catcher. With Gerald Laird having caught two games in the past 24 hours and Evan Gattis recovering from a right rhomboid spasm he suffered on Friday, Bethancourt was called up from Triple-A Gwinnett after Saturday's first game.
The rookie catcher landed in Philadelphia at 5:30 p.m. ET, got to the ballpark at 5:50 for a 7:15 first pitch, and was promptly thrust into the starting lineup.
"I got the call, got up, got to the airport, got on the plane and came to catch," Bethancourt said. "I think that was a special night for me."
Bethancourt was making his first Major League start, and Hale had pitched fewer than 60 career innings in the big leagues upon entering Saturday night's contest. But despite their inexperience in the Majors, Bethancourt and Hale were in sync from the get-go, as their chemistry had precedence -- the two spent all of 2012 at Double-A Mississippi together, where Hale had an 8-4 record and 3.77 ERA.
"Once I was out there I felt like we hadn't missed a beat," Hale said. "I was very impressed by it."
"It was fun to catch him now in the big leagues," Bethancourt said. "We were on the same page the whole game."
The duo's cohesion lent way to five innings of one-run ball for Hale. The right-hander has been pitching out of the bullpen since early May, so the 74 pitches he threw on Saturday night were right in line with the short leash that was expected.
"I felt good the whole time. I was kind of surprised I felt good for that long being that I haven't started since the end of April," Hale said.
The Braves picked up right where they left off offensively in the opener. Jordan Schafer led off the game with a single, stole second and advanced to third on a groundout. Justin Upton then sent a 1-0 slider from opposing pitcher Sean O'Sullivan into right field for the RBI.
The Phils got the run back in the bottom of the third on a sacrifice fly from Jimmy Rollins.
The 1-1 score would hold until the sixth inning, when a hero from a few hours earlier delivered another big swing.
Upton and Ryan Doumit had consecutive singles with two outs, and Johnson followed suit with the third straight base hit to score Upton.
Then left-handed bat Tommy La Stella, who snapped an 0-for-23 slump with his bases-clearing triple in the eighth inning of Game 1, came to bat against reliever Mario Hollands. The Phillies southpaw approached the at-bat with a 1.19 ERA against lefties, but La Stella had already proven earlier that he was out of his funk.
Just for good measure, the second baseman came through with another clutch hit -- this time a two-out, two-RBI double to give the Braves a 4-1 lead.
Doumit added another insurance run with a solo shot in the eighth, and the Braves bullpen combined for four scoreless innings to help clinch a series victory for Atlanta, which is tied with Washington for first in the National League East.
"Two games, two wins," Johnson said. "It's a long day, definitely a long day and it's not something you look forward to, playing two in one day. But to come out with two wins, you can't complain at all."
Erik Bacharach is an associate reporter for MLB.com. This story was not subject to the approval of Major League Baseball or its clubs.