Masterson eyes Tuesday return from knee issue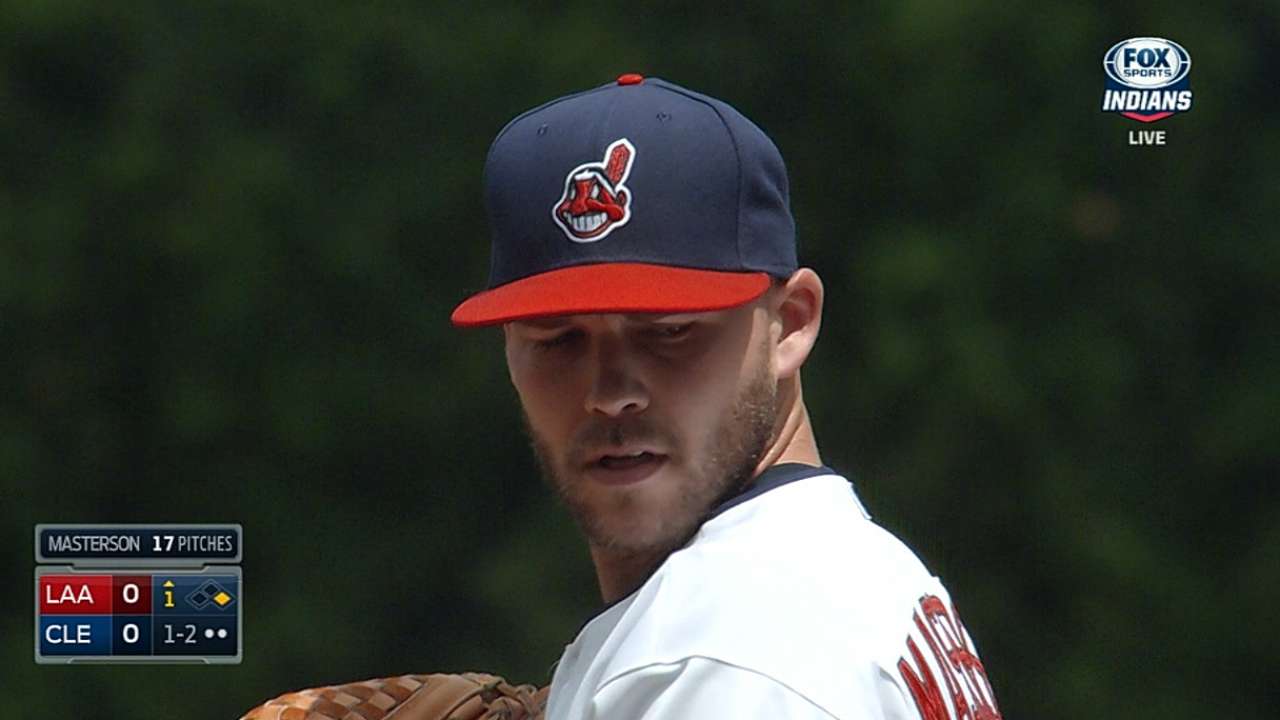 SEATTLE -- Two extra days of rest does not sound like much, but Indians starter Justin Masterson felt it was plenty to help his ailing right knee. Masterson has focused on rehab and strengthening behind the scenes with the goal of starting for Cleveland on Tuesday.
Masterson is on target to get his wish.
Prior to Saturday's game against the Mariners at Safeco Field, Masterson successfully navigated his way through a normal bullpen session. Indians pitching coach Mickey Callaway was impressed with what he saw and manager Terry Francona said Masterson is currently penciled in to start against the Dodgers on Tuesday.
"He's all set to go," Francona said. "He had a good side day and Mickey felt good about it."
Callaway kept a close eye on Masterson's mechanics during the workout and was happy with the results. The pitching coach said he was especially pleased with the way the veteran sinkerballer used his legs, showing no ill effects of the knee issue.
"He looked healthy," Callaway said. "It looked like he felt good and he was letting it good. His command was good, [velocity] was good, action on his pitches. It was all good. He looked liked he was using his lower half well -- probably better than I've seen in a while."
Masterson has indicated that the knee issue has been bothersome since his second start of the season. In the 16 outings covering that time period, the right-hander has posted a 5.44 ERA with a .791 opponents' OPS. Masterson allowed five runs in just four innings against the D-backs on Tuesday and is now 4-5 with a 5.03 ERA in 93 innings this season.
The pitcher said the extra days off did him good.
"Although it seems like such a short amount of time," Masterson said, "two days can really give you a lot of opportunity, when you have those full days to know that you can do a lot of things within them. We'll fight it for the next probably couple weeks. But, I think we've got it to a good point now where it will stay down and we can keep it down. At least that's the idea."
Jordan Bastian is a reporter for MLB.com. Read his blog, Major League Bastian, and follow him on Twitter @MLBastian. This story was not subject to the approval of Major League Baseball or its clubs.