Mariners boast four All-Star Game candidates
Cano likely to start based on fan vote; Felix, Rodney, Seager also deserving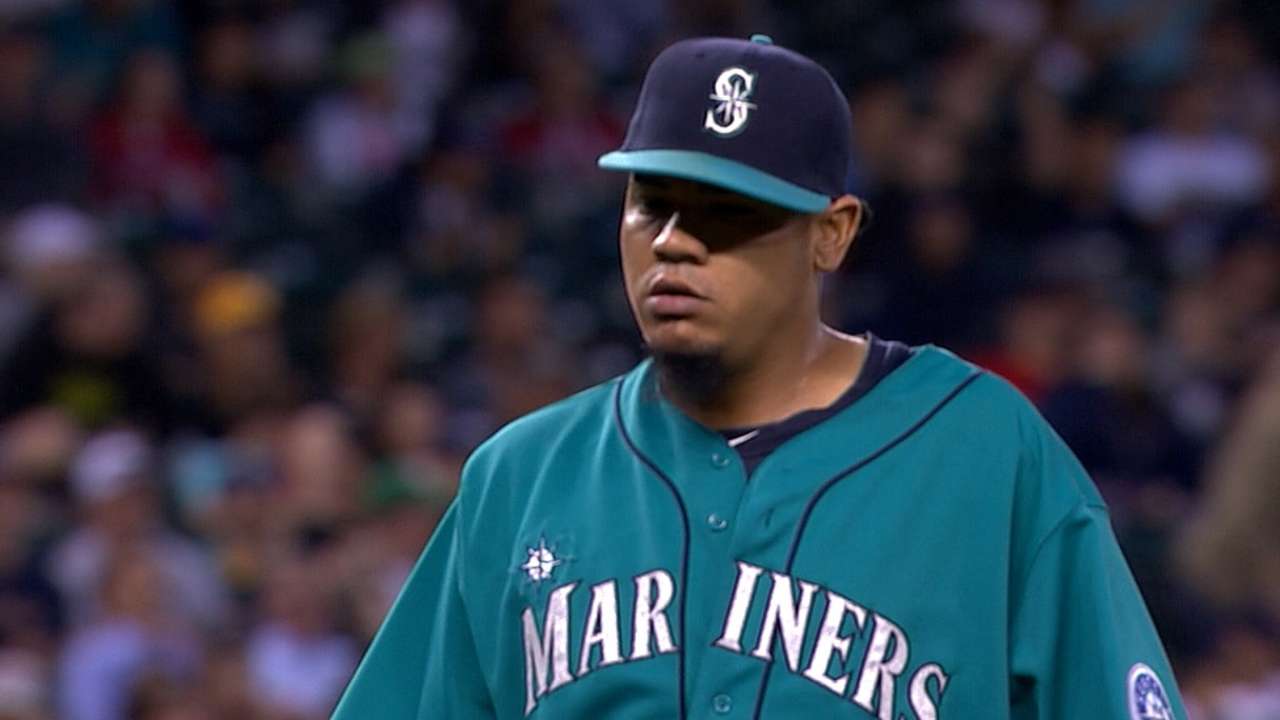 SEATTLE -- With just a week left before Major League Baseball announces its All-Star squads, the Mariners appear to have four qualified candidates for berths on the American League team.
Five-time All-Star second baseman Robinson Cano currently leads the fan voting at that position and three other Mariners -- Felix Hernandez, Fernando Rodney and Kyle Seager -- have put up the kind of numbers that should draw notice when MLB players fill out their own votes this weekend, as well as when AL manager John Farrell completes the rest of the squad prior to the announcements on Sunday, July 8.
Hernandez seems a sure-fire selection for his fifth All-Star Game, but Mariners manager Lloyd McClendon feels his ace should be more than just a normal participant this year after going 9-2 with a 2.24 ERA in 17 starts.
"He's been fabulous," McClendon said. "What more can you say about him? He's been great. Heck, he should start the All-Star Game. If they want to win, they should start him."
Hernandez's primary competition to start the game seems to be Yankees rookie sensation Masahiro Tanaka, who headed into his Saturday start against the White Sox with an 11-2 record and league-leading ERA of 2.11. Hernandez has the second-best ERA in the league at 2.24.
Hernandez threw a scoreless inning of relief in last year's game but couldn't pitch the prior year after he'd started for the Mariners on the Sunday before the All-Star Game, thus only giving him one day's rest before the Midsummer Classic. This year, Hernandez is lined up to make his last pre-All-Star start on Thursday, July 10, which would put the July 15 All-Star Game in Minneapolis right on his next normal start day.
Rodney also seems strongly in the All-Star mix as he heads into Saturday's games with a 2.30 ERA and 22 saves in 24 chances, second only to the 23 saves of the Royals' Greg Holland among AL closers.
"I don't see why not," McClendon said when asked about Rodney's candidacy. "He's done a tremendous job, as well as Seager."
Though Seager hasn't yet been in the top five vote-getters at third base among results released so far, he has very comparable numbers to Oakland's Josh Donaldson, who currently leads the balloting. Seager heads into Saturday's game hitting .274 with 20 doubles, three triples, 12 home runs, 55 RBIs and an .836 OPS. Donaldson was hitting .249 with 12 doubles, two triples, 18 home runs, 59 RBIs and an .807 OPS. Among all AL third basemen, Seager is first in triples and stolen bases (four), second in RBIs, batting average, slugging percentage (.491) and OPS, tied for second in home runs and third in hits (78) and on-base percentage (.345).
Fans can cast their votes for starters at MLB.com -- online or on a mobile device -- using the 2014 All-Star Game MLB.com Ballot Sponsored by Experian until Thursday at 8:59 p.m. PT. The 2014 All-Star Game will be played at Target Field on Tuesday, July 15, on FOX.
Greg Johns is a reporter for MLB.com. Follow him on Twitter @GregJohnsMLB as well as his Mariners Musings blog. This story was not subject to the approval of Major League Baseball or its clubs.