Padres can't find rhythm at plate, fall into last
Stults steady, but lineup held scoreless over final eight frames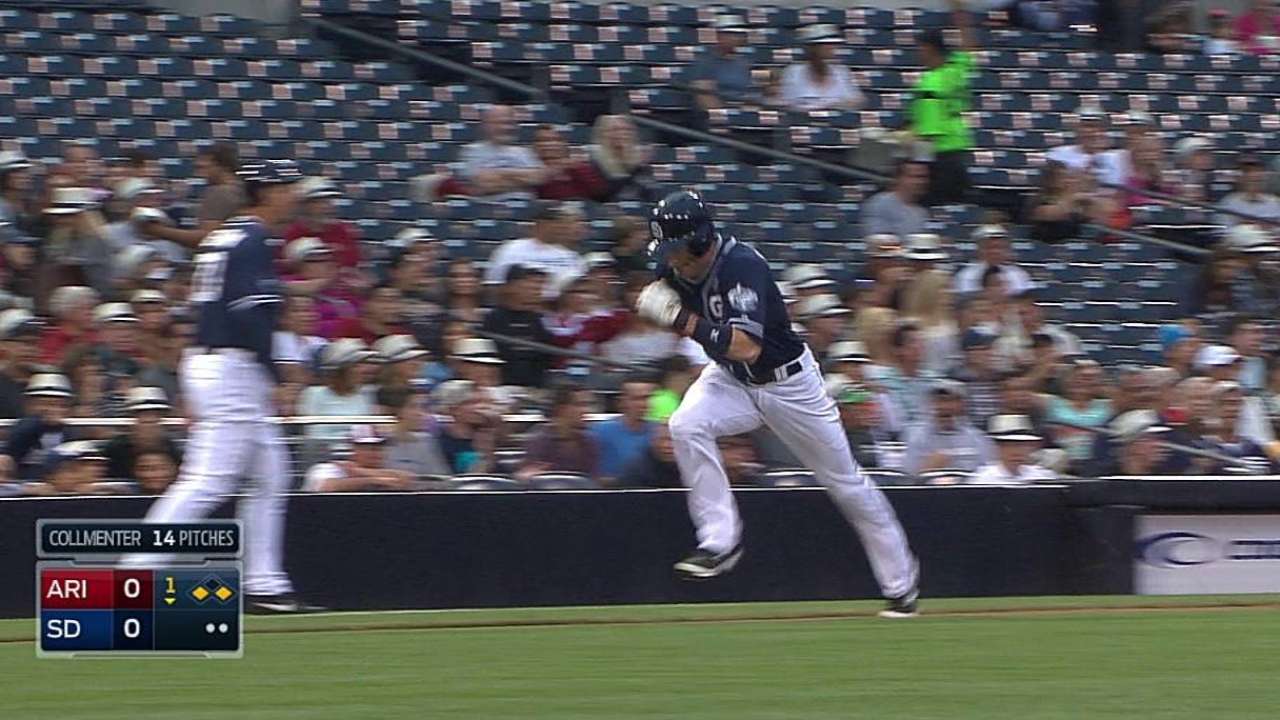 SAN DIEGO -- The Padres reached the exact midpoint of the season on Saturday, 81 games into a season that has reached well beyond the point of being trying and frustrating.
The same problems that dogged the Padres in April and May continue to be a thorn in their side, as was the case during a 3-1 loss to the D-backs before a crowd of 31,527 at Petco Park.
"We just haven't been able to sustain any offensive consistency thus far," said San Diego third baseman Chase Headley.
After feeling like they were making tiny inroads last week in San Francisco -- the Padres scored 13 runs in successive games, both victories -- they were no-hit by Tim Lincecum on Wednesday. They managed one run in a loss to these D-backs on Friday and then did it again Saturday.
In doing so, the Padres fell to a place they haven't visited this season -- last place in the National League West, as they have now been passed by the D-backs (35-46).
The Padres are 8-17 in the month of June, a month that can't end soon enough for a team with the most unproductive offense in baseball. They have scored just 57 runs in 25 games this month.
"Some of it is the guys we've faced, but you've got to find ways to put some pressure on them," Headley said. "I think that's what is missing … making these guys work harder for it, get their pitch count up.
"I think with most good offensive clubs, they grind out at-bats. I think as a club we can do a better job of that."
That didn't happen Saturday, as D-backs pitcher Josh Collmenter (7-4) allowed one run in 5 1/3 innings as he and four relievers combined for a five-hitter.
San Diego pitcher Eric Stults matched Collmenter early until the D-backs got to him for two runs in the sixth inning -- on one pitch, on one swing. Before that, the changes he has made recently in his tempo led to better overall results than earlier in the season.
The D-backs noticed.
"He mixed speeds. He probably had more giddyup on his fastball than he normally does and I think that's what threw us off," said D-backs catcher Miguel Montero. "When he threw the fastball, it looked like he was throwing 100. He located pretty good."
Except for one instance, against Montero in that fitful sixth inning.
After Stults walked Paul Goldschmidt for the third time in the game to start the sixth, Martin Prado then bounced a ball to Headley, who threw high to second base, pulling Alexi Amarista off the bag. Amarista couldn't get Goldschmidt, but made sure to get at least one out with a strong throw to first base.
"I guess I got underneath it a little and it sailed," Headley said. "Alexi made a good play to get one out. It just got away from me a little bit."
Montero then followed with a long two-run home run to right field for a 3-1 lead.
"It was one bad pitch. He [Stults] tried to throw a changeup down and away there, and just missed his spot. And Montero is a pretty good low-ball hitter." said Padres manager Bud Black.
The Padres struck first, as Chris Denorfia led off the bottom of the first inning with a double into the left-field corner. Seth Smith followed with a ground ball to the right side of the infield that gave Denorfia time to scoot to third base.
One out and a walk later, Tommy Medica connected with a 1-2 fastball, sending it deep enough into the outfield for a sacrifice fly and a 1-0 lead.
The D-backs tied the game in the third inning on a Prado sacrifice fly. But Stults was able to settle into a groove of sorts, as he retired seven successive hitters before the walk to Goldschmidt to begin the sixth inning.
The loss for Stults was his 11th of the season, the most in the Major Leagues. He allowed three runs (two earned) in 5 1/3 innings on three hits. He walked three and struck out two and his velocity was up a tick, as he continues to work on his tempo.
"I felt like overall my stuff the last three or four starts has improved. Where I'm at right now to where I was … I feel like I've seen significant improvements," Stults said.
The series concludes at 1:10 p.m. PT on Sunday.
Corey Brock is a reporter for MLB.com. Keep track of @FollowThePadres on Twitter. This story was not subject to the approval of Major League Baseball or its clubs.