Montero's blast lifts D-backs over punchless Padres
Catcher goes yard in sixth as Arizona jumps San Diego in NL West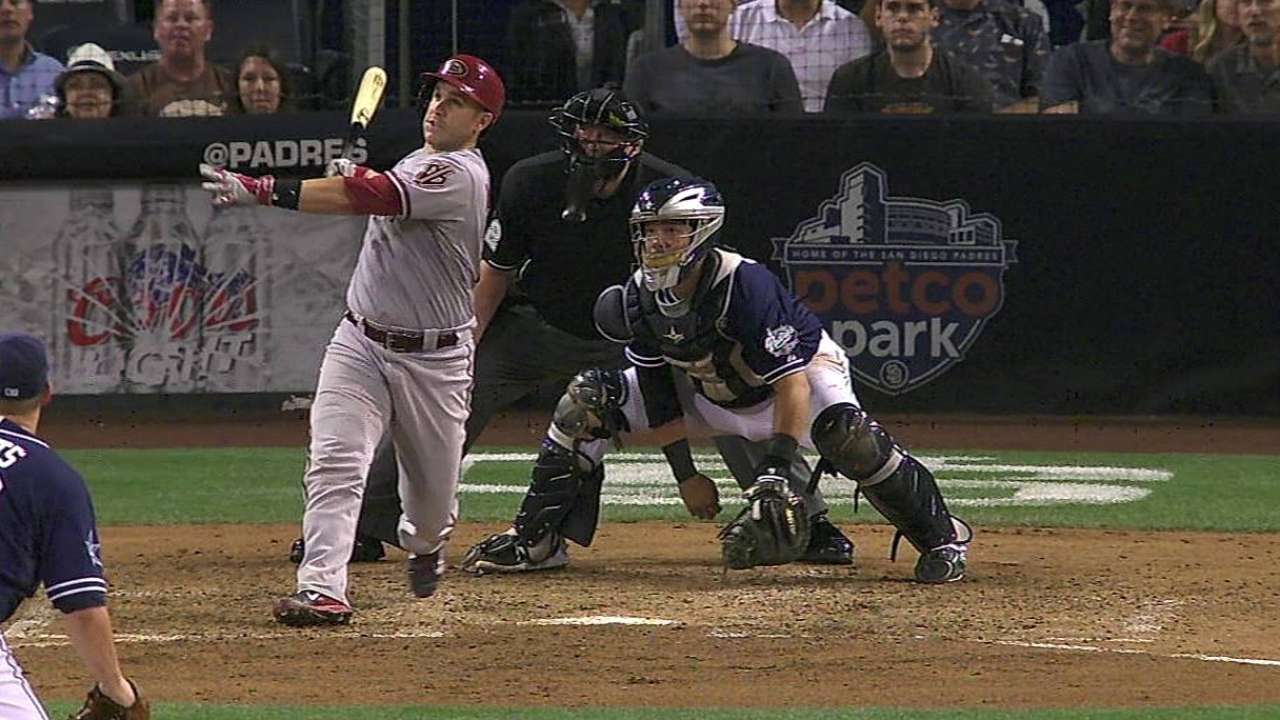 SAN DIEGO -- Miguel Montero has enjoyed a resurgent season in part because of how well he has used the whole field and hit the ball the opposite way.
But in Saturday night's game against the Padres, the D-backs' catcher provided the biggest blow by pulling a two-run homer down the right-field line to lead Arizona to a 3-1 win at Petco Park.
With the game tied at 1, D-backs first baseman Paul Goldschmidt drew a walk to lead off the sixth. After a Martin Prado groundout moved Goldschmidt to second, Montero hit a 1-2 changeup from Eric Stults down the line and into the seats in right field to put Arizona up 3-1.
"I was thinking he would probably try to sneak a fastball by, so I was ready for the fastball," Montero said. "But he threw a changeup. I'm not sure where he was trying to locate it, but the pitch was middle, middle in. It was a good swing, but the funny part was I kept it fair. Normally you pull those foul."
The homer was the first allowed by a San Diego pitcher in nine games, a span of 88 innings since June 17.
"It was one bad pitch," said Padres manager Bud Black. "He tried to throw a changeup down and away there and just missed his spot. And Montero is a pretty good low-ball hitter."
That would prove to be all the support the D-backs' pitchers would need.
Starter Josh Collmenter (7-4) allowed a run in the first inning, but then blanked the Padres before departing with one out and two on in the sixth.
Rookie reliever Matt Stites was called on to clean up the mess and, after striking out Tommy Medica, he walked Cameron Maybin to load the bases before fanning Rene Rivera to end the threat.
Oliver Perez held the Padres in check in the seventh, Brad Ziegler did likewise in the eighth and Addison Reed closed things out in the ninth for his 19th save.
After winning his previous start and then picking up the victory in relief in the D-backs' 14-inning win over the Indians on Tuesday, Collmenter wound up with three victories in a nine-day span.
The only D-backs starter to accomplish that feat in franchise history was Randy Johnson, when he won two games as a starter and one in relief in the 2001 World Series.
"To be able to snake a win in that extra-inning game, that's just something that happens," Collmenter said. "You might go a couple of weeks, or a month without getting a win and then you might pick up a few in a row. This game is kind of goofy like that."
One of the reasons Collmenter was so effective -- he allowed just one run over 5 1/3 innings -- was because his curveball continues to improve.
Collmenter has an average fastball and a plus change, but has struggled in the past to get some consistency with his breaking pitch. Lately, he has been able to locate it much better.
"His curveball was really good today which makes his fastball even better and his changeup even better," Montero said. "We've been calling it a lot more because it's getting to the point where it's pretty good."
Collmenter can be a difficult at-bat for hitters due to his exaggerated over-the-top throwing motion, which he said he learned by throwing tomahawks in the woods near his boyhood home in Homer, Mich.
"He threw a lot of strikes, maybe a few more curveballs than we're used to seeing from him," Padres third baseman Chase Headley said. "He's a completely different at-bat than most of the guys in the Major Leagues. He has a different angle with a high-arm slot and his stuff looks different. He's unique every time we face him."
With the win, the D-backs have won three of their last four and will go for a sweep of the three-game series Sunday afternoon.
The victory also moved the D-backs out of last place for the first time since April 1, as they jumped ahead of the Padres by percentage points.
"I guess it's better than being in last place, right?" Montero said, smiling. "Hopefully we continue like that and see where we go."
Steve Gilbert is a reporter for MLB.com. Read his blog, Inside the D-backs, and follow him on Twitter @SteveGilbertMLB. This story was not subject to the approval of Major League Baseball or its clubs.