Napoli's blast off Tanaka in ninth propels Red Sox
Homer makes a winner of Lester, who allows one run in eight innings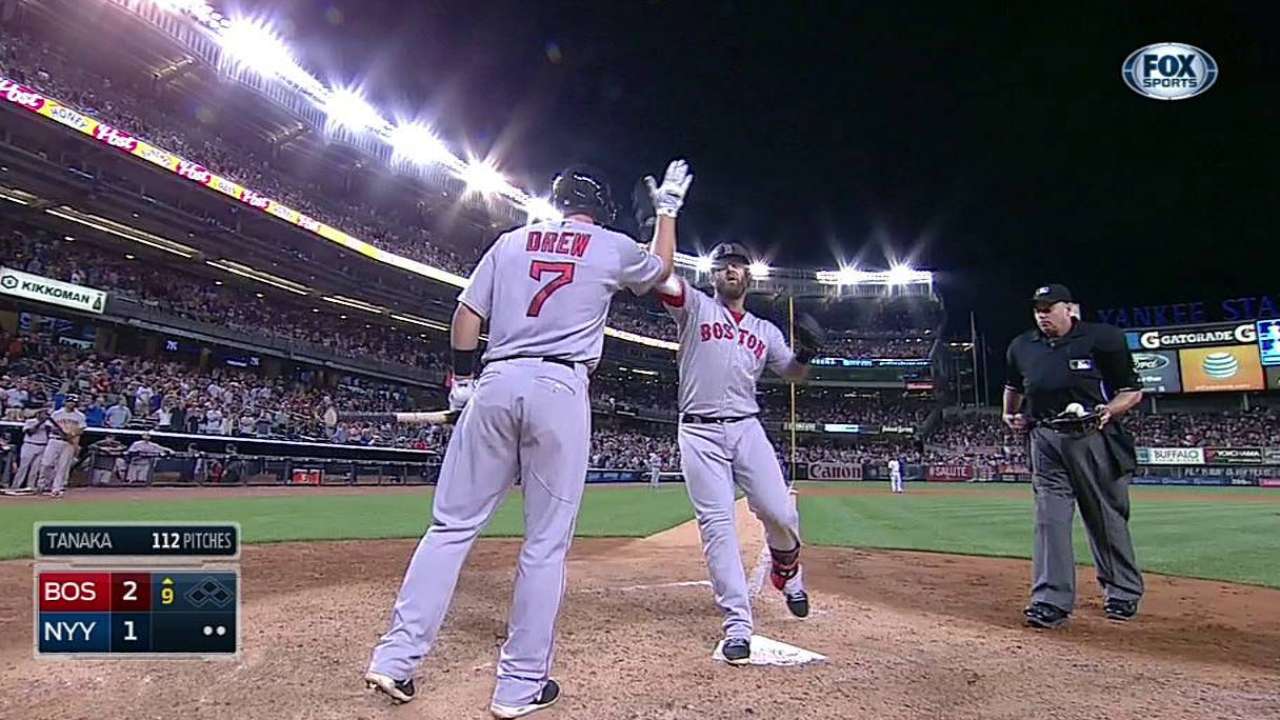 NEW YORK -- It might have been the most-welcomed 96-mph heater Mike Napoli has ever seen.
He got just enough of the offering from Masahiro Tanaka to get it over the wall in right field at Yankee Stadium with two outs in the top of the ninth on Saturday night, snapping a tie and lifting the Red Sox to a badly needed 2-1 victory over their rivals.
To say Napoli, who had been baffled by Tanaka's nasty splitter for strikeouts in his two previous at-bats, was surprised by the pitch selection would be an understatement.
"What an idiot! What an idiot!" a gleeful Napoli roared to David Ortiz, Dustin Pedroia, Jake Peavy and others as he ran back into the dugout, the words clearly picked up by the telecast on FOX.
Napoli wasn't trying to disparage Tanaka. Instead, he was caught up in the moment and thrilled at what he viewed as a surprise gift.
"Nothing against him," Napoli said. "I was just surprised he didn't try to bury another splitter in the dirt."
Catcher Brian McCann, who called for the split, only to have Tanaka shake him off multiple times, was probably surprised also.
"The sign was for a breaking ball," Tanaka said through an interpreter. "But I actually wanted to go hard outside with my fastball, so that's why I shook him off and threw a pitch. The fact was that I missed my spot and it just kind of got into a spot where it was rather easy for the batter to hit. He asked for a splitter and also for a slider, and I shook off both of them."
The Red Sox, who are now 3-6 on a 10-game road trip and struggling big time for runs, were just happy they could score enough to get Jon Lester the win.
It was a riveting pitchers' duel between Lester and Tanaka, the latter of whom blinked ever so slightly with the game on the line.
It was hardly surprising that it was Napoli who beat the Yankees with a home run. Since joining the Red Sox for the start of the 2013 season, Napoli has 10 homers against the Yankees in 100 at-bats.
"Nap has come up big with some late-inning heroics with a ball out of the ballpark over the last couple of years, whether it's been here or home against New York," said Red Sox manager John Farrell. "Just a well-pitched ballgame on both sides. But a timely hit nonetheless."
For the 12th time in 14 games, the Red Sox scored three runs or fewer. But after a win, the lack of firepower didn't sting quite as much.
Lester (9-7, 2.92 ERA) was marvelous, giving up just an unearned run over his eight innings, scattering five hits and two walks while punching out six.
"I knew yesterday that Tanaka was pitching," said Lester. "I try not to pay attention to that. I've got to worry about how I'm going to go out and execute my game. Obviously, if you have a chance to hit, that's a little bit of a different story. But I can't worry about who I'm facing or anything like that. You've got to go out and worry about the nine guys who are in the lineup, not anything like that."
The Yankees threatened to take the lead in the eighth when Brett Gardner led off with a walk and Derek Jeter worked a 3-1 count. But on a hard grounder toward the middle, Pedroia made a diving stop and then shoveled the throw to Stephen Drew, who fired to first to complete the 4-6-3 double play.
"Pedey had one heck of a game tonight," said Farrell. "Three hits, a key double play. We've seen that backhand dive so many times -- I don't want to say we take it for granted, but the glove flip, just a timely, excellent play."
It was David Ross who put the Red Sox out in front in this one, as he walloped a solo homer to center with one out in the third.
"I was just trying to get something up out over the plate," said Ross. "He went ball one with that fastball, and I saw the fastball good. The next one felt like it was middle. I don't know exactly where it was, and about belt high. The rest of them tonight, he kept the ball down pretty well and mixed his offspeed, but he gave me a fastball to hit and luckily I didn't miss it."
The Yankees got a break to start their half of the third when Drew made an error on a grounder by Brian Roberts. Yangervis Solarte was hit by a pitch. Gardner pushed the runners to second and third on a sacrifice bunt. And that set up Jeter for an RBI groundout to tie the game.
Though the game was locked in a 1-1 tie, Lester had a no-hitter through five. Gardner ended it by opening the sixth with a clean single up the middle.
Pedroia tried to jump-start the Red Sox in the sixth when he belted one to center and tried to stretch it to a double. He was initially ruled safe on the headfirst slide, but the umpires overturned it after the review showed Jacoby Ellsbury's throw beat Pedroia.
Eventually the Red Sox would get the one more run they needed.
"I was pretty surprised, but I was down to two strikes, I was just trying to see something up," said Napoli. "My mind was saying, 'Hang a splitter,' but I just got something up in the zone that I could handle."
Ian Browne is a reporter for MLB.com. Read his blog, Brownie Points, and follow him on Twitter @IanMBrowne. This story was not subject to the approval of Major League Baseball or its clubs.