Tanaka, Yanks burned by Napoli's homer in ninth
Righty goes the distance vs. Sox, but not before allowing pivotal blast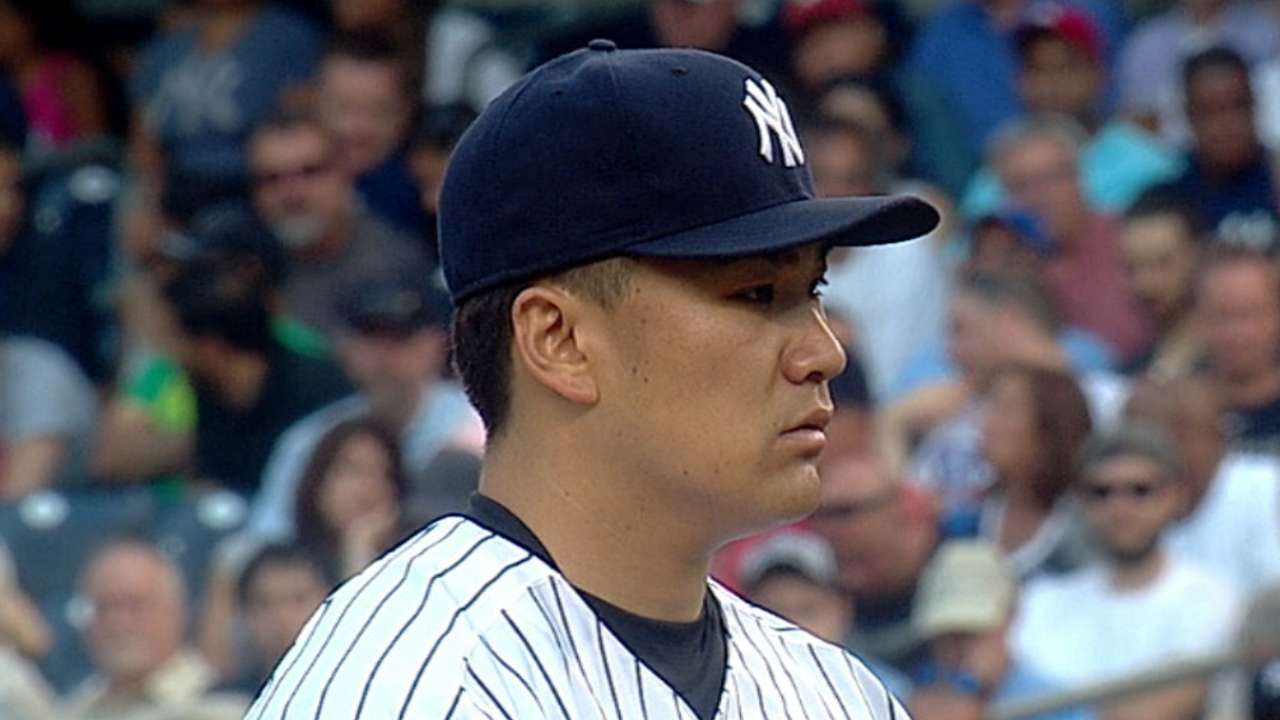 NEW YORK -- Masahiro Tanaka needed one more strike, and as Brian McCann flashed the signs, he requested another fantastic splitter to finish off the ninth inning. That was met by a shake of the pitcher's head, and so a second suggestion for a slider was made.
Tanaka shook that off as well, intending to dot a fastball near the outside corner. The pitch caught too much plate and Mike Napoli pounced, hurting the Yankees yet again -- this time with an opposite-field homer that lifted the Red Sox to a 2-1 victory on Saturday night at Yankee Stadium.
"The fact that I gave up a home run -- it was the worst thing that I could have possibly done," Tanaka said through an interpreter.
The damaging blow came on Tanaka's 112th pitch of the evening, marking the difference in a marquee pitching matchup against Jon Lester that lived up to its billing. Tanaka finished off his complete game, but was saddled with his second consecutive loss.
"There is no wrong pitch with Tanaka," McCann said. "Every pitch he throws is the right pitch. He throws it with conviction, and it was the right pitch. He just barreled it up."
No one was more surprised to see that 96-mph fastball than Napoli, who had been kept quiet all night by Tanaka's world-class splitter before lining his shot into the first row in right field.
As Napoli gleefully exchanged high-fives in the third-base dugout, FOX's microphones picked up the slugger laughing and saying, "What an idiot! What an idiot!"
"Nothing against him," Napoli said. "I was just surprised he didn't try to bury another splitter in the dirt. I was just having fun out there."
Tanaka hung his head after the homer, disappointed that his effort had been spoiled by Napoli's 10th homer in 100 at-bats against the Yankees since joining Boston last year, and his second off Tanaka.
"I just wanted to go hard outside," Tanaka said. "I wanted to show the batter a fastball there, even if it was not in the strike zone. ... The stadium we have is a rather smaller stadium, so that can happen."
It wasn't as though Tanaka had much slack to work with. Lester held the Yankees to an unearned run over eight innings of five-hit ball, firing 118 pitches before Koji Uehara entered in the ninth to retire New York in order, locking down his 17th save.
"Exactly what you saw in the postseason last year," McCann said of Lester. "He commanded both sides of the plate and kept us off-balance all night."
The Nos. 4-7 hitters in the Yankees' lineup -- Mark Teixeira, Carlos Beltran, Alfonso Soriano and McCann, plus pinch-hitter Ichiro Suzuki -- combined to go 0-for-16 with seven strikeouts in the loss.
Boston's other knock came in the third inning, as backup catcher David Ross pounced on a high fastball and slugged it into the seats in left-center field for a homer, Ross' fourth.
"It's tough to give up two solo home runs and lose a game," Yanks manager Joe Girardi said.
Lester held the Yankees hitless into the sixth inning, though it initially appeared they had their first hit in the fifth when Yangervis Solarte legged out an infield grounder -- a play that was overturned by replay review.
The top of the sixth also started with a call overturned by review, as Dustin Pedroia was ruled out trying to stretch a single into a double. The Yankees finally logged their first hit in the home half, as Brett Gardner singled to center field.
New York was unable to score, though, as Ross made a terrific throw to catch Gardner attempting to steal second. Lester buckled down and retired Teixeira and Beltran with two on, ending the inning.
"He pitched a really good ballgame," Gardner said. "He stayed off the middle of the plate. There's a reason he's got a [2.92] ERA. He's a good pitcher, he pitched well tonight and we just weren't able to get a whole lot going against him."
The Yanks were also turned aside after a leadoff walk to Gardner in the eighth. Girardi eschewed the sacrifice and allowed Jeter to swing away, grounding to Pedroia for a glove-flip double play.
"It was a turning point," Red Sox manager John Farrell said. "Rather than it being first and second and nobody out, it's a two-out, nobody-on situation."
New York flashed its last signs of life as Jacoby Ellsbury singled, but with the Ellsbury in motion, Teixeira struck out looking at a fastball down the heart of the plate.
"Tanaka pitched an unbelievable game. Lester, they were matching each other pitch for pitch," McCann said. "Those are two elite pitchers in this league. It was just one of those games."
Bryan Hoch is a reporter for MLB.com. Follow him on Twitter @bryanhoch and read his MLBlog, Bombers Beat. This story was not subject to the approval of Major League Baseball or its clubs.