Greinke rides offensive outburst to 10th victory
Gordon continues All-Star push, but Turner, Ramirez exit in second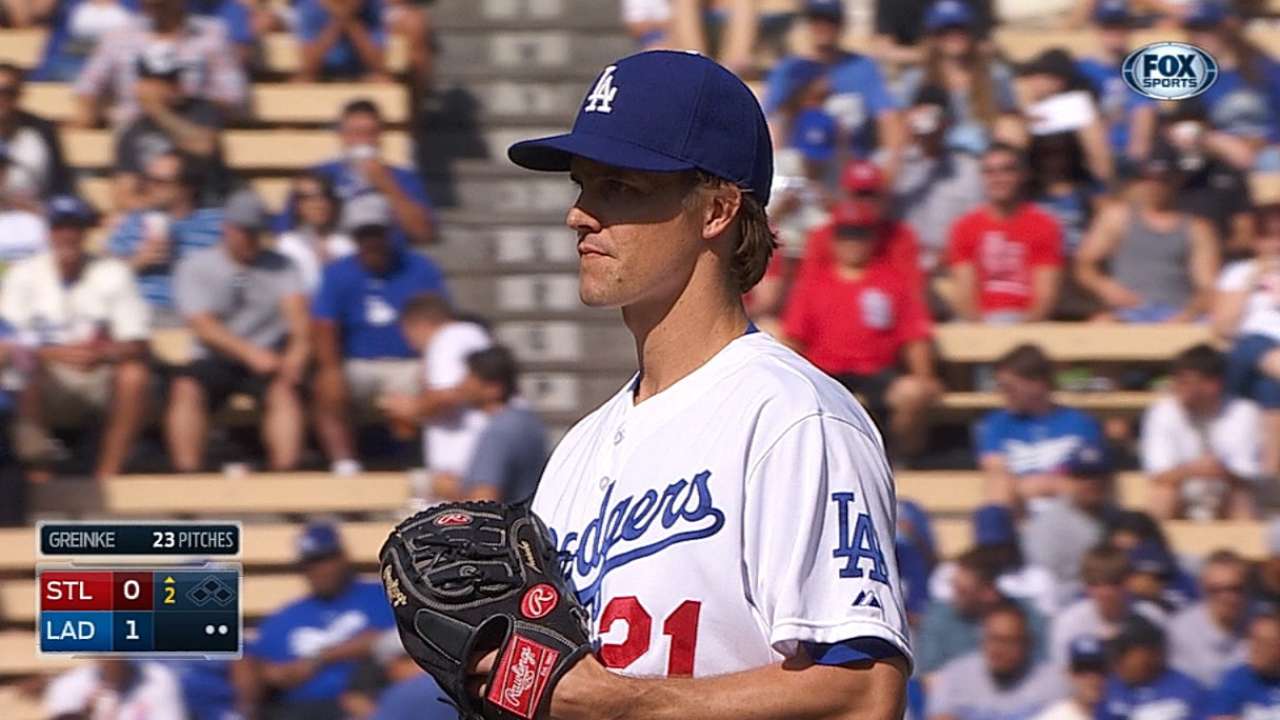 LOS ANGELES -- Just because a Dodger reaches base safely doesn't mean he reaches base healthy.
This they proved Saturday in the second inning, scoring six runs and losing two infielders en route to a 9-1 win over the Cardinals as Zack Greinke picked up his 10th win.
Justin Turner strained his left hamstring on an RBI double, left the game and is headed for the disabled list. Infielder Carlos Triunfel was held out of Albuquerque's lineup and is likely headed to Los Angeles.
"Turner has been extremely valuable for us," said Greinke. "There's not many guys that can play all the infield spots and still put up quality at-bats, and his at-bats are even above quality. So far this year, I put him in the top tier of utility guys in the game, and you just can't replace that."
Hanley Ramirez, a late lineup addition after missing four starts with an arthritic shoulder, walked and scored in that second inning but didn't come out for the third. The club was fuzzy explaining Ramirez's injury, but it seems to be a calf muscle, which leg nobody is sure. Ramirez didn't seem to think it was major.
The injury epidemic hit the guy waving in all those runners, as third-base coach Lorenzo Bundy strained a right calf muscle bringing home Andre Ethier on Turner's double, but remained at his post after receiving treatment in the dugout.
And manager Don Mattingly explained that Yasiel Puig was jogging around the bases instead of running because he turned an ankle "somehow." Puig played the entire game.
Despite all that, with an 11th win in the last 15 games, the Dodgers pulled to within 1 game of first place when the Giants lost to the Reds in extra innings. That's a gain of eight games since June 8.
Greinke reported no injuries as he raised his record to 10-4, claiming a share of the NL lead in victories, the first Dodger in double-digit wins before the All-Star break since Brad Penny in 2007. He struck out 10 in seven innings without a walk. He's 5-0 in his last six starts against the Cardinals, including last year's playoffs. He allowed four hits, the only run on a third-inning homer by Matt Carpenter.
"The offspeed was sharper than last time, and the command was good," said Greinke. "And I got a lead, so I was able to attack the zone."
Dodgers starting pitchers have walked two or fewer batters in 32 consecutive games, the longest NL run since 1914.
Cardinals starter Lance Lynn also left after two innings because of a middle finger blister that tore during the 45-pitch blowout inning.
"I tried to throw some pitches and just didn't have any feel with it," he said. "It was either spinning or I was yanking it off trying to make it break. That's when you get yourself in trouble with other things, when you're trying to manipulate the ball."
Offensively, Dee Gordon continued his All-Star push with a pair of doubles, an RBI and nearly scored from second base on a wild pitch, ala Kirk Gibson. Both doubles could have been triples, one bouncing over the fence for a ground-rule double, the other coming with Greinke clogging the bases ahead of Gordon. Seven Dodgers drove in runs.
Lynn kept the Dodgers in the infield in the first inning, but not off the scoreboard, the run scoring when shortstop Daniel Descalso dropped the transfer on what looked like an inning-ending double-play grounder by Adrian Gonzalez.
The Dodgers blew the game open in the second inning. Andre Ethier singled and was doubled home by Turner, who was replaced by Miguel Rojas. A.J. Ellis doubled over the head of right fielder Allen Craig, who was playing too shallow, to score Rojas. Lynn threw a fastball behind Greinke that allowed Ellis to take third. Gordon doubled over the head of Craig, who was playing too shallow, to score Ellis. Puig walked.
On a wild pitch to Ramirez, Gordon tried to score from second, but was thrown out when Lynn took Yadier Molina's throw, laid on the plate and tagged out Gordon. On a crew-chief challenge, the call was confirmed.
Ramirez walked, Gonzalez singled home Puig and Kemp singled home Ramirez. Ethier's blooper down the left-field line grazed the glove of third baseman Matt Carpenter and fell for an RBI double. When the inning ended, Ramirez was replaced, with Juan Uribe entering on a day he was supposed to have off. Uribe later singled in two.
Ken Gurnick is a reporter for MLB.com. This story was not subject to the approval of Major League Baseball or its clubs.