Chacin digs too deep a deficit vs. Brewers
Rockies get to Garza late, but early home run proves costly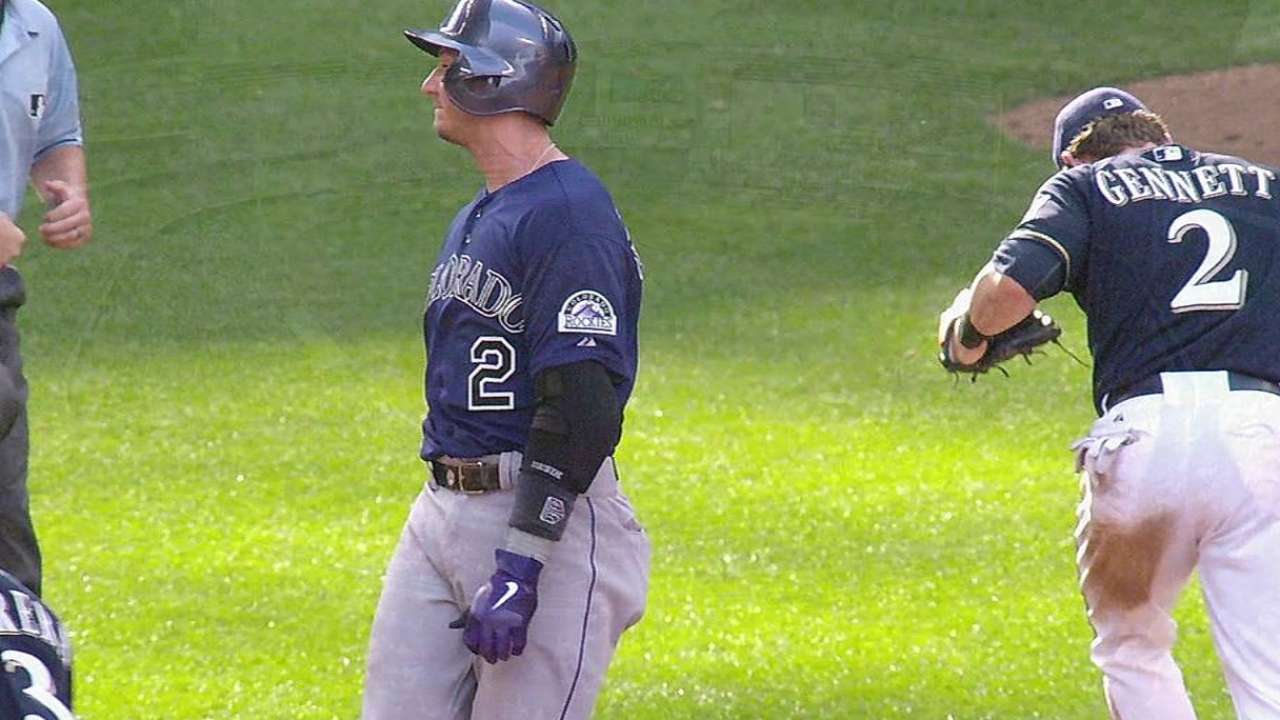 MILWAUKEE -- Stuck in the midst of the Rockies' worst stretch of the season, Drew Stubbs and Troy Tulowitzki on Saturday saw an opportunity to make something happen, a risk they felt was worth taking. Trailing Milwaukee by three runs in the eighth inning, Stubbs and Tulowitzki stood on second and first base, respectively, as pinch-hitter Charlie Culberson stepped to the plate against Milwaukee's Will Smith with two outs, representing the tying run.
On Smith's first pitch, Stubbs broke for third base, and Tulowitzki followed his lead to attempt a double steal that would have put both of them in scoring position. Catcher Jonathan Lucroy threw to second base, where Tulowitzki was tagged out by Scooter Gennett. Rockies manager Walt Weiss challenged the call, but to no avail, and the Rockies' final realistic scoring chance vanished in a 7-4 loss to the Brewers at Miller Park.
The Rockies have now lost 11 of their past 12 games, are 7-19 in June and have lost all six of their games against Milwaukee, all in the past nine days. The Brewers will go for the season sweep on Sunday.
"Not a great play right there with a pinch-hitter up," Weiss said. "They thought they had an opportunity to take the base right there. Stubbs took it, and Lucroy made a nice play throwing to the back side at second base. Not a great play right there."
Weiss said his players had the freedom to decide to steal on their own and that, in that situation, the runner on first watches the runner on second and runs if he does. Sitting in the clubhouse after Saturday's loss, Tulowitzki expressed regret over his decision to run.
"I knew there was a possibility that Drew might take off there," Tulowitzki said. "I probably got a bad jump, so I probably should've stayed. On top of that, Lucroy made a perfect throw. It was bang-bang, but it can't be that close there. Looking back on it, I probably should stay if I don't get a good jump. I didn't react right when he went."
The Rockies were 8-for-9 in stolen-base attempts during last weekend's three-game series against the Brewers; through the first three games of this series, the team is 1-for-5.
"We didn't have success against Lucroy at our place -- we had success against certain pitchers at certain times," Weiss said. "It's not like we think we can take advantage of Lucroy. He's an outstanding catcher. If Lucroy has an opportunity to throw you out, he's going to throw you out most of the time."
Lucroy's throw extinguished the Rockies' hopes in a game in which Colorado fell into a big deficit immediately before chipping away in the late innings. Starter Jhoulys Chacin became the latest Rockies pitcher to fall victim to the potent Milwaukee lineup, allowing seven runs on 11 hits over 5 2/3 innings.
Over his career, Chacin has averaged 90.7 mph on his fastball; on Saturday, he averaged 88.2 mph. While he normally depends on his sinker, Chacin struggled with it Saturday, starting in the first inning when Carlos Gomez turned a sinker into a three-run home run.
"I just feel like I don't throw my pitches how I'm supposed to throw them," Chacin said. "I've been trying to make good pitches, but no good location, and I'm not throwing down. My game is to throw down, get ground balls. I haven't done that this year, especially with my sinker."
Chacin would allow three more runs to score off three hits in the fifth inning and gave up one more in the sixth before being lifted from the game. Chacin says he has had trouble warming up before games but insists he is not injured.
"Similar to some of his previous starts where he's had some trouble early," Weiss said. "Settled in, actually for the most part ends up giving us some decent length, but the early damage hurt."
For their part, the Rockies' bats woke up after being shut out by Matt Garza for five innings. After recording two hits in the game's first five innings, Colorado recorded seven in the next two, scoring two runs in both the sixth and seventh innings to cut Milwaukee's lead down to three.
It seemed as if they would have another opportunity in the eighth, when Stubbs led off with a double and Smith walked Tulowitzki. But Smith struck out the next two batters before Lucroy caught Tulowitzki on the double steal.
Tulowitzki said the idea behind the aggressive move was to "get runners in scoring position, where a base hit gets the lead only down to one for those guys." "But, a bad play on my part," he continued. "Something I'll learn from."
Francisco Rodriguez retired the side in order for his 27th save of the season, continuing Milwaukee's dominance over the Rockies in 2014.
"They lost a lot of key players, and that makes a big difference in that lineup," Gomez said. "We've had a good opportunity. They don't have their complete team to compete with us. The offense has been awesome, and the starting pitching so far the last [six] games we've played against the Rockies has been doing really good. There's nothing they can do."
In the end, the somber Rockies clubhouse was left to deal with the frustration of another loss.
"I think everyone's really frustrated, but at the same time I think we show up to the park every day, and I still feel like we all expect to win," DJ LeMahieu said. "It's a tough stretch right now, and we're a little banged up.
"At the beginning of the year, we found ways to win. Right now, for whatever reason, the games we score a lot, we give up a lot, and we don't score when we pitch well. Just one of those things right now."
Caitlin Swieca is an associate reporter for MLB.com. This story was not subject to the approval of Major League Baseball or its clubs.