Gomez, Braun power Brewers past Chacin
Early offense backs Garza in Crew's sixth straight victory over Rox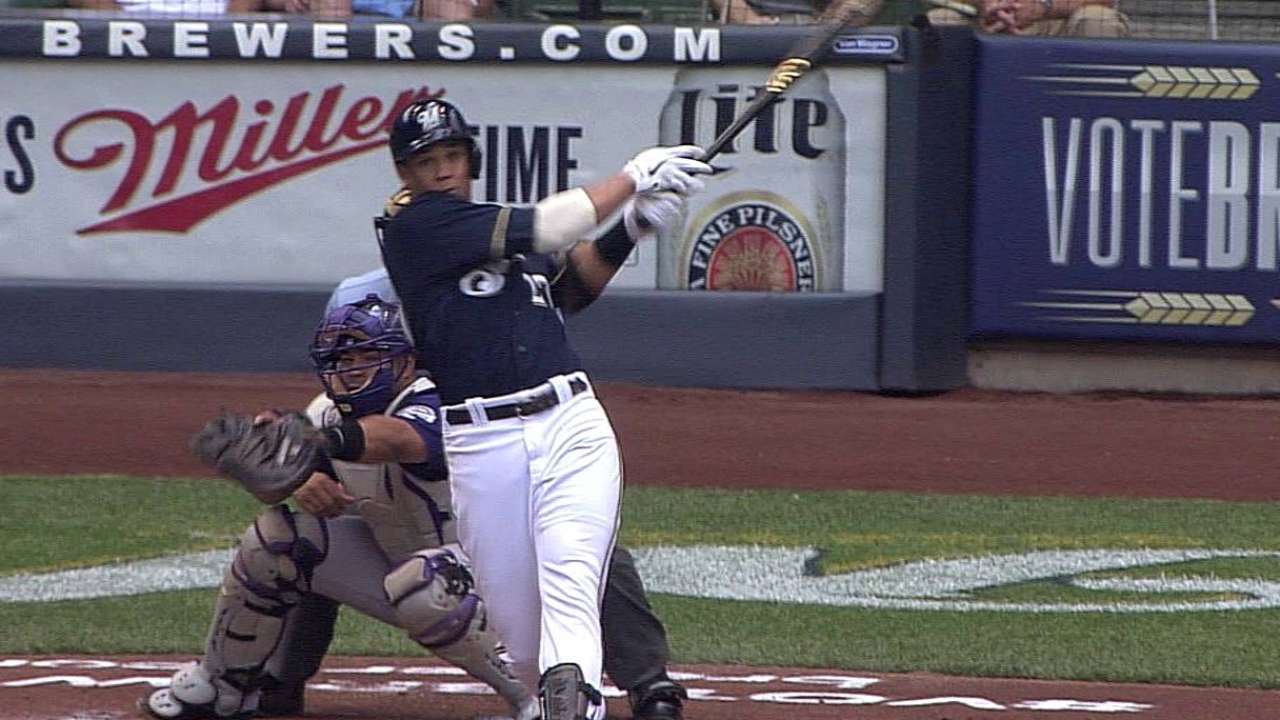 MILWAUKEE -- Matt Garza was burned by some softly struck hits Saturday, but with the Brewers' offense backing him, it didn't matter.
Carlos Gomez hit a three-run home run in the first inning, Ryan Braun logged two RBIs for the second straight game and Milwaukee continued Colorado's misery with a 7-4 win -- the Brewers' sixth victory in as many tries against the Rockies this season, all in the past nine days.
Only the high-altitude Rockies have scored more runs, hit more home runs, or posted a better batting average, slugging percentage or OPS this season than the National League Central-leading Brewers, who have owned the head-to-head matchup. They have scored 45 runs in their first 52 innings this season against Rockies pitchers, including at least six runs in five of the six matchups so far.
"I've never played on a team with a good offense like this," Garza said. "I played with Tampa, and we were lucky to scratch out a couple. Pitching and defense. Chicago, you know the story there. It's a different type of mindset when you get runs this quick. You can just keep attacking. Keep the pedal to the metal and keep going after these guys. Stay aggressive and don't give in."
Garza faced the minimum through five innings before allowing two runs apiece in the sixth and seventh on a series of bloops, bleeders and at least two hits that struck Garza's body or glove.
The Rockies trimmed deficits of 5-0 and 7-2 to 7-4 in the seventh inning, but Zach Duke, Will Smith and Francisco Rodriguez preserved the Brewers' Major League-leading 51st victory, with Rodriguez bouncing back from a one-run blown save the night before.
Rodriguez matched Francisco Cordero's club record with 27 saves before the All-Star break, and he took sole possession of 12th place on baseball's all-time list with career save No. 331.
"We know how good we are," said Brewers catcher Jonathan Lucroy, who contributed three hits and one key throw, retiring Troy Tulowitzki on a stolen-base attempt to end the eighth inning. "No one's really talking about it much. We're just grinding it out, sticking to our routines."
Gomez provided an early cushion by hitting a three-run home run in the first inning off Rockies starter Jhoulys Chacin before the Brewers began to pull away with three more runs in the fifth inning. Braun hit a two-run triple and scored on a Lucroy groundout thanks to some heads-up baserunning; Rockies second baseman DJ LeMahieu and first baseman Ryan Wheeler had each converged on the ball, and Braun waited until it was clear that LeMahieu would have to tag first base before breaking home.
All eight of the Brewers' starting position players had a hit against Chacin, including shortstop Jean Segura, who exited in the sixth inning because of leg cramps. Each of the top five batters in the Brewers' lineup scored a run, and Nos. 2-4 hitters Braun, Lucroy and Gomez combined for six hits, six RBIs and four runs scored.
Garza, meanwhile won for the first time since June 7 and continued a string of solid starts, even if the pitching line -- 6 2/3 innings, nine hits, four runs, four strikeouts -- didn't jump off the page. The Rockies' two-run rally in the sixth inning began with a single up the middle that a healthy Segura would have reached, Roenicke said, and included a bloop RBI single and a sacrifice fly. In the seventh, the Rockies were in business after Gomez and Braun collided chasing Ryan Wheeler's soft double, and LeMahieu followed two batters later with a two-run single.
"When things are going that way, that's one of the reasons I took him out," Roenicke said. "Things start going goofy, and all of a sudden, you leave a guy in there and it continues to go goofy. Yet [Garza] threw the ball great."
After colliding with Braun, Gomez left the game with what the Brewers called a neck strain and was to be re-evaluated on Sunday, when surging Brewers right-hander Yovani Gallardo takes the mound seeking a season series sweep over the Rockies.
"They lost a lot of key players, and that makes a big difference in that lineup," Gomez said. "We've had a good opportunity. They don't have their complete team to compete with us. The offense has been awesome, and the starting pitching so far the last [six] games we've played against the Rockies has been doing really good. There's nothing they can do."
Adam McCalvy is a reporter for MLB.com. Read his blog, Brew Beat, and follow him on Twitter at @AdamMcCalvy. This story was not subject to the approval of Major League Baseball or its clubs.