Early homers sting Chen; late O's rally falls short
Left-hander exits after giving up three home runs in 3 1/3 innings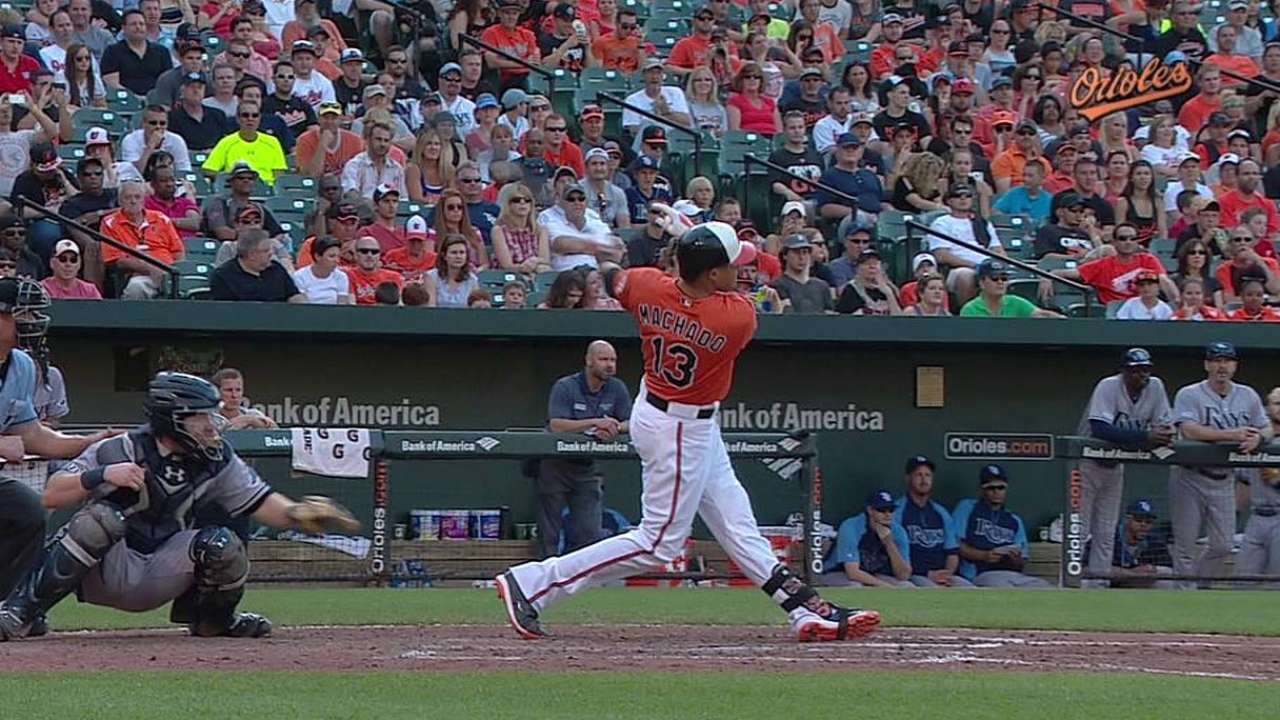 BALTIMORE -- Chris Davis' pinch-hit power kept Wei-Yin Chen's lengthy streak of starts without a loss intact earlier in the week. The pitcher's inability to keep batted balls in the yard against the Rays on Saturday afternoon ended it.
Chen allowed three home runs in only 3 1/3 innings, while Baltimore's power bats couldn't save the day this time, as the Orioles fell to the Rays, 5-4, at Camden Yards.
The Orioles trailed early, and throughout the third of four games versus the Rays, Baltimore eked out three hits over the opening seven innings against Erik Bedard, including Nick Markakis' homer in the sixth. Manny Machado's two-run blast against Bedard and Adam Jones' RBI single against Jake McGee highlighted the O's three-run eighth. But the early deficit ultimately proved too much.
The shortest start of Chen's career began ominously as Desmond Jennings homered to left on the game's fourth pitch. Things would only get worse. Chen (7-3) allowed five runs on seven hits with two walks en route to his first loss since May 3.
"He's had a pretty good year for us, all things considered," Orioles manager Buck Showalter said of Chen. "We can certainly find room for improvement from today."
Logan Forsythe drove in two with his first homer of the year in the second, and Kevin Kiermaier's two-run blast in the fourth landed well beyond the right-center-field wall for a 5-0 Rays lead. Chen walked Jennings and was removed by his manager after 82 pitches before a crowd of 36,387.
"Velocity-wise, obviously [Chen] was fine, but he got beat on two offspeed pitches," Showalter said. "One was a slider and one was a changeup. Not a lot of depth change today with his offspeed pitches. Kind of side to side, and that gets you in trouble. ... Today, he never seemed to get in step."
The early exit came less than 24 hours after the Orioles split a doubleheader with the Rays on Friday. Baltimore leads the season series, 8-3.
"I knew that from the beginning, I wasn't able to pinpoint my pitches well, locating my pitches in the zone," said Chen, who also issued two walks. "I started to think too much about a lot of things. I wasn't really locating like I am supposed to be."
Chen, 1-0 in two previous starts against the Rays in 2014, has allowed 15 home runs on the season, but 11 have come in his last seven starts. Tampa Bay smacked two homers against him in a 5-4 win on June 16, though Chen finished with a no-decision.
"Lately, I've been leaving more pitches up in the zone," Chen said. "Maybe the opposing hitters are studying me more than they used to, so if I don't make the adjustment necessary, the results are going to look bad."
Five Baltimore relievers gave the lineup time to heat up by holding Tampa Bay scoreless over the final 5 2/3 innings.
While Chen received a quick hook, Bedard (4-5) made his longest start of the season. He threw 87 pitches, one slower than the next, with a stellar 68 for strikes.
"He was channeling his inner Jamie Moyer right there," Rays manager Joe Maddon said of Bedard's soft-tossing and controlled display. "And what a better ballpark to do that in than this one? It's about the usage of the stuff that you have."
Bedard cruised through seven innings, but left in the eighth without recording an out.
Baltimore had five hits in the frame, including Machado's homer and consecutive singles by pinch-hitter Delmon Young and Markakis off reliever Grant Balfour. With two outs, Jones' run-scoring single made it 5-4, but Nelson Cruz's flyout ended the inning. McGee pitched a 1-2-3 ninth for his third save.
Bedard, who spent his first five Major League seasons with Baltimore, took the loss on June 17 against the Orioles after allowing five runs in four innings. That version didn't make the trip from St. Petersburg to Baltimore.
"He just showed us a different look with that curveball," said Orioles catcher Caleb Joseph, who struck out in his two at-bats. "He was slow with it, really slow. The guy threw like 90 pitches and threw 18 balls. Apparently, he threw a lot of pitches that looked like strikes that we were chasing out of the zone. He was on today.
"We'll see him again, and we'll hopefully have a better fate next time."
Benjamin Standig is a contributor to MLB.com. This story was not subject to the approval of Major League Baseball or its clubs.