Kinsler channels Ausmus with game-winner
Homer in Houston reminiscent of skipper's heroics in '05 NLDS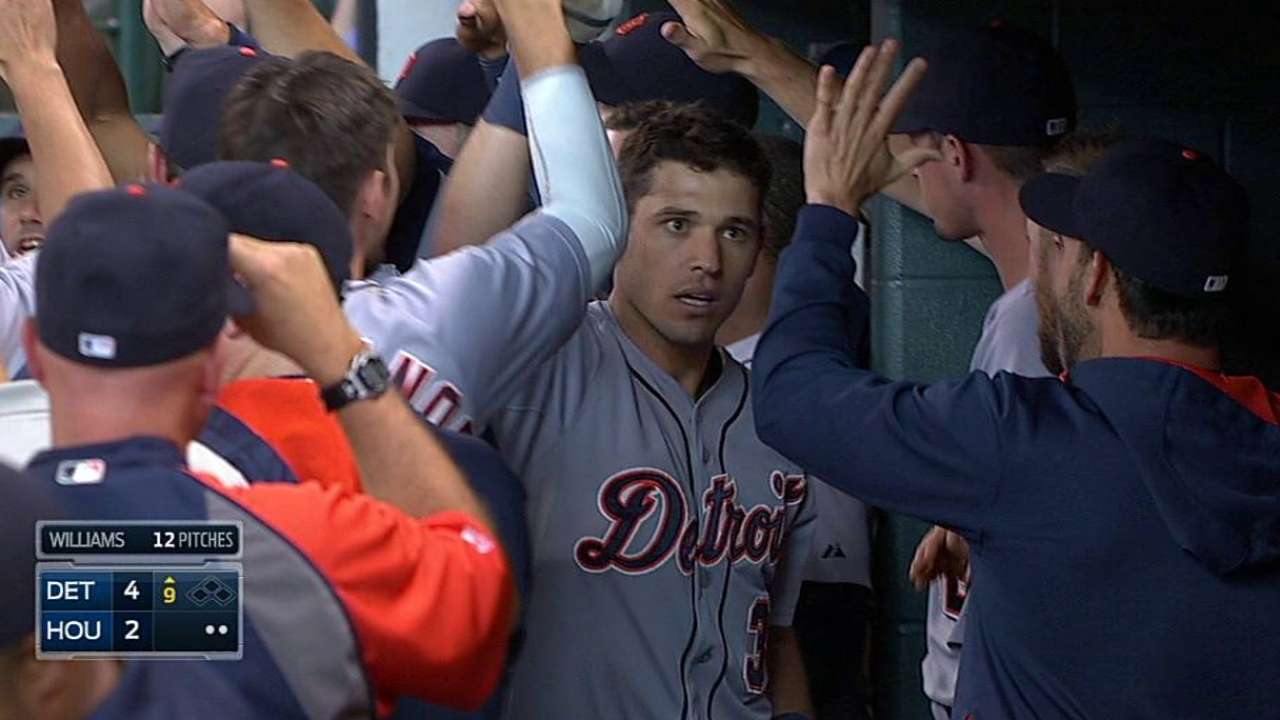 HOUSTON -- Tigers manager Brad Ausmus called it payback. Second baseman Ian Kinsler called it a relief. Calling it a game-winner would work, too.
Trailing by one-run with two outs and two-runners on in the ninth inning, Kinsler unloaded a ball to left-center field that would clearly be close to a home run. The question wasn't distance; it was location, as Kinsler's ball careened off the left-center wall at Minute Maid Park just above the home run line. If it had landed just a few feet to the left, it would've bounced off the wall and stayed in play.
"You've got to watch it close here," Kinsler said. "There's some funky lines out there."
As Kinsler approached second base, he saw that his ball hit the outfield pillar instead of the bullpen for the homer. He gave the home run signal to his bench and tallied three runs on the hit to give the Tigers the 4-3, series-tying win on Saturday. The ball hit the same pillar as Ausmus' famed two out, ninth-inning home run for the Astros in their 18-inning win in Game 4 of the 2005 National League Divisional Series.
"That was farther than mine," Ausmus said.
Sure, it was payback for an earlier line-drive that Kinsler was robbed on, and it was most definitely a relief after the Tigers hit the ball hard but couldn't score runs for the majority of a second consecutive game. Most of it all, it was history, as the home run was Kinsler's second hit of the day, making him the first Tigers player to have seven consecutive multihit games in one season since Frank Bolling in 1960.
"Sometimes the heart of the lineup's going to scuffle," Ausmus said. "We need other guys to step up. Kinsler provided, obviously, the big boost offensively. We had our chances, we couldn't capitalize off [Astros starter Brett] Oberholtzer, but luckily we got a couple baserunners in the ninth and Kinsler came up large."
After getting ahead 2-0 in the count to Houston reliever Jerome Williams, Kinsler saw a cutting fastball and gave the Tigers a 4-2 lead. Regardless of what wall it bounced off -- the bullpen or pillar-- he knew the play would score at least two runs, as Austin Jackson and Eugenio Suarez had both rounded third by the time the ball found a hard surface.
Kinsler was facing Williams, as opposed to the Astros closer Chad Qualls, who threw in the eighth inning to face Miguel Cabrera, Victor Martinez and J.D. Martinez. Williams has struggled mightily this season with an ERA of 5.91.
"With Kinsler, I just wanted to attack and trying to get him to roll over a popup," Williams said. "A cutter was up, and he hit it out."
Phil Coke got the win for the Tigers, coming in for Max Scherzer in the eighth inning. Scherzer struck out a season-high 13 in his seven innings, which one-upped his 2013 season high of 12.
"His fastball is explosive," Kinsler said. "When he commands and works off his fastball, he's dangerous and that's why he's the Cy Young winner."
Kinsler nearly gave the Tigers a lead two innings earlier. With two outs, a full count and the bases loaded in the seventh, Kinsler hit a line drive to left-center field, not all that far from his ninth-inning home run. With the Tigers running on the full count, a hit would've scored two, if not three. Instead, L.J. Hoes made a diving catch to keep the Astros ahead and set up the chance for vengeance in the ninth, or at least that's what Ausmus called it.
Kinsler had a different word.
"The last couple of days we've hit the ball hard, and we've hit a lot of balls at guys," Kinsler said. "To finally take the lead there in the ninth was a relief. Hopefully it will get us going even more."
Mike Vernon is an associate reporter for MLB.com. This story was not subject to the approval of Major League Baseball or its clubs.