A's outlast Marlins in 14 after Doolittle's rare misstep
Donaldson drives in decisive run before Francis earns first career save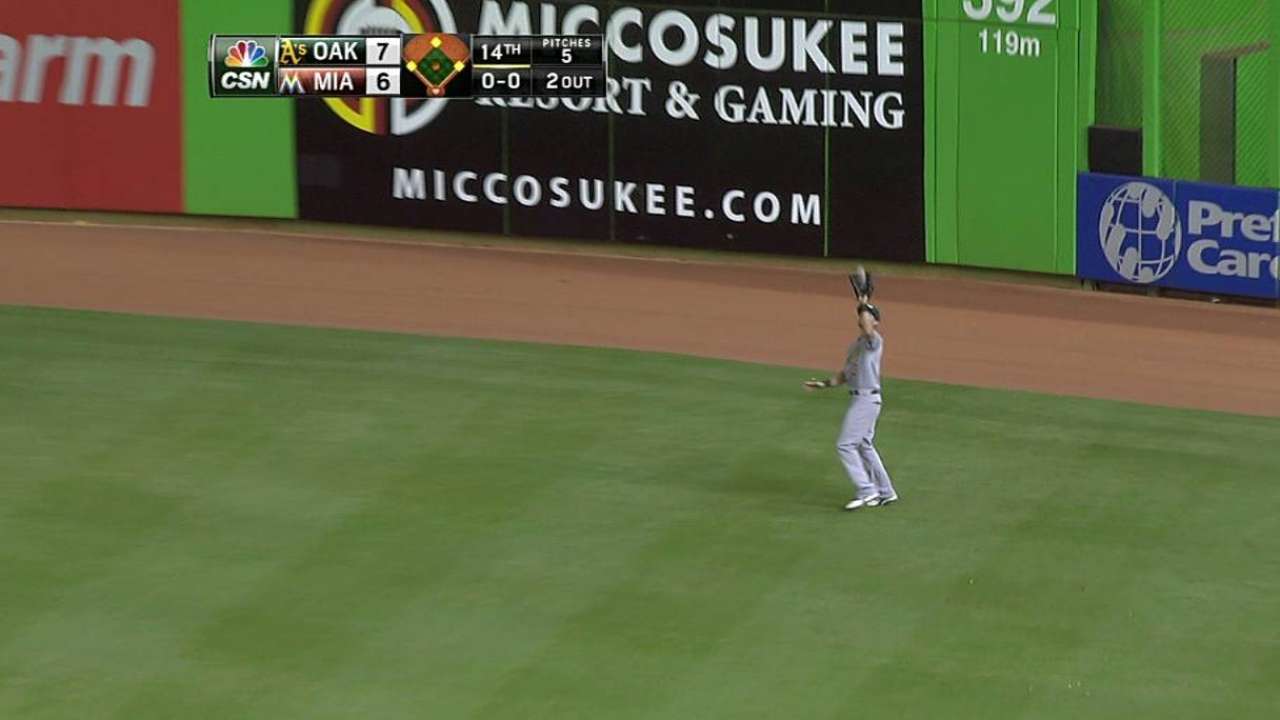 MIAMI -- The A's never cease to amaze, even at the most trying of times. Because that's when they're at their best.
That they walked away with a 7-6 win over the Marlins at Marlins Park on Saturday following nearly five hours of play, spanning 14 rollercoaster innings -- after their ace had blown a four-run lead and their untouchable closer was touched for a game-tying run -- was simply further proof.
"That's just what this team is really all about," said starter Sonny Gray. "It's not one person, or two or three people. If someone has a bad day, then there are a lot of other guys that can step up and make a pitch or make a play or get a hit."
By the time Jeff Francis recorded his first career save, after coming in with the bases loaded and just one out in the bottom of the 14th, Gray's bad day was no more.
Sean Doolittle was smiling, too, despite snapping a 26 2/3-inning scoreless streak in the ninth after giving up back-to-back hits to Giancarlo Stanton and Casey McGehee to send this one to extras.
Because the A's had done it again, improving to a Major League-best 50-30 -- and 9-5 in extra innings.
"It's frustrating when you give up a run and that leads to something like that, guys having to get extended, but the way they picked me up," said Doolittle, "the way it was a team effort ... just unbelievable."
For Francis, his first save came in his 1,266th career inning pitched.
"I always thought, if I ever got a save, it would be those last three innings of a blowout," the lefty said, grinning. "But to be able to pick this team up, pick Jim up ..."
Jim Johnson was responsible for loading the bases for Francis, but he was also responsible for keeping the Marlins off the board in the 12th and 13th, following a pair of shutout innings from Dan Otero.
And it was Josh Donaldson who delivered the RBI single off Marlins righty Jacob Turner in the 14th inning, following a two-out double from Brandon Moss, to put the A's on top.
By that time, even hurler Tommy Milone had gotten an at-bat. Derek Norris, nursing a sore lower back, was the only position player left on the bench. Francis, who had appeared in just six games since being claimed off waivers by the A's on May 18, was the lone man standing in the bullpen when his name was called.
"That's a pretty tall order to ask," said manager Bob Melvin after Francis struck out Jarrod Saltalamacchia and retired Donovan Solano on a fly ball. "Coming in with the bases loaded and one out, in a game where guys have been playing their hearts out for so long, he kind of holds the balance of the game in his hands there. Just terrific.
"He had a calmness when he came in the game. That's just huge. Talk about a total team effort today. Just huge. Everybody."
It surely eased the shock of Doolittle being on the mound when the tying run crossed the plate. Oakland's closer had retired 24 consecutive batters before Stanton's double.
Gray, meanwhile, had been given nine days' rest but just wasn't sharp with any of his pitches, allowing five runs on seven hits with three walks and four strikeouts in five innings to wipe away a 4-0 lead a night after Jesse Chavez let a four-run advantage slip.
But the A's, always up for a late-inning challenge, temporarily climbed back on top on Alberto Callaspo's go-ahead RBI single in the eighth after tying the game in the fifth. Coco Crisp led off that inning with a walk and, after advancing to third on John Jaso's double, raced home as soon as catcher Jarrod Saltalamacchia unleashed his throw to first base on a Moss strikeout that landed in the dirt.
That's just the way this game went.
"It's a relief. Those are tough games," said Melvin, who lost Josh Reddick in the fourth inning to a knee strain. "You hate to expand everything you have right there."
"That's a heck of a team over there," McGehee said. "We battled and scrapped with them to come back and all that good stuff. They're tough ones to lose for sure."
The A's just keep winning them.
Jane Lee is a reporter for MLB.com. This story was not subject to the approval of Major League Baseball or its clubs.